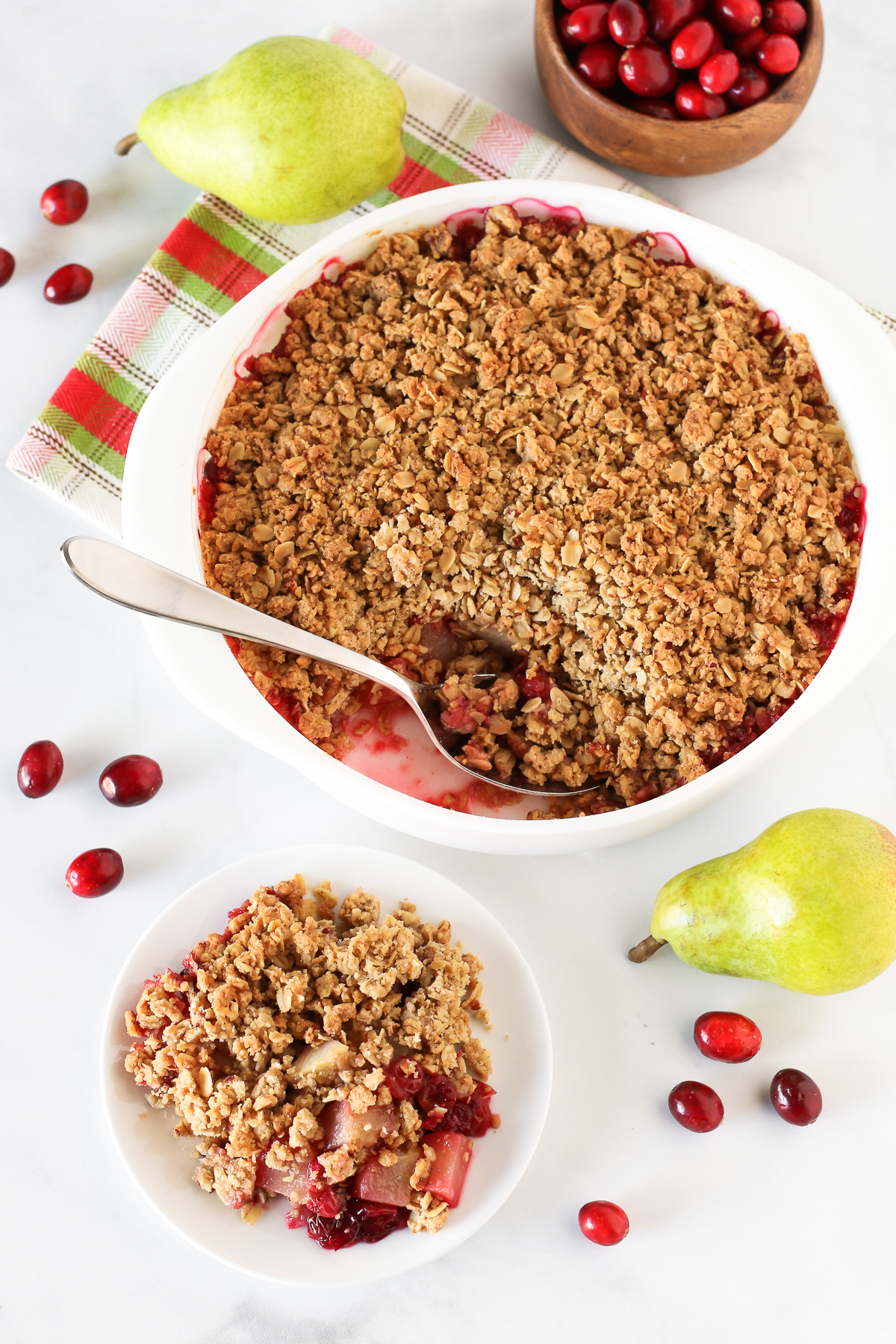 Holiday baking just got oh so simple with this gluten free vegan cranberry pear crisp! Tender pears, tart cranberries and a golden oat-pecan crumb topping. Just a few ingredients make this crisp the perfect rustic Christmastime dessert!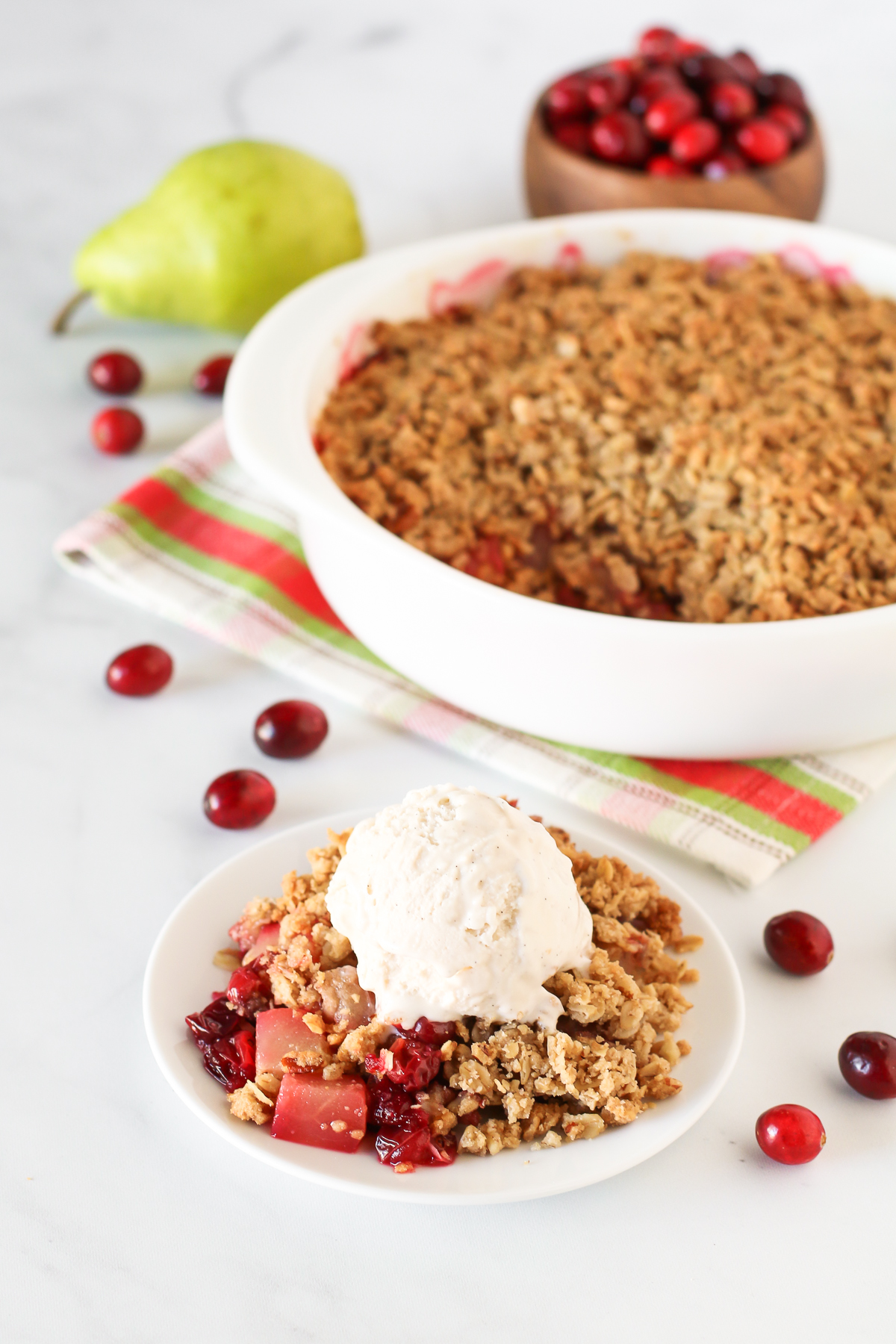 I probably do the most baking during the months of November and December. Between Thanksgiving and Christmas, I seem to always be in the kitchen doing recipe testing or baking for friends. It's just the time of year! I don't mind. Baking is actually therapeutic for me, especially when I'm all by myself and I've got my Christmas music playing. Singing, dancing, baking. Oh yeah!
There are certain desserts that I only make during the holidays. Not because I don't enjoy making them, they are just more labor intensive and are special for this time of year. Raspberry thumbprint cookies, walnut crescent cookies and gingerbread men cookies are just a few. My gingerbread layer cake with sugared cranberries is probably one of my most fave Christmas desserts! It has many steps, but each one is certainly worth it.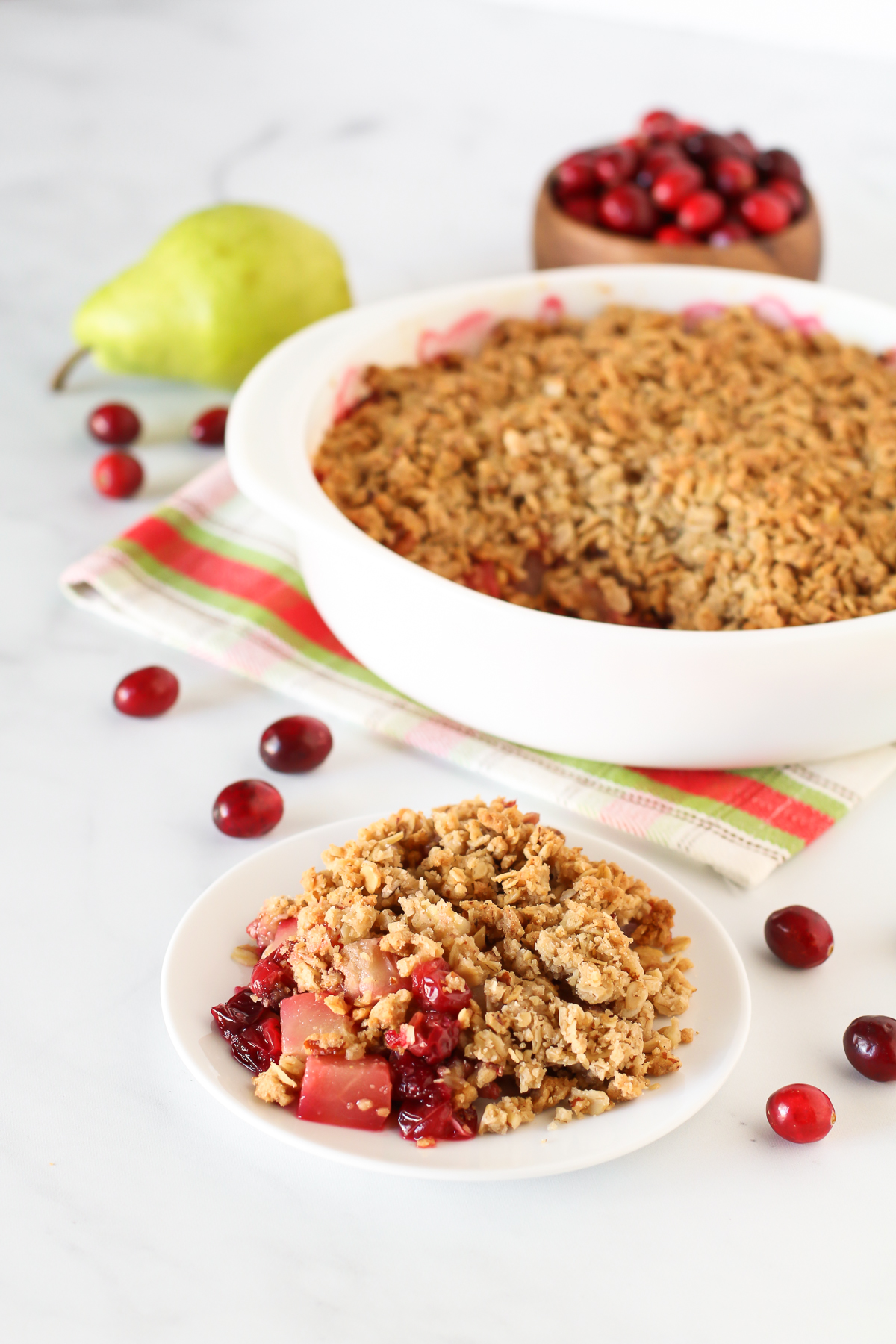 Need a simple recipe to bake this holiday season? This rustic gluten free vegan cranberry pear tart really is so easy to make. The fresh pears and cranberries are topped with a crumb topping, made with only a few ingredients that you probably already have on hand. I added finely chopped pecans, but you can certainly leave those out if you'd like. The toasted pecans just give an extra richness to the crunchy oat topping.
I just love a good fruit crisp. Don't you? That's why I'm so smitten over this gluten free vegan cranberry pear tart. It's served warm, with a giant scoop of dairy free vanilla ice cream on top, which is a total must. I can't wait for you to make this comforting, scrumptious holiday dessert!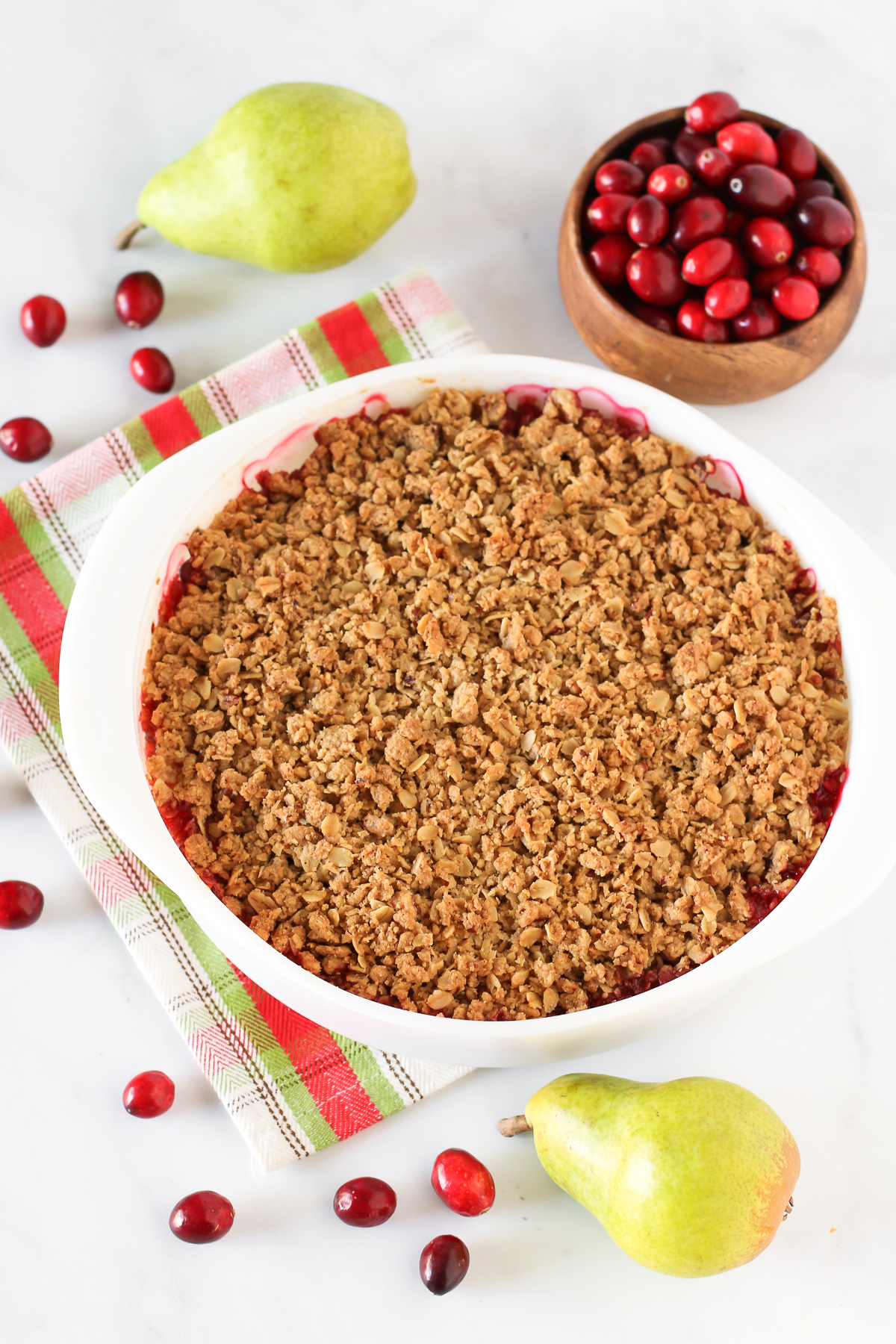 gluten free vegan cranberry pear crisp
AUTHOR:
Sarah Bakes Gluten Free
INGREDIENTS
cranberry pear filling
4-5 pears, peeled, cored and diced into small cubes*
1 cup fresh or frozen whole cranberries
2 tablespoons brown sugar or coconut sugar
crumb topping
INSTRUCTIONS
Preheat oven to 350 degrees. In large mixing bowl, add diced pears, cranberries and 2 tablespoons brown sugar. Toss to coat.
Pour fruit into 8-inch round or square baking dish. Make sure to spread out evenly. Set aside.
To make crumb topping, mix together oats, flour, chopped pecans, brown sugar and salt. Add dairy free butter and use a fork or your fingers to mix in butter, until crump topping comes together.
Sprinkle oat mixture over cranberries and pears. Place in oven and bake 50-55 minutes, until fruit juices are bubbly and topping is golden brown.
Remove from oven and place cranberry pear crisp on cooling rack to cool. Serve warm with dairy free vanilla ice cream.
NOTES
*You can also use 4 granny smith apples in place of the pears.
**For nut allergy, simply omit the chopped pecans.