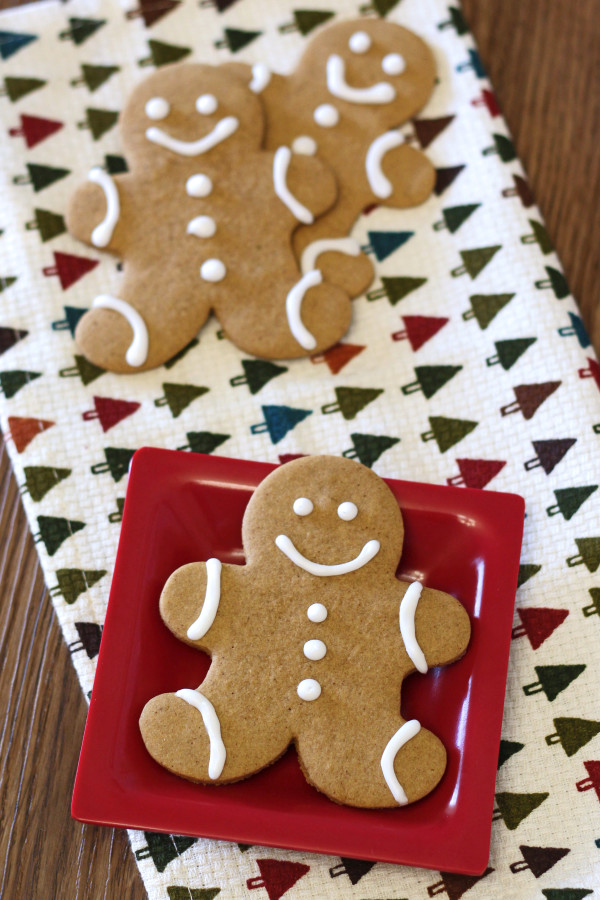 My mom was so good about creating family traditions, especially at Christmastime. One of the traditions that I loved the most…decorating sugar cookies on Christmas Eve. All of the cousins would come over and we would gather around the table with stacks of cookies, every color of frosting and sprinkles galore. There would also be gingerbread men cookies. Giant gingerbread men cookies (I mean, they were seriously huge). We would each get one gingerbread man to decorate and it was the big finale of the cooking decorating extravaganza.
Carrying on with the tradition, I make sugar cookies for my family to decorate on Christmas Eve. I also make a batch of gingerbread men. It just doesn't feel the same without those little guys. This recipe may be gluten, egg, and dairy free, but taste just like the original gingerbread men we know and love. Soft on the inside with a crisp edge. You can decorate with just the simple icing or add a few candy decorations. My kids like to go a little a crazy with the sprinkles and that's ok with me!

gluten free vegan gingerbread men cookies
AUTHOR:
Sarah Bakes Gluten Free
INGREDIENTS
gingerbread cookies
2 3/4 cups Sarah's gluten free flour blend
1 teaspoon ground cinnamon
1 teaspoon ground ginger
1 teaspoon baking powder
1/2 teaspoon salt
1 1/2 cups organic powdered sugar
1/4 cup molasses
1/3 cup coconut oil, soft
1/4 cup So Deliciousunsweetened coconut milk, room temperature
1 teaspoons vanilla extract
simple icing
2 1/2 cups organic powdered sugar
2-3 tablespoons So Delicious unsweetened coconut milk
INSTRUCTIONS
Preheat oven to 350 degrees. Line baking sheets with parchment paper.
In medium bowl, sift together flour blend, cinnamon, ginger, baking powder and salt. Set aside.
In bowl of stand mixer, beat together powdered sugar, molasses, coconut oil, coconut milk and vanilla until smooth. Add flour mixture and continue to mix for 1-2 minutes.
Use hands to knead dough until it comes together. Form into two discs and wrap in plastic wrap. Refrigerate dough for 1 hour.
On counter, lay out large piece of plastic wrap. Place one disc of cookie dough in the center and top with another piece of plastic wrap. Roll with rolling pin until dough is about 1/4" thick.
Cut dough using gingerbread man cookie cutter or desired shape. Carefully place cookies on prepared baking sheets (place dough back in refrigerator if it gets too soft to work with).
Bake for 7-8 minutes. Do not over bake, as cookies won't turn golden brown. Remove cookies from oven and place on cooling rack to cool completely.
While cookies are cooling, make simple icing. Mix together powdered sugar and 2 tablespoons coconut milk. Stir until smooth. Add more coconut milk as needed.
Place glaze in piping bag with round tip. Pipe onto cooled cookies.