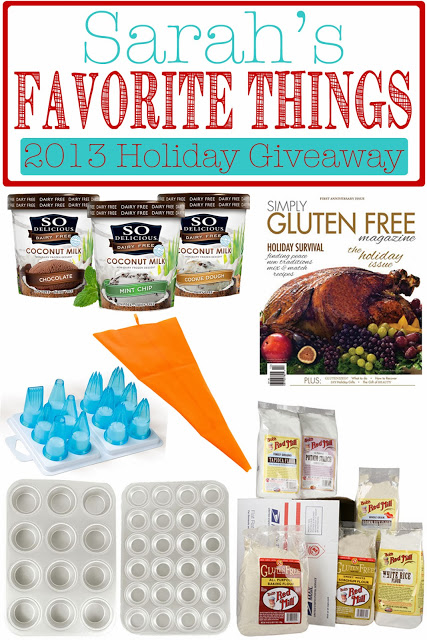 Who's ready for my BIGGEST giveaway yet? I know I'm super excited! In light of the holiday spirit, I decided to team up with some of my favorite brands for a giveaway of Sarah's favorite things from 2013. From the creamiest coconut milk ice cream, to fabulous baking pans, to the best gluten free flours. A giveaway with a total value of $195!!! These are items any gluten free baker would love to see under the Christmas tree this year!
I love this brand. I love their products. So Delicious has been so amazing to work with and I have to say…their coconut milk ice cream is my guilty pleasure. Creamy dairy free ice cream at it's finest. They have so many flavors and it's available at just about any grocery store. My favorites would have to be mint chocolate chip and cookie dough. To have a gluten, dairy and egg free cookie dough ice cream is pretty much the best thing ever!
One of the highlights of this year for me was not having one, but two recipes featured in Simply Gluten Free Magazine! It was truly a dream come true. This is one of the newer gluten free magazines, just celebrating their 1-year anniversary. There are so many great contributors, informative articles, and delicious recipes. A subscription to Simply Gluten Free Magazine would make a wonderful gift!
I've been using Fat Daddio's silicone pastry bags for years. They are durable and my favorite thing about them is that they are see-through. That way when you are putting in your buttercream, you can see if there are any air bubbles. They are easy to clean too. The polycarbonate piping tips are the perfect pair to these pastry bags. There are no couplers needed and they come in larger size tips, which are my favorite to use when I frost my gluten free cupcakes.
Fat Daddio's makes rofessional anodized aluminum, with no extra metal or chemical coatings. These muffin pans won't rust, peel or chip. They are also designed to heat and cool much faster than standard bakeware. I'm all about quality when it comes to the tools I use when I'm baking. I want them to last for many years to come. With Fat Daddio's muffin pans, I can bake the perfect, evenly baked, cupcakes and mini muffins!
This gluten free bakers bundle from Bob's Red Mill has all of my most favorite flours and starches! Sorghum, brown rice, white rice, potato and tapioca starch. All of these high-quality ingredients make up my flour blend. There is also a bag of their all-purpose baking flour to use for your baking too. I can always rely on Bob's Red Mill for all of my gluten free baking needs. A staple in my pantry, for sure!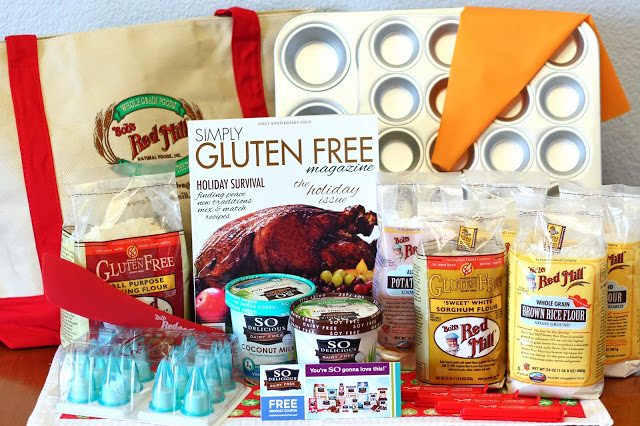 A special thanks to So Delicious, Simply Gluten Free Magazine, Fat Daddio's and Bob's Red Mill for making this holiday giveaway possible! ONE winner will receive all of the items you see here. Pretty sweet, huh? The prize pack for Sarah's Favorite Things 2013 Holiday Giveaway includes…
4 Vouchers for FREE So Delicious Products
1-year subscription to Simply Gluten Free Magazine
Fat Daddio's Pastry Bag and Piping Tips
Fat Daddio's Muffin Pan and Mini Muffin Pan
Bob's Red Mill Gluten Free Bakers Bundle
Bob's Red Mill canvas tote bag, rubber spatula and bag clips
To enter the giveaway, use the rafflecopter widget below. Be sure to leave a comment and tell me "what is your favorite baking product from 2013?" You can receive extra entries by liking So Delicious, Simply Gluten Free Magazine, Fat Daddio's and Bob's Red Mill on facebook, as well as tweeting this giveaway. The last day to enter is Tuesday, December 17 (US residents only). The winner will be announced on Wednesday. Good luck and happy holidays!
THIS GIVEAWAY HAS ENDED AND WINNER HAS BEEN CHOSEN.