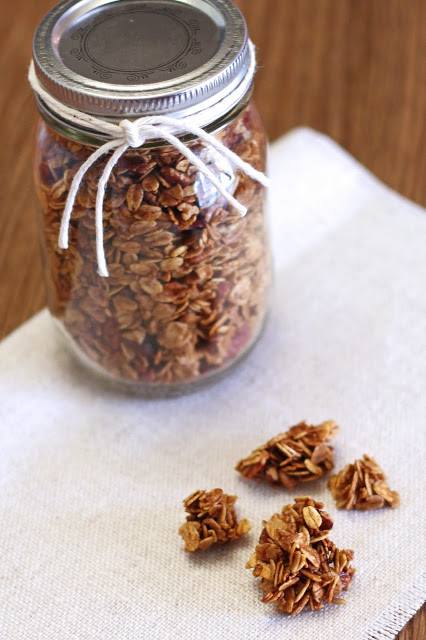 I love the delicious smells that come out of my kitchen in the month of December. I'm not sure which is my favorite though…chocolate peppermint or gingerbread. They might be a tie. There is something so warming and comforting about the smell of fresh baked gingerbread. The depth of the molasses and the spice from the cinnamon and ginger.
My husband and I both have a sweet spot for homemade granola. There's just nothing like it. It's good for breakfast or a snack. I wanted to make a granola with a holiday twist this year. I took this lovely granola recipe and changed it up to make gingerbread granola. The molasses is so rich and decadent, adding a lovely sweetness. I put chopped pecans and dried cranberries in my granola, but you can use whatever nuts or dried fruit you like.
This gluten free granola would make a great gift too! Scoop into mason jars, tie with a little ribbon or string, finish with a little note. Everyone loves receiving homemade goodies this time of year. It's a splendid way of spreading Christmas cheer!
gluten free gingerbread granola
makes 8 servings
5 1/2 cups certified gluten free rolled oats
1 cup chopped pecans
1 teaspoon ground cinnamon
1/2 teaspoon ground ginger
1/4 teaspoon sea salt
1/4 cup coconut oil, melted
1/4 cup molasses
1/4 cup honey or pure maple syrup
3 tablespoons coconut sugar or brown sugar
1 teaspoon pure vanilla extract
1/2 cup dried cranberries or raisins (optional)
Preheat oven to 300 degrees. Line large baking sheet with parchment paper. In large mixing bowl, stir together oats, pecans, cinnamon, ginger and salt. Set aside. In seperate small bowl, combine melted coconut oil, molasses, honey, coconut sugar and vanilla. Pour over oat mixture and mix together with rubber spatula. Spread on prepared baking sheet. Bake 30 minutes, stirring every 10 minutes. Remove from oven when golden brown. Stir in cranberries. Cool completely and store in airtight container.