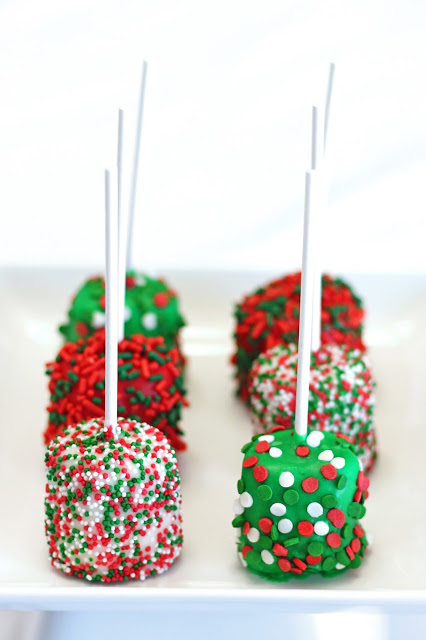 Bring on those holiday treats! It's that time of year when your schedule is filled with parties, get-togethers, and lots of sharing (and eating) homemade goodies with family and friends. Sometimes we are just looking for a no-bake treat to bring to that next holiday bash. These little grab-n-go marshmallow pops couldn't be easier. I just love that they are oh so merry and bright!
Some of you may have noticed these little cuties in the November/December issue of Simply Gluten Free. Yes, my first full-page published recipe in a magazine! It was quite fun to see. I wanted to also share the recipe with all of my fabulous readers. Marshmallows on a stick, dipped in a simply delicious dairy-free frosting. You can leave the frosting white or add a few drops of food coloring. The dipping options are endless too…sprinkles, mini chocolate chips, shredded coconut. You can mix up the color combinations for any holiday. It's the most wonderful time to get in the kitchen and get creative with your kids!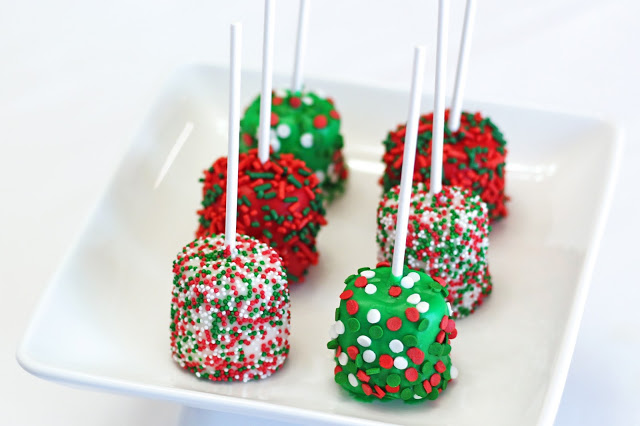 dairy free holiday marshmallow pops
AUTHOR:
Sarah Bakes Gluten Free
INGREDIENTS
16 large marshmallows
16 lollipop sticks
1 1/2 cups powdered sugar
2 tablespoons non-hydrogenated shortening
2 tablespoons So Delicious unsweetened coconut milk beverage
1/2 teaspoon pure vanilla extract
red and green food coloring (optional)
holiday sprinkles
INSTRUCTIONS
Line baking sheet with parchment paper. Prep the pops by placing lollipop sticks into marshmallows. Place on baking sheet. T
o make the frosting coating, mix together the powdered sugar, shortening, coconut milk and vanilla. Microwave frosting for 20 seconds and stir. Microwave for an additional 10 seconds, until smooth and semi-liquid.
Split up frosting into different bowls to make multiple colors. Add food coloring, 2-3 drops at a time. Stir well.
Dip marshmallows into frosting to coat. Gently tap of excess on side of bowl. Coat with sprinkles and place on parchment paper.
Repeat with remaining marshmallows. You may need to reheat frosting as you go, as it thickens quickly.
Let pops set in refrigerator for 10-15 minutes. Remove and store in air-tight container.