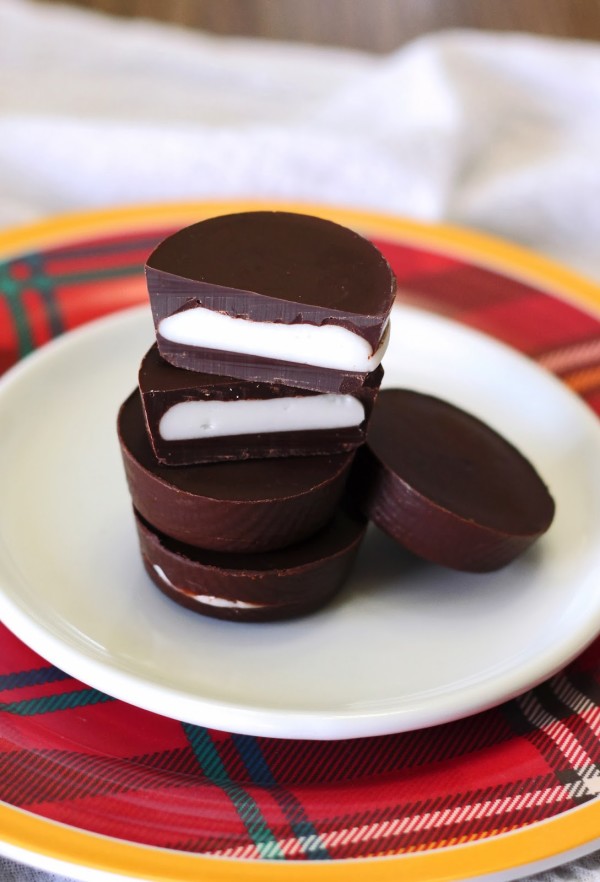 For as long as I can remember, my childhood favorite candy was York peppermint patties. I would always go for that minty filling and dark chocolate coating. The combination was perfection. I also felt like I was opening a Wonka Bar, with their shiny silver wrapper. There was never a golden ticket inside, but the peppermint goodness was way better anyway.
My friends know that I make some type of candy or treat to pass out at Christmas. Always. I make sweets because I love them and because I know how much they enjoy homemade goodies. This year, I decided to give these dairy free peppermint patties a try. A simple peppermint filling, covered in melted chocolate. Each step to make them is undoubtedly worth it. Plus you get 24 in one batch, which leaves you with a few batches to share with friends (if you can manage to share them). I wrapped them in little glassine bags and tied with red bakers twine.
When it comes to peppermint patties, homemade totally wins!
dairy free peppermint patties
AUTHOR:
Sarah Bakes Gluten Free
SERVES:
24 peppermint patties
INGREDIENTS
2 1/2 cups dairy free chocolate chips
2 cups powdered sugar
1 tablespoon pure maple syrup
2 teaspoons coconut oil, softened
1 teaspoon pure peppermint extract
1/2 teaspoon pure vanilla extract
1-2 tablespoons So Delicious unsweetened coconut milk
INSTRUCTIONS
Prepare mini cupcake pans by lining with mini cupcake liners or use silicone mini cupcake mold (no liners needed).
Melt chocolate chips in microwave-safe bowl in 30-second intervals, stirring in-between. Stir until completely melted and smooth.
Place 1 teaspoon melted chocolate in bottom of prepared pan. Smooth until even. Place in refridgerator for 10 minutes to set.
While chocolate is setting, make peppermint filling. Mix together powdered sugar, maple syrup, coconut oil, peppermint extract, vanilla extract and 1 tablespoon coconut milk.
Add an additional tablespoon coconut milk if needed. Knead dough together until it is not longer crumbly and holds it shape.
Remove cupcake pan from refrigerator. Take teaspoon of peppermint dough and roll into ball. Flatten into disc (almost the size of cupcake mold).
Place peppermint disc into chocolate-lined cupcake liner. Top with a additional melted chocolate, just enough to cover peppermint filling. Smooth out the tops.
Place peppermint patties back in refrigerator to set and become firm, about 15-20 minutes. Remove and place in airtight container.
NOTES
Peppermint patties will keep 1-2 weeks.