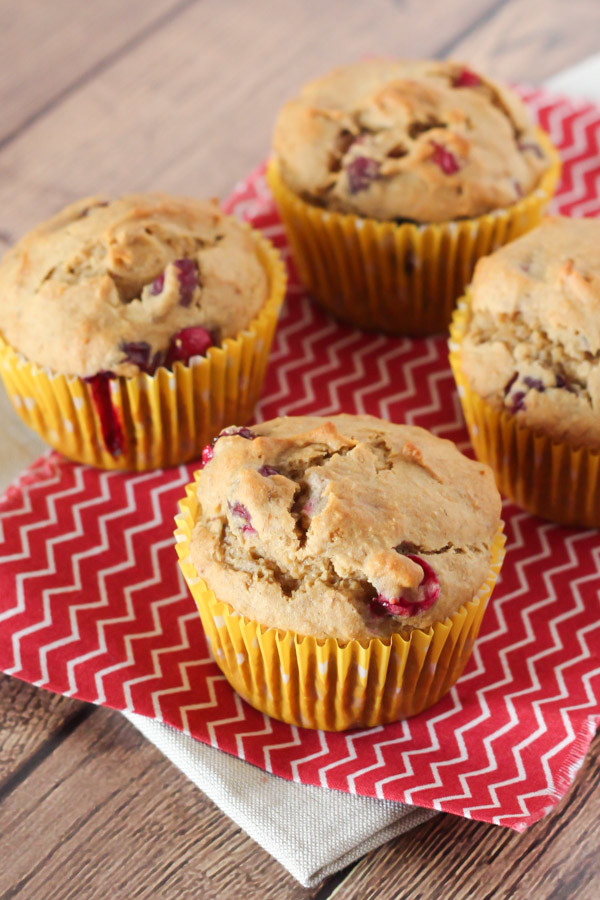 I'm kicking off this holiday season with a cheerful cranberry recipe! I love baking with cranberries so I always keep a big bag in my freezer. They only come out in the grocery stores this time of year so it's important to stock up! You never know when you'll crave this apple cranberry bunt cake, a cranberry smoothie or these banana cranberry muffins.
Keepin' things simple and healthy around here. These bananas muffins are naturally sweetened with coconut sugar and pure maple syrup. I also threw in some oat flour, which adds great texture and even more fiber. My favorite is the tartness of those cranberries. So much more flavorful than dried cranberries. The combination of banana and cranberries is quite delightful. If you haven't tried it, now's your chance!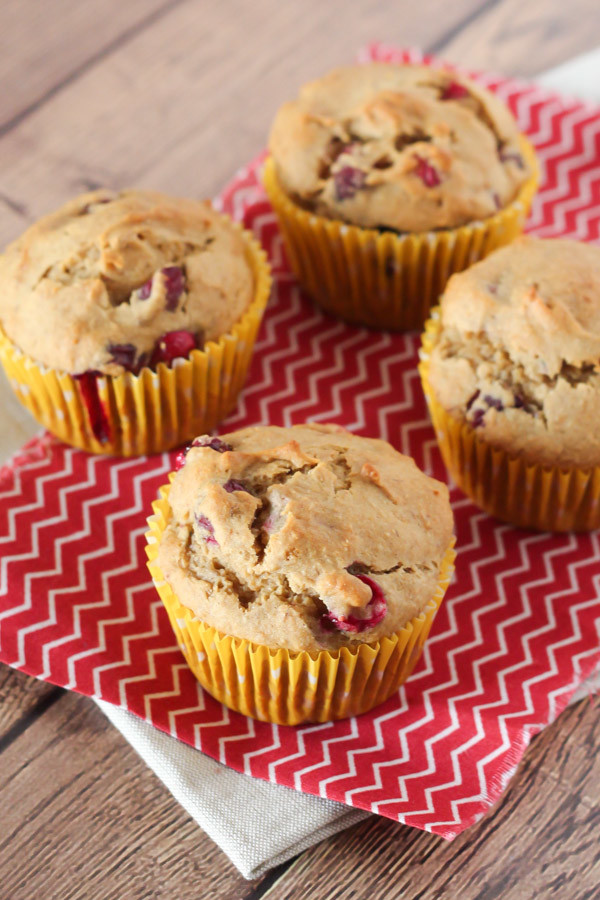 gluten free vegan banana cranberry muffins
AUTHOR:
Sarah Bakes Gluten Free
INGREDIENTS
1 1/2 cups fresh or frozen cranberries, halved
1 1/2 cups, plus 1 tablespoon Sarah's gluten free flour blend
1/4 cup Bob's Red Mill gluten free oat flour*
1 teaspoon baking powder
1/2 teaspoon baking soda
1/2 teaspoon sea salt
2 ripe bananas, mashed
1/2 cup coconut sugar or brown sugar
1/4 cup unsweetened applesauce
1/4 cup So Delicious unsweetened coconut or almond milk
1/4 cup grape seed or coconut oil, melted
2 tablespoons pure maple syrup
1 teaspoon pure vanilla extract
INSTRUCTIONS
Preheat oven to 350 degrees. Line muffin tin with paper liners or spray with nonstick cooking spray.
In small bowl, coat cranberries with 1 tablespoon flour. Set aside.
Sift together remaining flour, oat flour, baking powder, baking soda and salt.
In large mixing bowl, mix mashed bananas with coconut sugar, applesauce, coconut milk, oil, maple syrup and vanilla extract. Add flour mixture and stir until combined. Fold in cranberries.
Divide batter in prepared muffin tin. Bake muffins 15-18 minutes, until golden brown and center is set.
Place muffins on cooling rack to cool completely. Store in airtight container.
NOTES
*to make oat flour, simply place about 3/4 cup gluten free rolled oats in food processor or high-speed blender on high 1-2 minutes, until oats become a course flour.