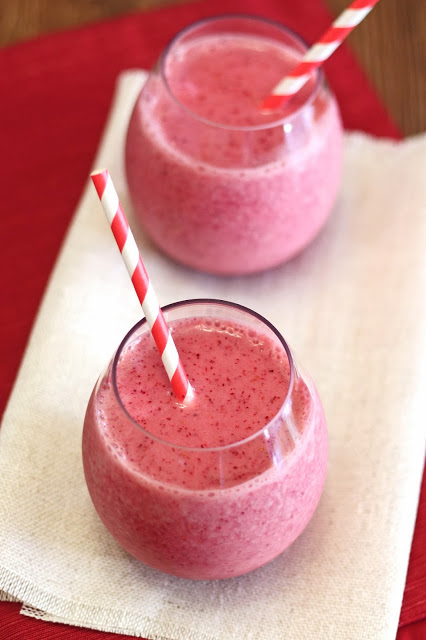 Well, good morning! I'm really getting into the holiday spirit around here. I'm thinking of all the ways I can incorporate my most favorite holiday flavors into new recipes. Peppermint, nutmeg, chocolate (always incorporated in my baking), cranberries, molasses and apples. Maybe not so good together, but all ingredients that make their way into my kitchen this time of year and I'm quite alright with that.
Today, my beautiful readers, I'm sharing my newest smoothie creation! My daughter requested a cranberry smoothie the other day and I thought to myself, "that would be delicious!" I had just bought a huge bag of cranberries at Costco so I was set. I started with frozen cranberries. Added a little coconut milk, a little orange juice, and a banana for creaminess. A touch of honey to sweeten things up a bit. You've got yourself one tart and tangy dairy free cranberry smoothie!
dairy free cranberry smoothie
serves 2
8 ice cubes
1 cup frozen cranberries
1 frozen banana
1 cup So Delicious unsweetened vanilla coconut milk
1 cup orange juice
2-3 tablespoons honey or pure maple syrup
Add all ingredients to high-powered blender. Blend on high until smooth and blended well, 1-2 minutes. Pour into glasses and serve.