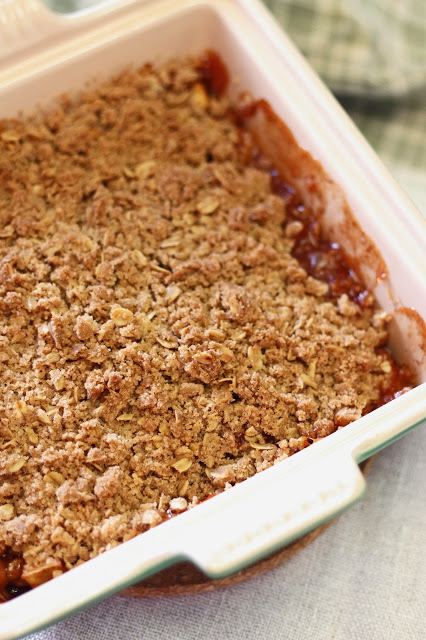 Apple crisp. Sweet, sweet apple crisp. Can I just eat this simple dessert everyday, for breakfast and for dessert? I'm wanting to make it again already as the pan is now empty and the apple crisp is no more.
Bubbly, caramelized, cinnamon apples. Crispy, crunchy, sweet topping. Apple desserts are at the top of my list, especially this one! I'm a bit picky though with how I have to eat my apple crisp. It must be warm. Total must. It also has to be topped with a scoop of
So Delicious vanilla bean coconut milk ice cream
. The ice cream starts melting all over the warm apples. Now that is a very good thing.
Maybe you will make this gluten free apple crisp for Thanksgiving this year. Or maybe you can't wait and are going into your kitchen to make it right now. Either way, there is always a good excuse to bake a pan of this warm and gooey apple crisp!
gluten free vegan apple crisp
serves 9
apple filling
5-6 apples, peeled and cubed
1/4 cup organic cane sugar
2 tablespoon corn starch or tapioca starch
2 tablespoons fresh-squeezed orange juice
1 teaspoon ground cinnamon
1/4 teaspoon ground nutmeg
crumb topping
3/4 cup Sarah's gluten free flour blend
1/2 cup certified gluten free rolled oats
1/4 cup organic cane sugar
1/4 cup organic brown sugar
1 teaspoon ground cinnamon
1/4 teaspoon ground nutmeg
1/4 teaspoon salt
1/3 cup coconut oil, solid
Preheat oven to 375 degrees. Grease 8×8-inch baking pan with non-stick cooking spray or coconut oil. Peel, core and cube apples. Place in large mixing bowl. Add sugar, corn starch, orange juice, cinnamon and nutmeg. Stir to coat apples. Spread out apples evenly in prepared baking dish.
To make topping, combine flour blend, oats, sugar, brown sugar, cinnamon, nutmeg and salt. Blend coconut oil into oat mixture using pastry cutter or fork. When crumb topping comes together, sprinkle over apples. Bake for 45-50 minutes or until apples are bubbly and topping is golden brown. Allow crisp to cool slightly. Serve warm.