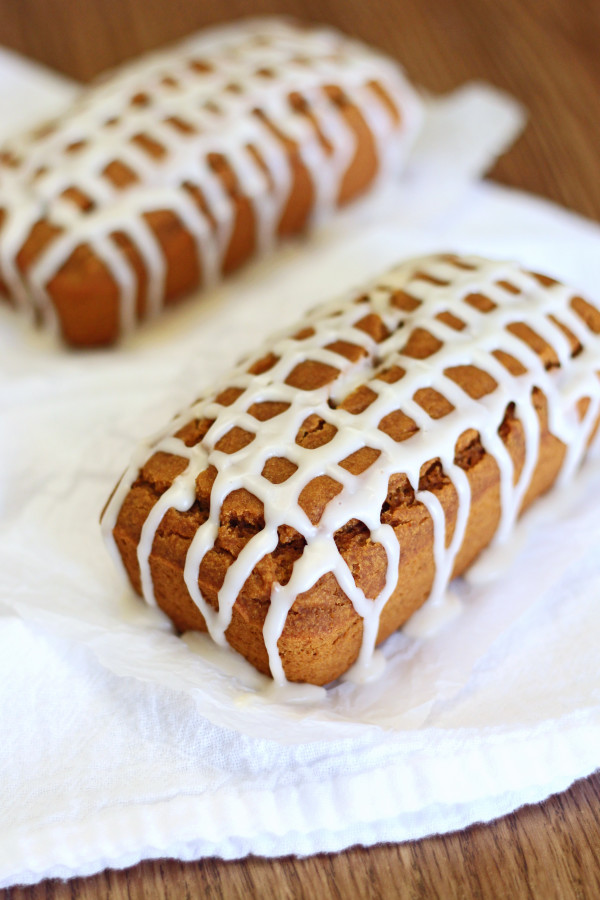 Hello, precious little gingerbread loaf. I baked these mini gingerbread loaves for my husband this week. He loves quick breads. Like more than cupcakes and cookies. He wasn't very happy with the kids and I when the kids and I finished off the last of the bread. Sorry babe. You're sharing with 3 other mouths in this family.
Now that December is slowly (quickly) creeping it's way into my life, I've had to start thinking about what homemade treats I'm going to make for family and friends. I've made mini apple cinnamon bread in the past, but I wanted to try something new. Something even more Christmasy. Thus, the frosted gingerbread was born.
I can't tell you how amazing your kitchen will smell when you are baking these gluten free vegan mini gingerbread loaves. It's too much. Once they were cooled, I couldn't leave them alone. I frosted them with a simple vanilla ginger glaze. What?! Yeah, took them to a whole new level. The applesauce and pumpkin puree makes them oh so moist, the molasses makes them sweet and the ginger…well that's just a necessity. Each slice of this bread is fragrant and has the flavors of classic gingerbread. So YUM!
Update! I recently changed this recipe up, making for a lighter crumb. I had a few people say it was a bit too dense. These changes don't change the flavor, it's still just as delicious!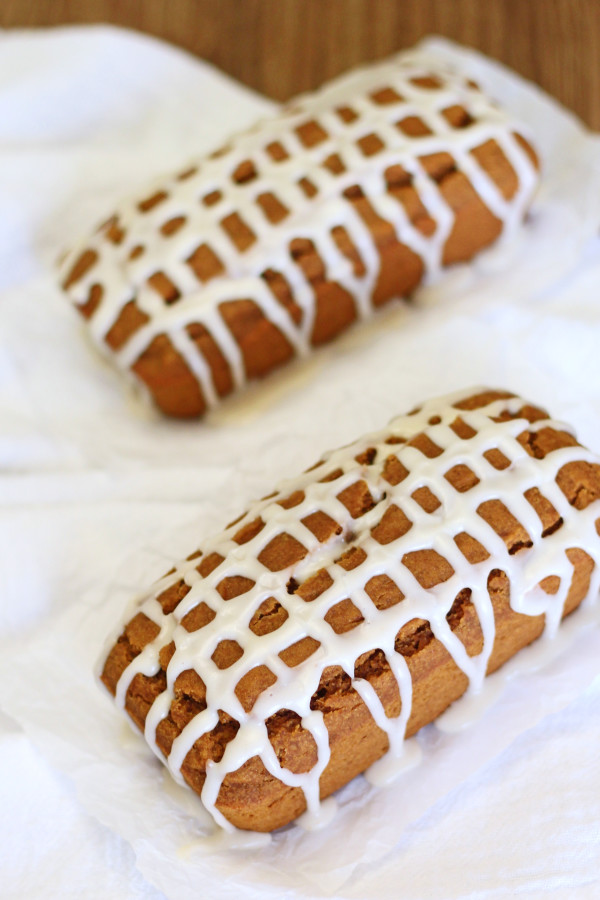 gluten free vegan mini gingerbread loaves
AUTHOR:
Sarah Bakes Gluten Free
INGREDIENTS
gingerbread
2 teaspoons baking powder
1 teaspoon baking soda
1/2 teaspoon salt
1 1/2 teaspoons cinnamon
1 1/2 teaspoons ground ginger
1 cup So Delicious unsweetened coconut milk
1 cup organic brown sugar or coconut sugar
1/2 cup unsweetened applesauce
1/2 cup pumpkin puree
2/3 cup canola or sunflower seed oil
1/2 cup molasses
1 teaspoon vanilla extract
ginger vanilla glaze
1 1/2 cups powdered sugar
2-3 tablespoons So Delicious unsweetened coconut milk
1/2 teaspoon ground ginger
1/2 teaspoon pure vanilla extract
INSTRUCTIONS
Preheat oven to 350 degrees. Prepare mini loaf pan by spraying with cooking spray or lining with parchment paper.
In large mixing bowl, sift together flour, baking powder, baking soda, cinnamon, ginger and salt. Set aside.
Mix together the coconut milk, brown sugar, applesauce, pumpkin puree, oil, molasses and vanilla. Add to flour mixture and stir to combine.
Pour batter into prepared mini loaf pans. Bake for 28-30 minutes or until toothpick inserted in center comes out clean.
Allow to cool in pan for 10 minutes before removing from pan. Continue to cool on cooling rack.
To make glaze, mix together powdered sugar, coconut milk, ginger and vanilla. Add additional tablespoon of coconut milk if needed.
Drizzle glaze over cooled gingerbread. Slice and serve.