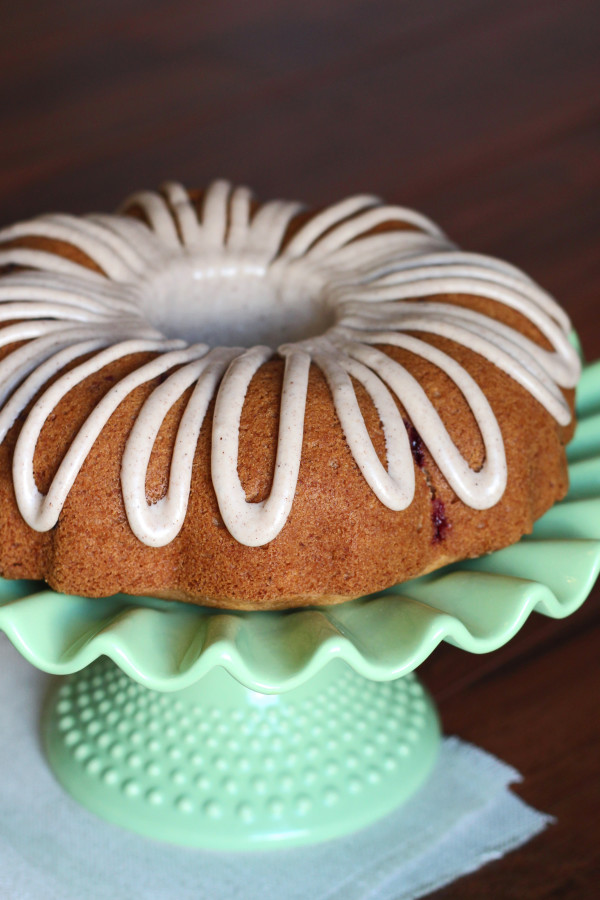 Tomorrow is Thanksgiving. You know what I will be doing today? BAKING! Lots and lots of baking. Pumpkin pie is a must. I might make an apple crisp and add cranberries (because it just sounds so good right now). My kids have both requested cookies. I wish they would be a bit more specific. Maybe I'll create a new cookie creation and share the recipe!
Just incase you didn't have enough gluten free desserts to choose from this list…here is another! I made this apple cranberry bundt cake last week when we had friends over for dinner. It was the perfect ending to our meal. I love a good bundt cake. They are simply elegant. There are no layers involved or elaborate frosting. For those of you that are like me and prefer more cake to frosting, then bundt cakes are the dessert for you.
You may still have time to make this cake for Thanksgiving! Most of these ingredients you probably already have in your pantry. Grab a couple apples, a bag of fresh cranberries and you're ready to go. Have a wonderful day, cooking and baking away in your kitchens. I'll be baking right along with you!
gluten free vegan apple cranberry bundt cake
AUTHOR:
Sarah Bakes Gluten Free
RECIPE TYPE:
cupcakes & cakes
INGREDIENTS
apple cranberry bundt cake
1 1/4 cups frozen or fresh cranberries
2 1/2 cups, plus 1 tablespoon Sarah's gluten free flour blend
1 1/2 teaspoons ground cinnamon
1/4 teaspoon ground nutmeg
1 1/2 teaspoons baking powder
3/4 teaspoon baking soda
3/4 teaspoon sea salt
3/4 cup So Delicious Dairy Free unsweetened coconut milk
1 1/2 tablespoons white or apple cider vinegar
3/4 cup organic cane sugar
1/2 cup organic brown sugar
1/2 cup sunflower seed oil (or mild flavor oil)
1/2 cup unsweetened applesauce
3 tablespoons pure maple syrup
1 teaspoons pure vanilla extract
2 apples, peeled and grated on large holes of grater
cinnamon glaze
2 1/2 cups organic powdered sugar, sifted
1/2 cup vegan butter, melted
2-3 tablespoons So Delicious Dairy Free unsweetened coconut milk
1 teaspoon ground cinnamon
1/2 teaspoon pure vanilla extract
INSTRUCTIONS
Preheat oven to 350 degrees. Prepare bundt cake pan by spraying with nonstick cooking spray.
Coat cranberries with 1 tablespoon flour blend. Set aside.
Sift together remaining 2 1/2 cups flour, cinnamon, nutmeg, baking powder, baking soda and salt.
In large mixing bowl, combine coconut milk with vinegar. Let sit for a couple minutes to curdle.
Add sugar, brown sugar, oil, applesauce, maple syrup and vanilla to coconut milk. Stir in grated apples. Add flour mixture and blend until combined. Fold in cranberries.
Pour batter into the prepared bundt cake pan. Bake for 45-48 minutes or until toothpick inserted comes out clean. Cool in pan for 10 minutes, then invert onto cooling rack to cool completely.
To make cinnamon glaze, mix together powdered sugar, melted vegan butter, 2 tablespoons coconut milk, cinnamon and vanilla. Add an additional tablespoon coconut milk if need. Beat until smooth.
Place glaze in pastry bag with circle tip to frost or simply pour over cooled cake. Slice and serve.