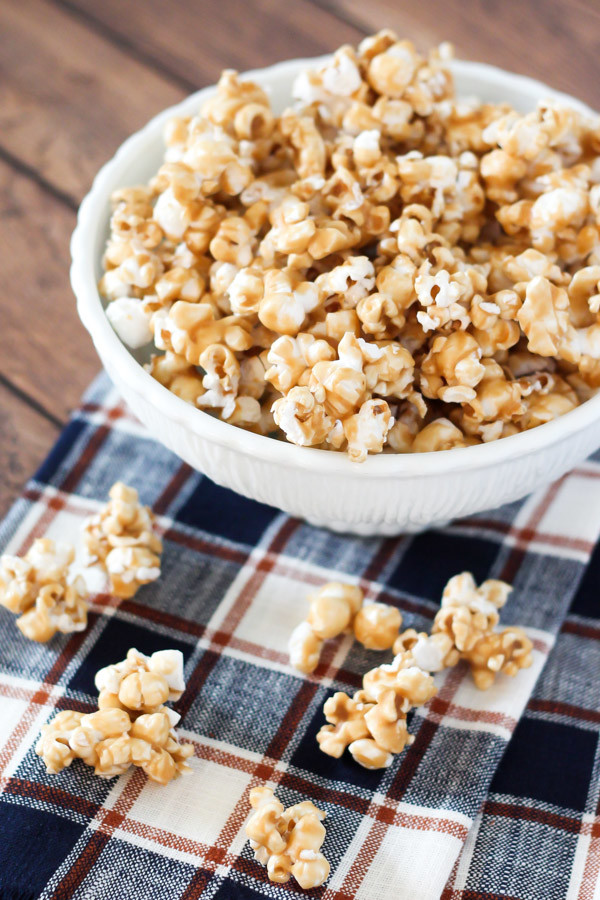 Making homemade gifts is something I actually really enjoy. It is precious to me. Taking the time to personally create or bake something for someone that I love. Whether it's crocheting a scarf or baking a loaf of pumpkin bread. Homemade is always better in my book!
Carmel corn is one of those treats that I would look forward to making around the holidays, to give away as gifts. Wrapping up in cute little bags and adding a personal tag. I mean, what crazy person doesn't love caramel corn? Sweet, salty and crunchy. The essentials.
Most caramel corn recipes call for butter. Lots of butter. I've tried making caramel corn with dairy free butter and the taste just wasn't what I was looking for. I decided to use coconut milk instead and guess what? It was the winning ticket! The creamy coconut milk with the brown sugar creates this golden caramel that beautifully coats every piece of popcorn. Even after baking, the caramel is still a bit soft, just the way it should be.
This dairy free caramel corn is totally addicting. I would resist leaving it out because every person in your house will be sneaking handfuls. Before you know it, you'll need to make another batch!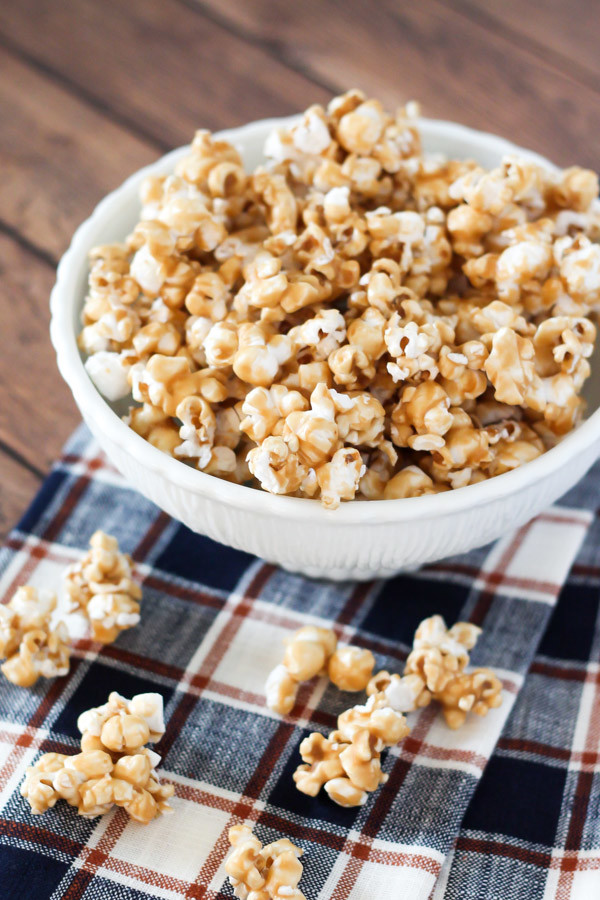 dairy free caramel corn
AUTHOR:
Sarah Bakes Gluten Free
INGREDIENTS
16 cups plain popped popcorn* (about 2/3 cup kernels)
1 3/4 cup organic brown sugar
1/2 cup So Delicious culinary full-fat coconut milk, stirred
2 tablespoons organic light corn syrup or brown rice syrup
1/2 teaspoon sea salt
1 teaspoon pure vanilla extract
INSTRUCTIONS
Preheat oven to 200 degrees. Line two baking sheets with parchment paper.
Place popped popcorn into large mixing bowl, large enough to stir (make sure to remove unpopped kernels). Set aside.
In medium saucepan, stir together brown sugar, coconut milk, corn syrup and salt. Place over medium heat and stir with rubber spatula, until sugar is dissolved.
Bring caramel to low boil and turn heat to medium-low. Continue string caramel every few minutes, until reaches 245 degrees (using candy thermometer).
Once caramel reaches 245 degrees, remove from heat and add vanilla extract. Stir until combined.
Immediately poor caramel over popcorn. Stir carefully to coat, as caramel is very hot.
Spread caramel corn onto prepared baking sheets. Place into preheated oven and bake 45 minutes, rotating pans every 15 minutes.
Allow to cool on pans for about an hour. Break up caramel corn and store in airtight container.
NOTES
*I just used an air popper to pop the popcorn, but you could also use a large pot on the stove, with about a tablespoon of oil.