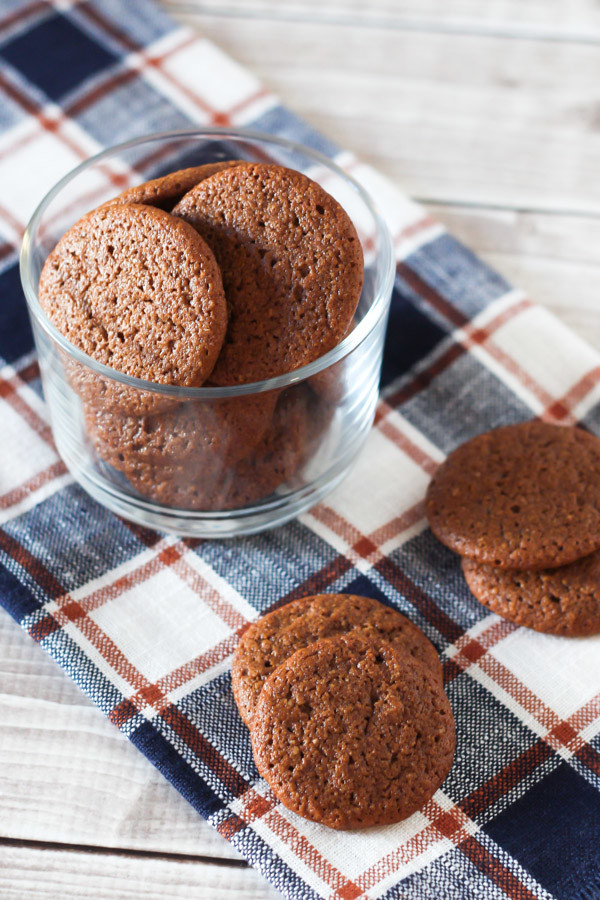 Contrary to popular belief, just about any dessert or baked good can be made gluten free AND taste pretty fantastic. I have tested like a gazillion recipes over the last 5 years. They don't always turn out the first time, but I don't give up until it's just right. Thankfully, I love doing it (even on those annoying days when every recipe goes wrong).
When a recipe gets to the shareable status, I do a little happy dance. Yep, every time. The hard work does pay off in the end and it's so good to actually taste the victory!
I give you my most recent gluten free recipe accomplishment. Mini gingersnaps. Like the ones you buy at the grocery store, only these little cookies are gluten, dairy, egg, soy and refined-sugar free. Booyah! This is sweet success for me, as I have always loved gingersnap cookies. The ones that are crisp on the edges and chewy in the center. Because I love them so much, I'm featuring them in a new recipe soon that is aaaaamazing. Be sure to keep your eye out for that one!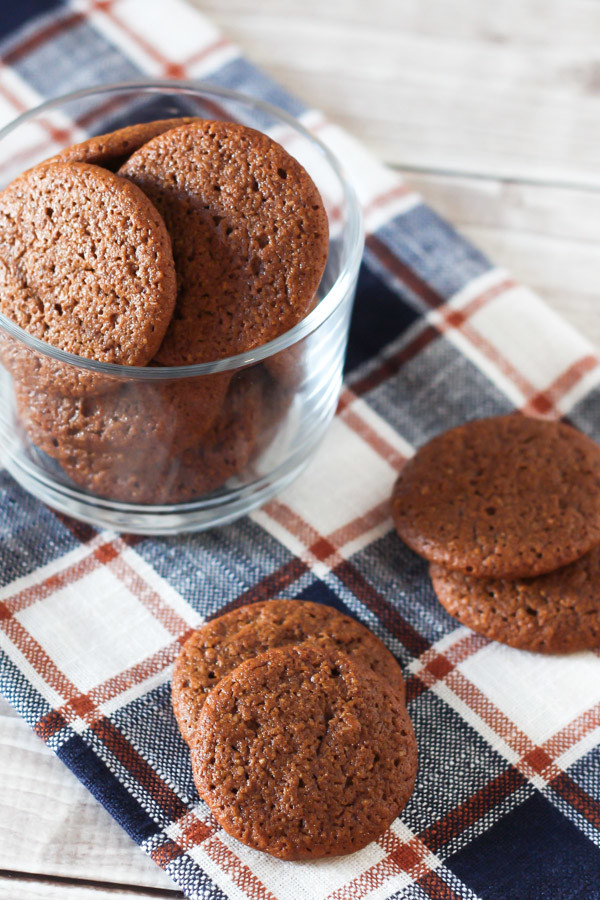 gluten free vegan mini gingersnaps
AUTHOR:
Sarah Bakes Gluten Free
INGREDIENTS
1/2 cup, plus 1 tablespoon Sarah's gluten free flour blend
1/2 cup Bob's Red Mill gluten free oat flour*
1 teaspoon ground cinnamon
1/2 teaspoon ground ginger
1 teaspoon baking powder
1/2 teaspoon baking soda
1/4 teaspoon salt
1/2 cup coconut sugar or brown sugar
1/4 cup unsweetened applesauce
3 tablespoons sunflower seed or canola oil
1 tablespoon molasses
1 teaspoon pure vanilla extract
INSTRUCTIONS
Preheat oven to 325 degrees. Line two baking sheets with parchment paper.
In medium bowl, sift together flour blend, oat flour, cinnamon, ginger, baking powder, baking soda and salt. Set aside.
In large bowl, mix together coconut sugar, applesauce, oil, molasses and vanilla. Stir until blended. Add flour mixture and stir until combined (dough will be thin).
Fill large ziploc bag with cookie dough. Cut tip of bag. Squeeze teaspoon-size rounds of dough onto prepared baking sheets.
Slightly flatten with fingers into 1-inch round discs. Cookies will spread slightly. Repeat with remaining dough (you'll get about 36-40 cookies).
Bake cookies 14-16 minutes, until golden brown and crisp on edges. Allow cookies to cool on baking sheet for 10 minutes. Place cookies on cooling rack to cool completely.
NOTES
*To make your own oat flour, blend about 3/4 cup certified gluten free oats in high-powdered blender on high until fine oat flour has formed. Measure out 3/4 cup of oat flour.