gluten free vegan mini gingersnaps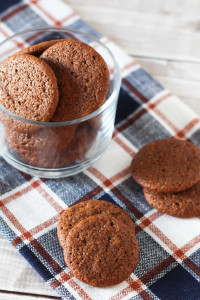 AUTHOR:
Sarah Bakes Gluten Free
1/2 cup, plus 1 tablespoon Sarah's gluten free flour blend
1/2 cup Bob's Red Mill gluten free oat flour*
1 teaspoon ground cinnamon
1/2 teaspoon ground ginger
1 teaspoon baking powder
1/2 teaspoon baking soda
1/4 teaspoon salt
1/2 cup coconut sugar or brown sugar
1/4 cup unsweetened applesauce
3 tablespoons sunflower seed or canola oil
1 tablespoon molasses
1 teaspoon pure vanilla extract
Preheat oven to 325 degrees. Line two baking sheets with parchment paper.
In medium bowl, sift together flour blend, oat flour, cinnamon, ginger, baking powder, baking soda and salt. Set aside.
In large bowl, mix together coconut sugar, applesauce, oil, molasses and vanilla. Stir until blended. Add flour mixture and stir until combined (dough will be thin).
Fill large ziploc bag with cookie dough. Cut tip of bag. Squeeze teaspoon-size rounds of dough onto prepared baking sheets.
Slightly flatten with fingers into 1-inch round discs. Cookies will spread slightly. Repeat with remaining dough (you'll get about 36-40 cookies).
Bake cookies 14-16 minutes, until golden brown and crisp on edges. Allow cookies to cool on baking sheet for 10 minutes. Place cookies on cooling rack to cool completely.
*To make your own oat flour, blend about 3/4 cup certified gluten free oats in high-powdered blender on high until fine oat flour has formed. Measure out 3/4 cup of oat flour.
Recipe by
Sarah Bakes Gluten Free
at https://www.sarahbakesgfree.com/2015/11/gluten-free-vegan-mini-gingersnaps.html