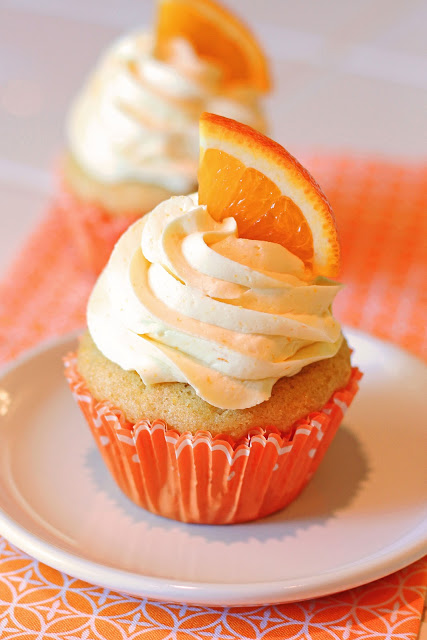 One of those nostalgic treats I'm sure many of us enjoyed growing up…creamsicle ice cream bars. It was an orange popsicle with vanilla ice cream in the middle. They were also called 50/50 bars. A frozen treat with the perfect combo of zesty orange and creamy vanilla. So refreshing!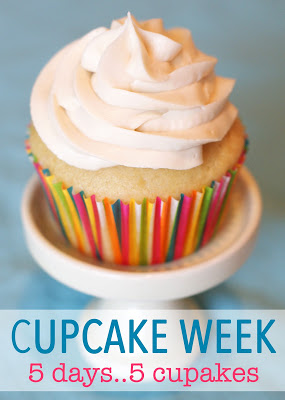 For my next cupcake recipe for Cupcake Week, I wanted to capture the flavors of an orange creamsicle in a cupcake. It's my husbands favorite so it was a must that I got it just right. I started with my vanilla cupcake recipe and replaced the water with freshly-squeezed orange juice. I also added a boost of orange flavor with orange zest and pure orange extract. The frosting is what puts these cupcakes over the top. It's pretty amazing, I must say. It's studded with specks of orange zest and the orange and vanilla extracts give it the flavor of the orange creamsicle that we all know and love. This is one creamy, dreamy gluten free cupcake. A burst of bright and cheerful orange in every bite!
gluten free vegan orange creamsicle cupcakes
makes 14 cupcakes
orange cupcakes
1 3/4 cups Sarah's gluten free flour blend
1 teaspoon baking powder
1/2 teaspoon baking soda
1/2 teaspoon salt
1/2 cup So Delicious unsweetened coconut milk
1/2 cup fresh-squeezed orange juice
2 teaspoons white vinegar
1 cup organic cane sugar
1/3 cup sunflower seed oil
2 teaspoons orange zest
1 teaspoon orange oil or extract
1 teaspoon pure vanilla extract
orange vanilla buttercream frosting
1/2 cup Earth Balance vegan butter, cold
3 tablespoons organic non-hydrogenated shortening
3 1/2 cups organic powdered sugar, sifted
2 tablespoons freshly-squeezed orange juice
1-2 tablespoons So Delicious coconut milk coffee creamer
2 teaspoons orange zest
1 teaspoon pure orange extract
1 teaspoon pure vanilla extract
orange slices for garnish (optional)
Preheat oven to 350 degrees. Line cupcake pans with paper cupcake liners. Sift together flour blend, baking powder, baking soda, and salt. Set aside. In large mixing bowl, stir together the coconut milk, orange juice and vinegar. Allow to sit for 1 minute. Add the sugar, oil, orange zest and orange extract and vanilla. Slowly whisk in the flour mixture. Beat for 1 minute. The batter will become smooth and start to thicken. Pour batter into prepared cupcake pan. Bake for 17-19 minutes, or until toothpick inserted in center of cupcake comes out clean. Place cupcakes on cooling rack and cool completely.
In bowl of stand mixer, beat together the Earth Balance with the shortening for 1 minute. Add the sifted powdered sugar, orange juice, 1 tablespoons coffee creamer, orange zest, orange extract and vanilla. Beat for an additional 2 minutes. Add another tablespoon of the coffee creamer if needed. Beat the buttercream until light and fluffy. Place in piping bag with large star tip and frost the cooled cupcakes. Top with fresh orange slices (optional). Best enjoyed within 1-2 days.