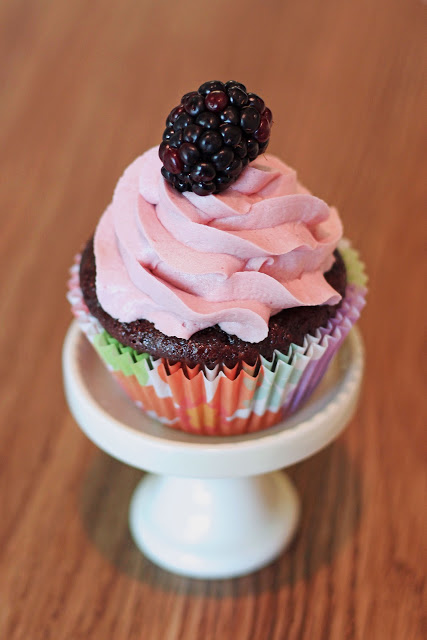 Sometimes after a long, exhausting day, all I want to do is put my feet up and enjoy a glass of wine. Sure does help this mama relax. But then I think to myself, "man, I wish I had a chocolate treat to go with my glass of wine." That's when I decided to pair a rich, chocolate cupcake with the bold and robust taste of cabernet sauvignon. I know that only good things can come from combining wine and chocolate!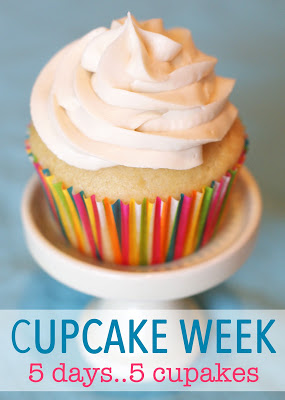 It was so simple to transform an ordinary chocolate cupcake into this extraordinary chocolate blackberry cabernet cupcake. I took a good cabernet sauvignon and fresh blackberries. Simmered them down to make a beautiful wine reduction, infused with fruity blackberries. The wine is mixed into the cupcake batter, as well as the vegan buttercream. The wine flavor in these gluten free cupcakes is subtle, not overpowering. Just enough to make you feel like you are enjoying a sophisticated and refined cupcake…that totally rocks!
gluten free vegan chocolate blackberry cabernet cupcakes
makes 12 cupcakes
blackberry wine reduction
1 1/2 cups cabernet sauvignon wine or your favorite red wine
1/2 cup fresh or frozen blackberries
chocolate cabernet cupcakes
1 1/4 cups Sarah's gluten free flour blend
1 cup organic cane sugar
1/2 cup good quality cocoa powder
1 teaspoons baking powder
1/2 teaspoon baking soda
1/2 teaspoon sea salt
1/2 cup So Delicious Dairy Free unsweetened coconut milk
1/2 cup blackberry wine reduction
1/3 cup sunflower seed oil (or mild flavor oil)
1 tablespoon white vinegar
2 teaspoons pure vanilla extract
vegan cabernet buttercream
1/2 cup Earth Balance vegan butter, cold
1/4 cup organic non-hydrogenated shortening
3 cups organic powdered sugar, sifted
2-3 tabelspoons blackberry wine reduction
1 teaspoon pure vanilla extract
1 cup fresh blackberries
Start by making the blackberry wine reduction. Place the wine and blackberries in medium saucepan. Bring to a low boil and turn hurt down to low. Simmer for 25-30 minutes, or until reduced by about half. Pour wine and blackberries through a fine-mesh sieve. Press the blackberries with the back of a spoon, just to remove the juice from the blackberries (you will need about 3/4 cup). Set the wine reduction aside to slightly cool. You can also make the wine reduction a day or two ahead and just store in the refrigerator.
Preheat oven to 350 degrees. Prepare cupcake pan by lining with paper liners. In large mixing bowl, sift together flour, sugar, cocoa powder, baking powder, baking soda and salt. Set aside. Combine 1/2 cup of the warm wine reduction and coconut milk. Stir in the oil, vinegar, and vanilla extract. Pour over flour mixture and beat for 1 minute. Evenly divide the cupcake batter into the prepared cupcake pan. Bake for 16-18 minutes or until toothpick inserted in center comes out clean. Cool in pans for 5 minutes, then invert onto cooling rack to cool completely.
To make buttercream, beat together the vegan butter with the shortening for 1 minute in large bowl of standing mixer. Add the sifted powdered sugar, 2 tablespoons reduced wine and vanilla. Beat for an additional 2 minutes. Add another tablespoon or 2 of the wine reduction as needed. Beat the buttercream until light and fluffy. Place buttercream in pastry bag with large star tip and pipe onto cooled cupcakes. Top with fresh blackberries.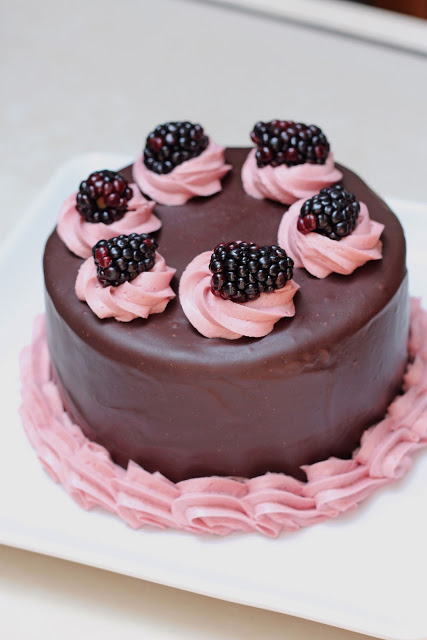 For mother's day, I made the chocolate cabernet cupcakes, as well as this 6-inch layer cake. Isn't it so pretty? I used the same technique as with my mocha layer cake, but on a smaller scale. I made the chocolate cupcake recipe (above) and divided it between two 6-inch cake pans. The cabernet buttercream is layered between the cake, then the whole thing is covered with vegan chocolate ganache. Decorated with additional buttercream and fresh blackberries. Oh heavens, it was amazing!