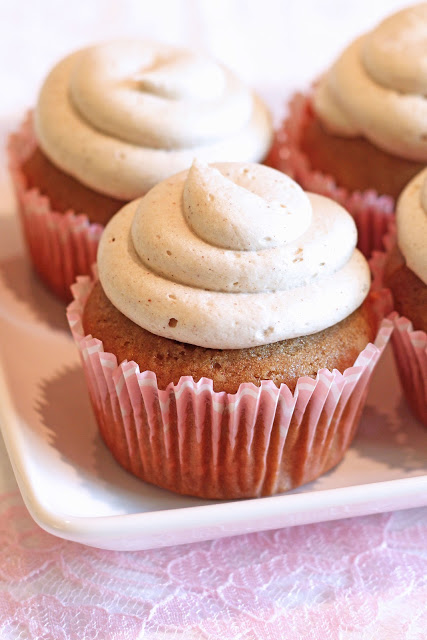 I'm a chai tea girl. When I go to Starbucks, I don't order a tall mocha frappaccino or a grande carmel macchiato. I go for the chai latte with soy. Every time. That's my drink of choice. I just love the robust spices that are in a chai latte. The perfect blend of creamy and sweetness, with a kick of spiciness. It just warms my soul. What is your favorite coffee or tea drink?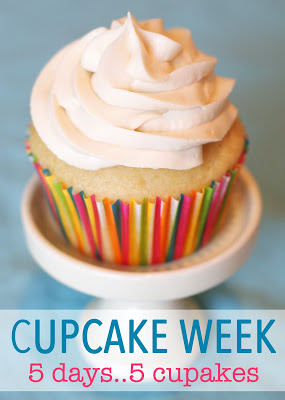 It's day two of Cupcake Week here on Sarah Bakes Gluten Free Treats. Did you check out yesterday's recipe for mocha cupcakes? They are one of my favorite cupcake recipes at the moment, but these chai tea latte cupcakes have a special place in my heart too. They are gluten, egg, and dairy free. I used Tazo Chai Tea Latte Concentrate in the cupcake batter, which does have honey in it so these are not fully vegan cupcakes. You can use any brand of chai tea concentrate that you like. I also added lots of extra cinnamon, ground ginger and nutmeg. The vegan buttercream has the perfect blend of spices too. If you're a fan of chai lattes…you're going to adore these cupcakes!
gluten free chai latte cupcakes
makes 14 cupcakes
chai latte cupcakes
1 3/4 cups Sarah's gluten free flour blend
1 teaspoon ground cinnamon
1/2 teaspoon ground ginger
1/4 teaspoon ground nutmeg
1 teaspoon baking powder
1/2 teaspoon baking soda
1/2 teaspoon salt
1/2 cup So Delicious vanilla coconut milk
1/2 cup liquid chai tea latte concentrate
1 tablespoon white vinegar
1/2 cup organic cane sugar
1/3 cup sunflower seed oil
2 teaspoons pure vanilla extract
vegan chai latte buttercream frosting
1/2 cup Earth Balance vegan butter, cold
1/4 cup organic non-hydrogenated shortening
3 cups organic powdered sugar, sifted
1 teaspoon ground cinnamon
1/2 teaspoon ground ginger
1/4 teaspoon ground nutmeg
2-3 tablespoons So Delicious coconut milk coffee creamer
1 teaspoon pure vanilla extract
Preheat oven to 350 degrees. Line cupcake pans with paper cupcake liners. Sift together flour blend, cinnamon, ginger, nutmeg, baking powder, baking soda, and salt. Set aside. In large mixing bowl, stir together the coconut milk, chai tea concentrate and vinegar. Allow to sit for 1 minute. Add the sugar, oil, and vanilla extract. Slowly whisk in the flour mixture. Beat for 1 minute. The batter will become smooth and start to thicken. Pour batter into prepared cupcake pan. Bake for 16-18 minutes, or until toothpick inserted in center of cupcake comes out clean. Place cupcakes on cooling rack and cool completely.
To make buttercream, beat together the Earth Balance with the shortening for 1 minute. Add the sifted powdered sugar, cinnamon, ginger, and nutmeg. Pour in 2 tablespoons coffee creamer and vanilla. Beat for an additional 2 minutes. Add another tablespoon or 2 of the coffee creamer if needed. Beat the buttercream until light and fluffy. Place in piping bag with large round tip and frost the cooled cupcakes. Best enjoyed within 1-2 days.