Cupcake Week is here and I couldn't be more excited! All week, I will be sharing cupcake recipes that are gluten, egg, and dairy free. Say what? They may be missing those so called must-have ingredients, but they are certainly not lacking in texture and incredible taste. I've come up with 5 different cupcake flavor combinations. Each one is unique in it's own way. I would imagine you are all going to have a hard time deciding with cupcake recipe to try first!
The first cupcake you might notice from my new blog banner up top. Isn't it cute? These mocha cupcakes are just sinful. If you like anything coffee flavored (like me) then you will fall head over heals in love with these cupcakes! I started with the cupcakes, which is just a simple, rich chocolate cake recipe. I then topped them with a velvety, vegan mocha buttercream and mini chocolate chips for extra chocolate goodness. Because there is no such thing as too much chocolate.
I recently brought these cupcakes to an event and no one could believe they were gluten free and vegan. They were pretty shocked actually. I think some of them expected them to taste nasty. I showed them that you don't have to compromise flavor and texture with allergen-free baked goodies. They can still be just as amazing. You can trust me when I say, "these gluten free vegan mocha cupcakes are magically delicious!"
gluten free vegan mocha cupcakes
makes 14 cupcakes
chocolate cupcakes
1 1/4 cups Sarah's gluten free flour blend
1 cup organic cane sugar
1/2 cup good quality cocoa powder
1 teaspoons baking powder
1/2 teaspoon baking soda
1/2 teaspoon sea salt
1/2 cup So Delicious Dairy Free unsweetened coconut milk
1/2 cup water
1/3 cup sunflower seed oil (or mild flavor oil)
1 tablespoon white vinegar
2 teaspoons pure vanilla extract
vegan coffee buttercream
1/2 cup Earth Balance vegan butter, cold
1/4 cup organic non-hydrogenated shortening
3 cups organic powdered sugar, sifted
1 tablespoon instant coffee granules
1 tablespoon warm water
2-3 tablespoons So Delicious Dairy Free coconut milk coffee creamer
1 teaspoon pure vanilla extract
1/4 cup Enjoy Life mini dairy free chocolate chips
Preheat oven to 350 degrees. Prepare cupcake pans by lining with paper liners. In large mixing bowl, sift together flour, sugar, cocoa powder, baking powder, baking soda and salt. Set aside. In microwave safe medium bowl, combine coconut milk and water. Microwave for 1-2 minutes until warm. Stir in the oil, vinegar, and vanilla extract. Pour over flour mixture and beat for 1 minute. Evenly divide the cupcake batter into the prepared cupcake pans. Bake for 16-18 minutes or until toothpick inserted in center comes out clean. Cool in pans for 5 minutes, then invert onto cooling rack to cool completely.
To make buttercream, beat together the vegan butter with the shortening for 1 minute in large bowl of standing mixer. In small bowl, dissolve instant coffee in the tablespoon of warm water. Add the coffee, sifted powdered sugar, 2 tablespoons coffee creamer and vanilla. Beat for an additional 2 minutes. Add another tablespoon or 2 of the coffee creamer if needed. Beat the buttercream until light and fluffy. Place buttercream in pastry bag and pipe onto cooled cupcakes. Sprinkle with mini chocolate chips.
moist chocolate cupcake, with creamy coffee buttercream.
doesn't get much better.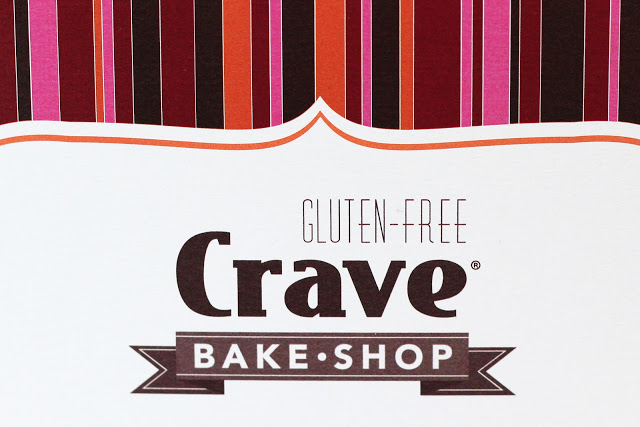 Now that you have heard about Kyra's awesome gluten free cake mixes, be sure to enter the Crave Bake Shop givaway! Each winner will get to choose a cake mix of their choice…chocolate, vanilla or snickerdoodle. To enter the giveaway, you must sign-in using the box below and leave a comment as well. Be sure to tell me…"what is your cupcake of choice?" You can receive extra entries by liking the Crave Bake Shop on facebook or tweeting this giveaway (be sure to enter your extra entries below). The last day to enter is Sunday, May 26. Two winners will be chosen. Now while you're waiting to find out if it's going to be you…go bake some cupcakes!