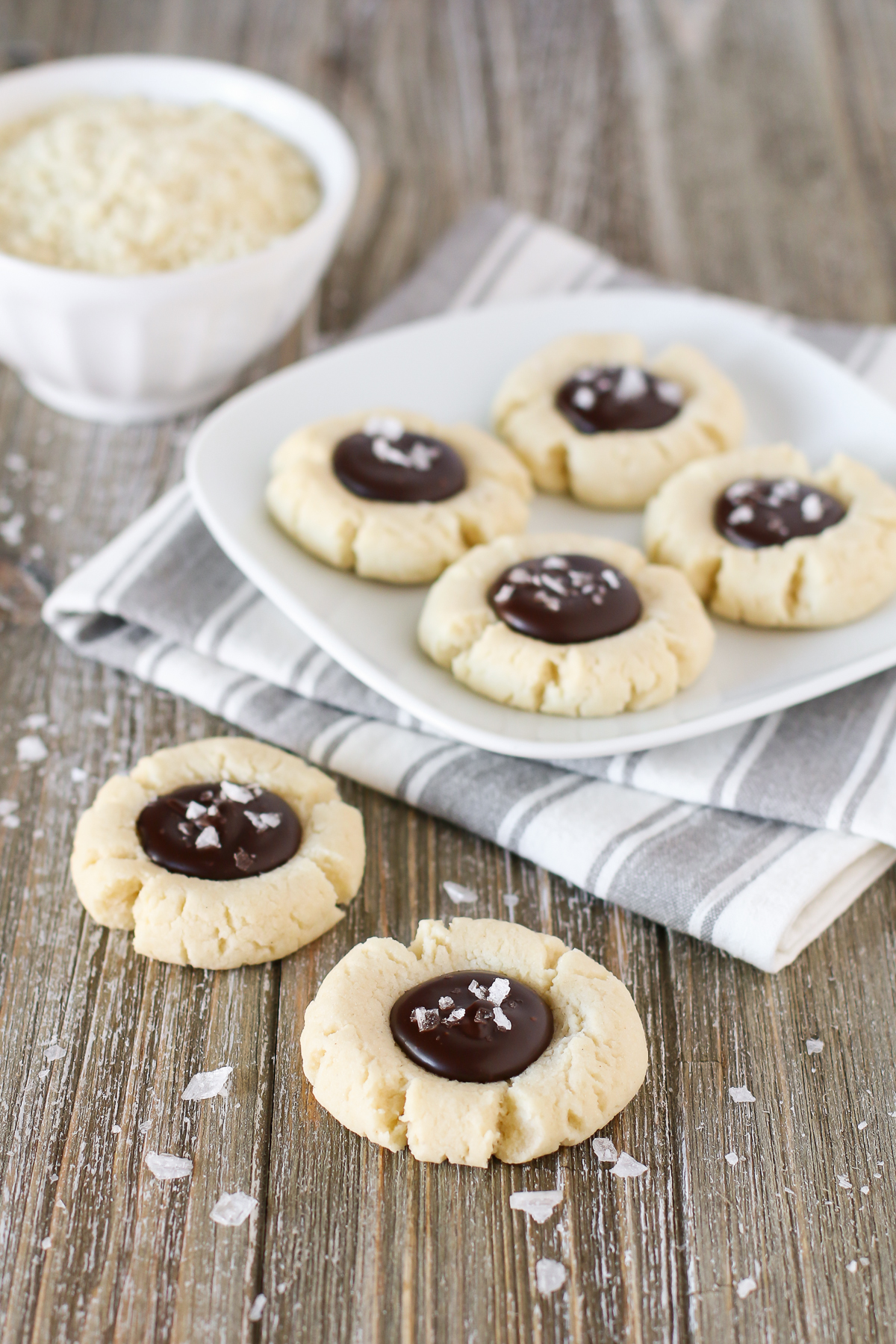 Ring in the New Year with these gluten free vegan salted chocolate almond thumbprint cookies! Soft almond cookies, filled with a decadent chocolate ganache and topped with beautiful sea salt flakes.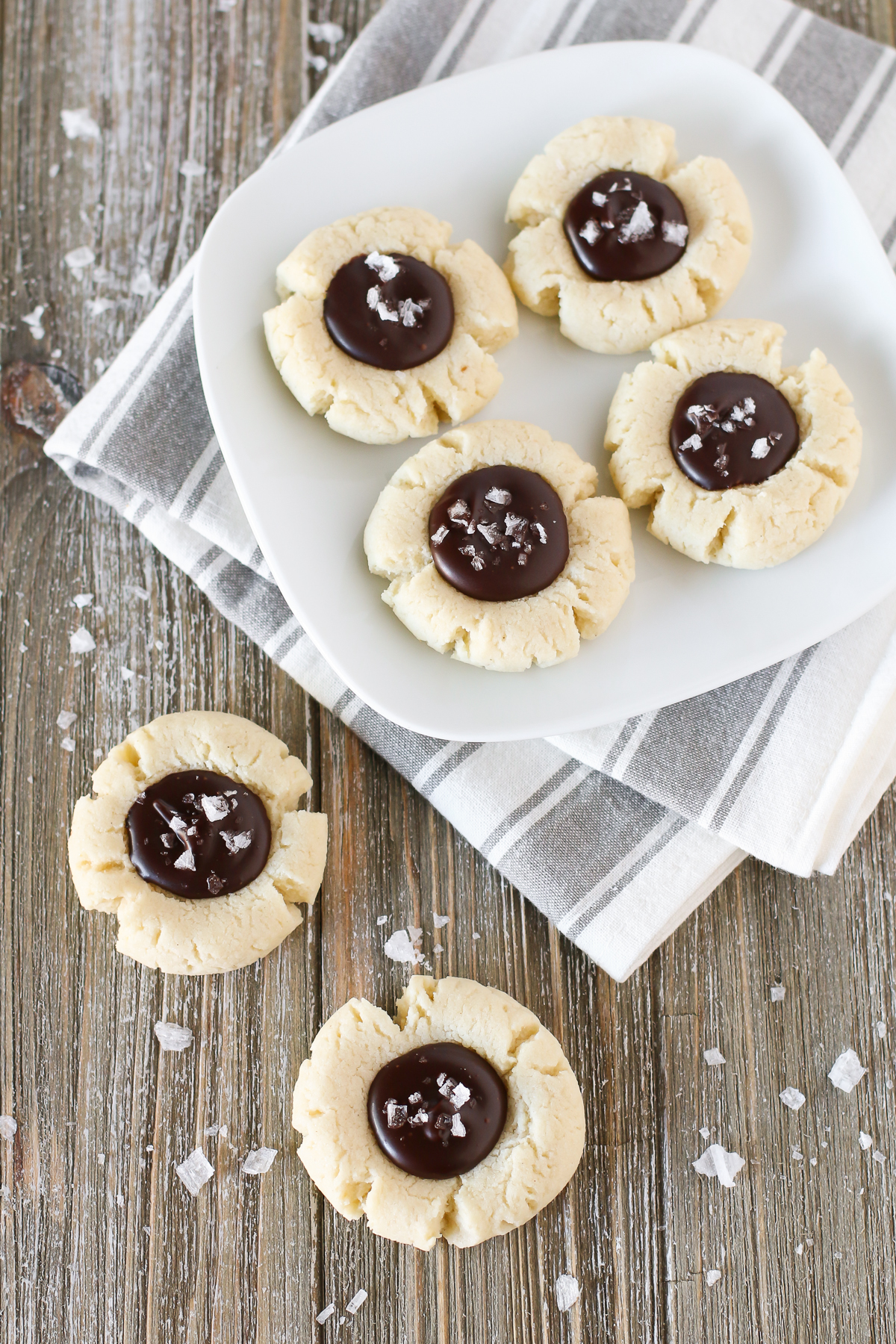 I can't even tell you how many dozens of cookies I have made in the past month. Between Thanksgiving, all the parties, family gatherings, my cravings for chocolate chip cookies and Christmas, it's A LOT. I'm not complaining. Cookies are one of my favorite things to bake. They come together quickly, they're a good grab-n-go dessert and who can resist a homemade cookie?
I thought I would share with you one more cookie recipe before it's 2019! I know you won't mind another cookie recipe. You can never have too many, especially when chocolate and sea salt are involved. These thumbprint cookies are just so pretty and the flavor combination is over the top delicious!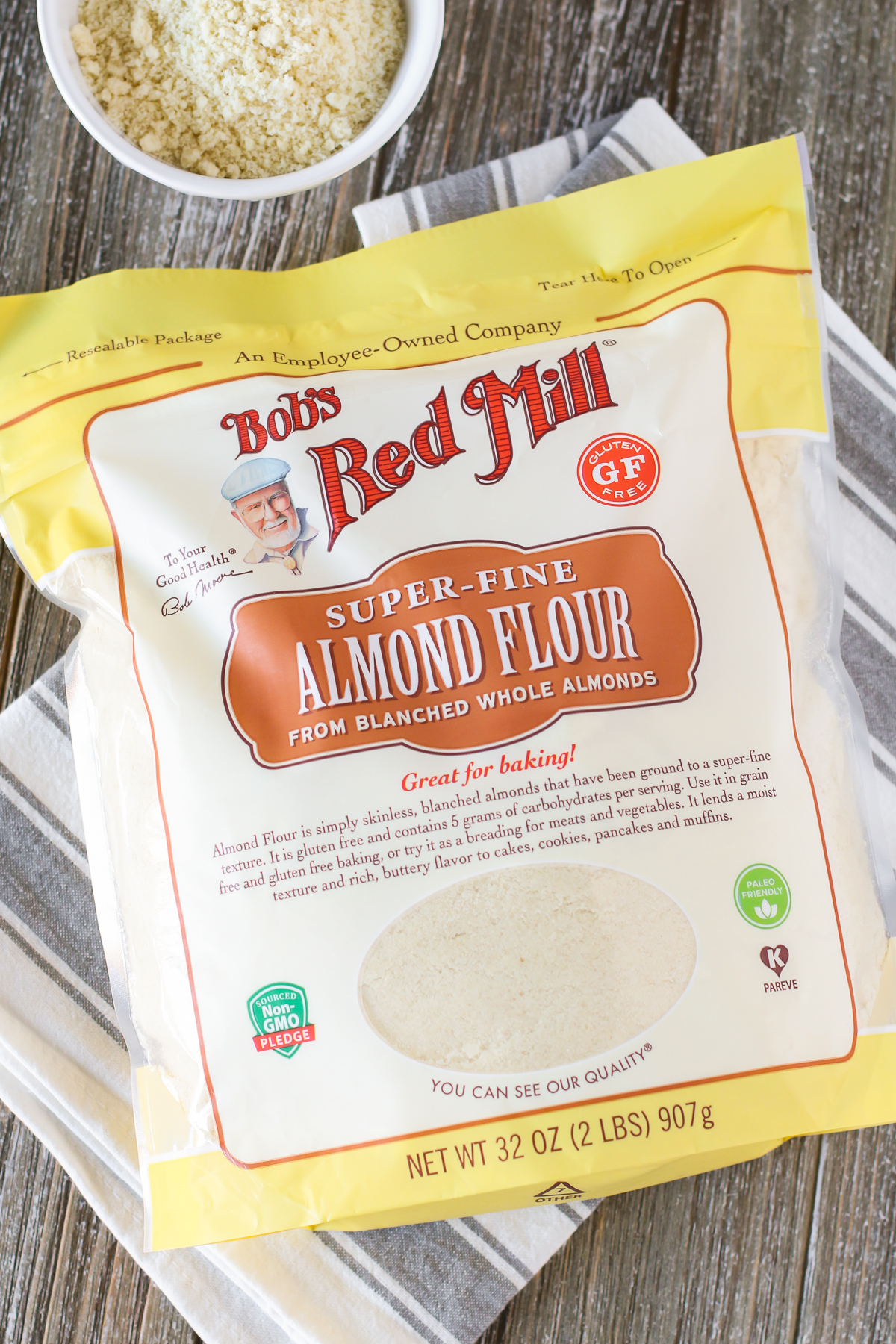 I'm reaching for my trusted friend, Bob's Red Mill almond flour, to make these gluten free vegan salted chocolate almond thumbprint cookies. I always have this super fine almond flour on hand, for adding to breads, muffins, pancakes and cookies. It helps create such a beautiful texture in grain free and gluten free baking. I also love to use it for a quick breading! So flavorful. So good.
Almond flour is the key to making these cookies soft and light. It's combined with Bob's Red Mill gluten free 1-to-1 baking flour, which is also another staple for this gluten free baker. The two together make a lovely cookie dough to work with. I also added pure almond extract to the dough to really bring out the almond flavor. Don't you just adore almond extract? It has a sweet cherry flavor and alongside the chocolate ganache filling, it's pretty magical.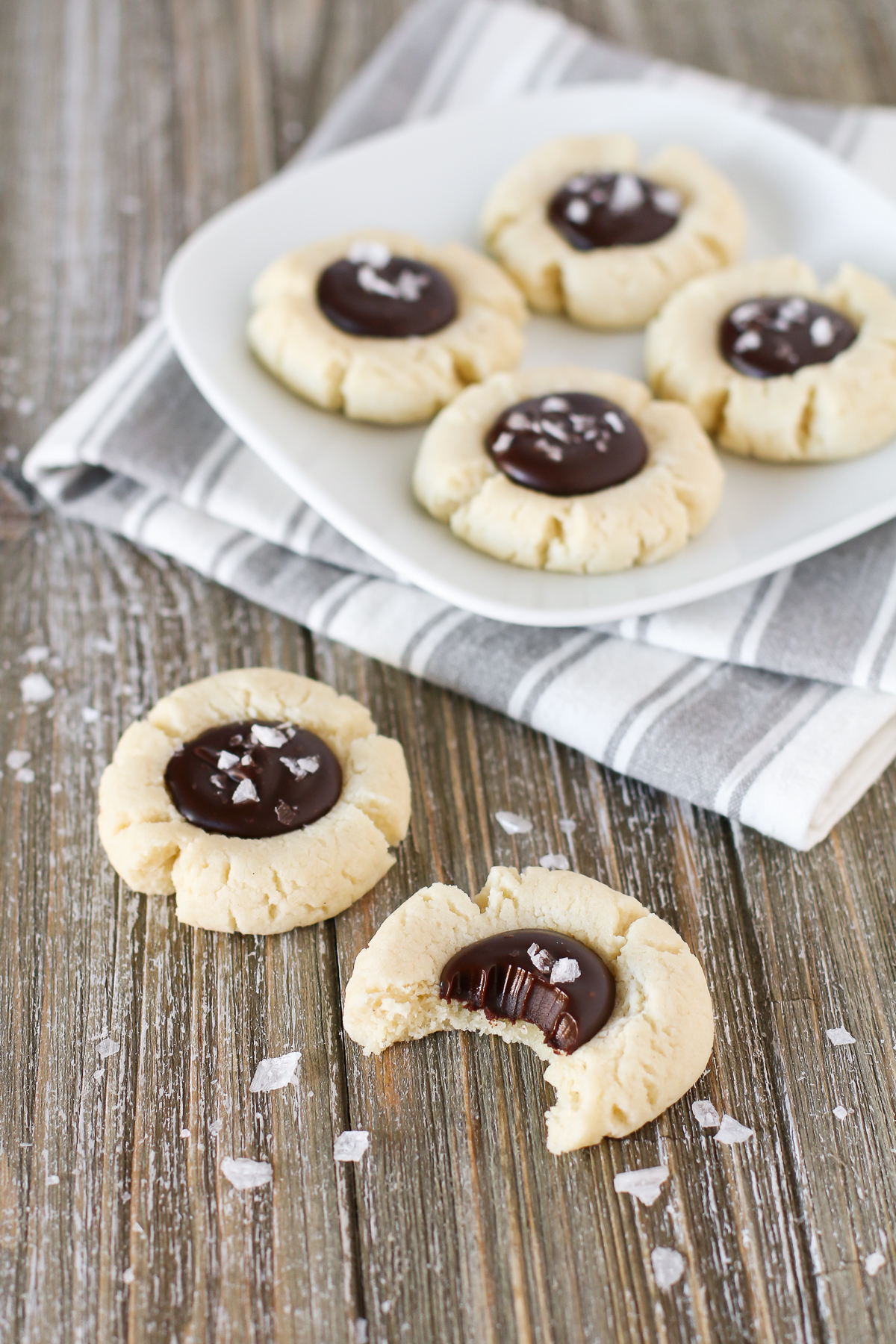 Let's talk about those stunning sea salt flakes for a minute. If you haven't used sea salt flakes before, go ahead and buy some ASAP. You can thank me later. They are like little snowflakes of salt that bring out the flavor of so many things. You can find them online or at your local grocery store. You can see them in action in my gluten free vegan salted dark chocolate tart and these salted chocolate peanut butter truffles.
Now, back to these precious thumbprint cookies. Have I convinced you yet that you NEED to make them? I'm certain wherever and whenever you serve these gluten free vegan salted chocolate almond thumbprint cookies, someone will you give you a big hug and ask for the recipe. They are just that good!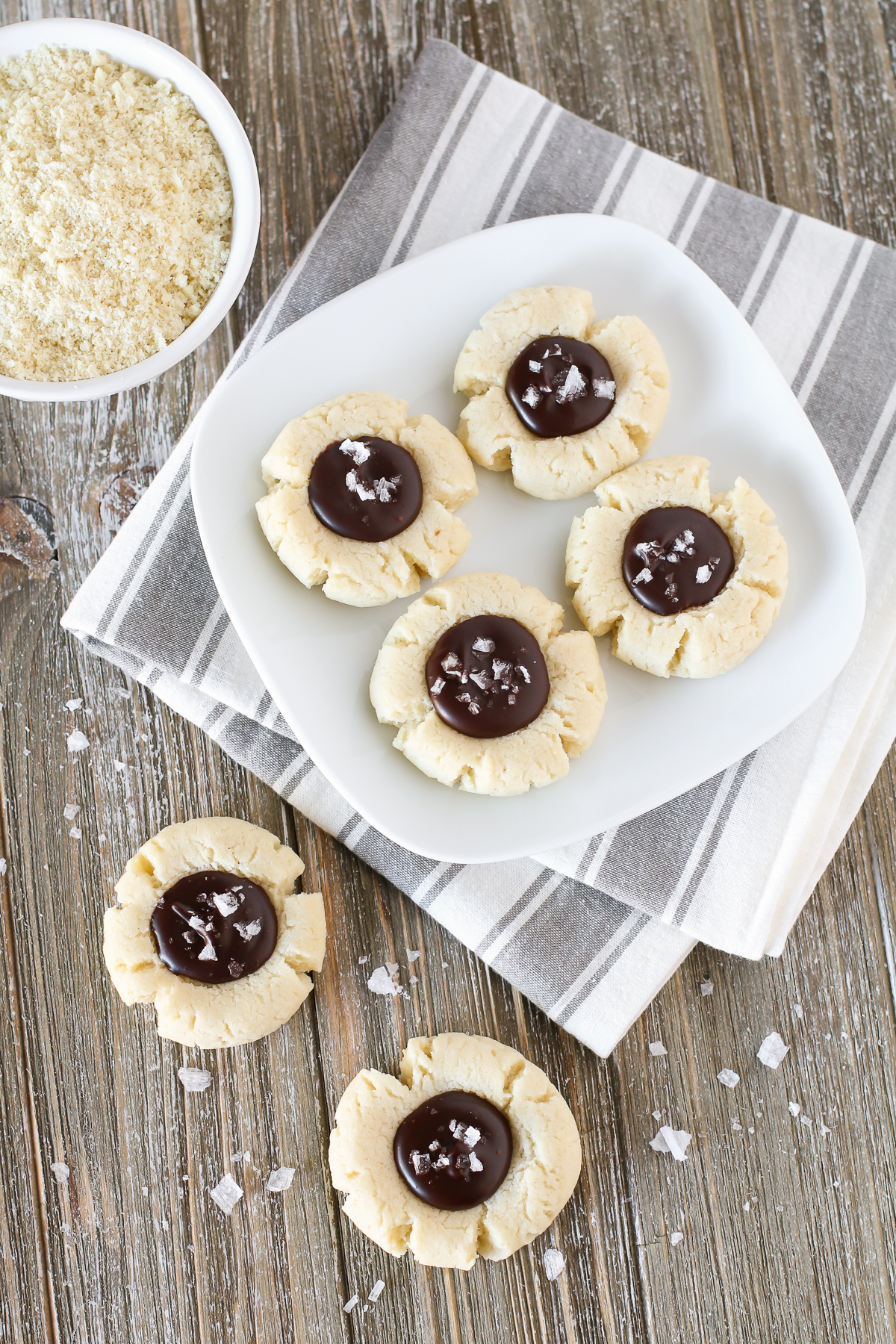 gluten free vegan salted chocolate almond thumbprint cookies
AUTHOR:
Sarah Bakes Gluten Free
INGREDIENTS
almond thumbprint cookies
1/2 cup cane sugar
1/3 cup refined coconut oil, softened
3 tablespoons unsweetened almond milk or coconut milk
1 teaspoon pure almond extract
1/2 teaspoon pure vanilla extract
1 1/2 cups Bob's Red Mill almond flour
1/2 teaspoon sea salt
chocolate ganache
1/2 cup dairy free chocolate chips
2 tablespoons almond milk or coconut milk
2 tablespoons sea salt flakes
INSTRUCTIONS
Preheat oven to 350 degrees. Line baking sheets with parchment paper.
In large bowl of standing mixer, cream together sugar and coconut oil, 1-2 minutes. Add almond milk, almond extract and vanilla. Beat until blended.
Add almond flour, gluten free flour and 1/2 teaspoon salt. Continue mixing until dough comes together.
Scoop cookie dough using cookie scoop and roll dough into balls. Place onto prepared baking sheet and indent center of cookie with thumb, flattening tops slightly.
Bake cookies 9-11 minutes. Remove from oven and leave cookies on baking sheet 5 minutes. While still a bit warm, indent center of cookie with thumb. Place cookies on cooling rack to cool completely.
To make chocolate ganache, place chocolate chips and almond milk in small microwave-safe bowl. Microwave on low for 30 seconds. Stir and microwave an additional 20 seconds. Stir until smooth and creamy.
Top each cookie with about 1 teaspoon chocolate ganche, filling center. Sprinkle on sea salt flakes. Place cookies in refrigerator to set chocolate. Store cookies at room temperature.
This post has been sponsored by Bob's Red Mill. All opinions are my own. Check out more delicious healthy recipes, snag coupons and find stores near you at bobsredmill.com!
This post contains affiliate links. If you purchase items through some of the links, I earn a small commission off the sale at no extra cost to you. Helps keeps the recipes coming and the blog up and running!