gluten free vegan salted chocolate almond thumbprint cookies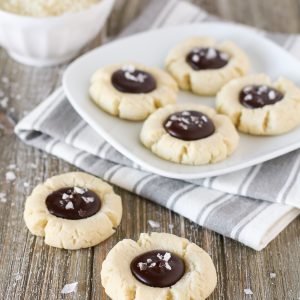 AUTHOR:
Sarah Bakes Gluten Free
1/2 cup cane sugar
1/3 cup refined coconut oil, softened
3 tablespoons unsweetened almond milk or coconut milk
1 teaspoon pure almond extract
1/2 teaspoon pure vanilla extract
1 1/2 cups Bob's Red Mill almond flour
1/2 teaspoon sea salt
1/2 cup dairy free chocolate chips
2 tablespoons almond milk or coconut milk
2 tablespoons sea salt flakes
Preheat oven to 350 degrees. Line baking sheets with parchment paper.
In large bowl of standing mixer, cream together sugar and coconut oil, 1-2 minutes. Add almond milk, almond extract and vanilla. Beat until blended.
Add almond flour, gluten free flour and 1/2 teaspoon salt. Continue mixing until dough comes together.
Scoop cookie dough using cookie scoop and roll dough into balls. Place onto prepared baking sheet and indent center of cookie with thumb, flattening tops slightly.
Bake cookies 9-11 minutes. Remove from oven and leave cookies on baking sheet 5 minutes. While still a bit warm, indent center of cookie with thumb. Place cookies on cooling rack to cool completely.
To make chocolate ganache, place chocolate chips and almond milk in small microwave-safe bowl. Microwave on low for 30 seconds. Stir and microwave an additional 20 seconds. Stir until smooth and creamy.
Top each cookie with about 1 teaspoon chocolate ganche, filling center. Sprinkle on sea salt flakes. Place cookies in refrigerator to set chocolate. Store cookies at room temperature.
Recipe by
Sarah Bakes Gluten Free
at https://www.sarahbakesgfree.com/2018/12/gluten-free-vegan-salted-chocolate-almond-thumbprint-cookies.html