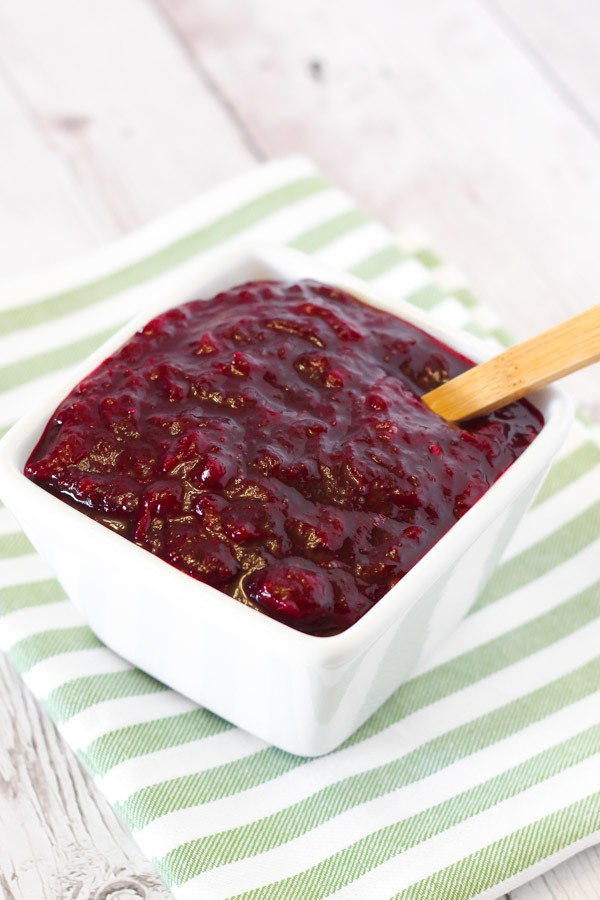 Homemade cranberry sauce. A little tart, a little sweet, a whole lot of flavor from those beautiful fresh cranberries. A must-have on your holiday table!
I don't remember the last time I had canned cranberry sauce on Thanksgiving. My mom has always made it from scratch. There really wasn't another option. After learning how to make it myself, I never understood why you would want to buy it when it's so easy. Seriously, ridiculously quick!
Your main ingredients for cranberry sauce is fresh cranberries, water and sweetener of choice. I went with a mixture of both cane sugar and pure maple syrup. I like the depth of flavor that maple syrup has, but it isn't overpowering, like honey can be. Simmer all together over the stove for about 20 minutes and you have the most gorgeous, vibrant cranberry sauce.
Please promise me you'll stop buying that overly sweetened cranberry sauce from the store. Homemade is always better. Always. This cranberry sauce still showcases the natural tartness of the cranberry and brings out their beautiful flavor. It can also be stored in your refrigerator for 1-2 weeks so it's a great make-ahead recipe for the holidays. You'll want to slather this stuff on your toast, muffins and even on vanilla ice cream!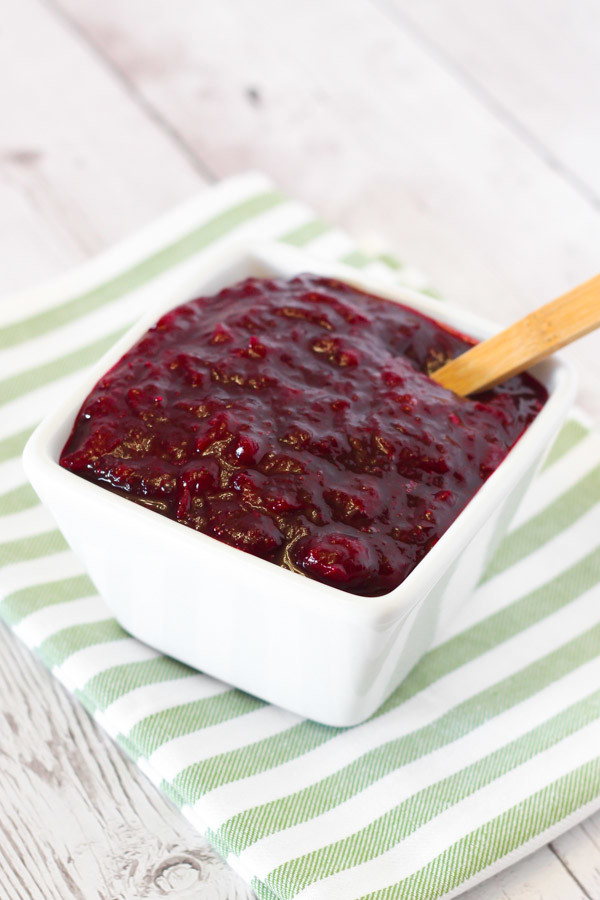 homemade cranberry sauce
AUTHOR:
Sarah Bakes Gluten Free
RECIPE TYPE:
holiday sweets
INGREDIENTS
4 cups fresh cranberries, rinsed
1 cup water
1/2 cup cane sugar or coconut sugar
1/4 cup pure maple syrup
INSTRUCTIONS
In a medium saucepan over medium heat, stir together cranberries, water, sugar and maple syrup. Bring to boil. Cranberries will start to pop.
Once boiling, reduce heat to low and simmer for 15-20 minutes, stirring occasionally.
Remove cranberry sauce from stove. Sauce will continue to thicken as it sits.
Let cool 20 minutes. Place in dish and cover with plastic wrap. Refrigerate until ready to serve.
Can be stored in refrigerator 1-2 weeks.