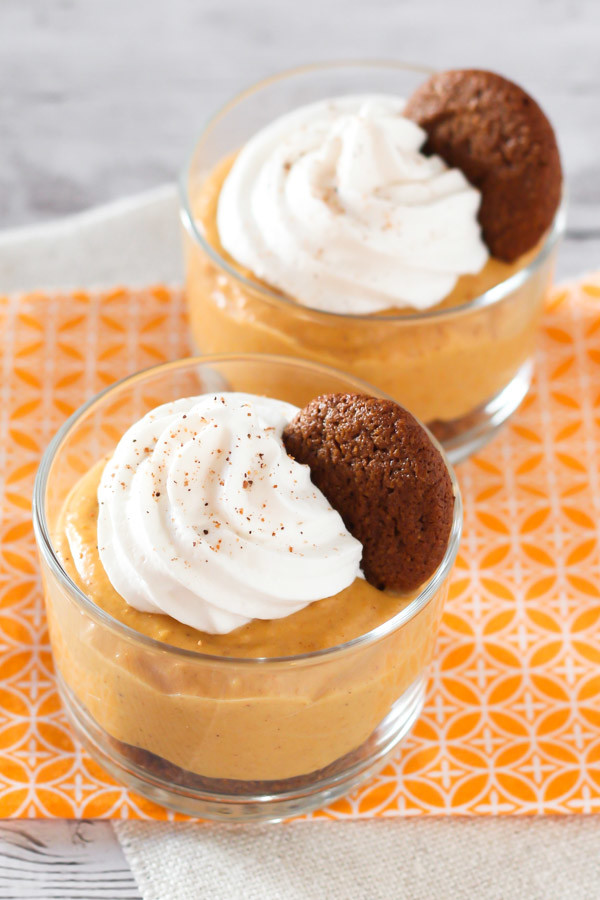 Pumpkin desserts are all the rage these days. From classic pumpkin pie, to pumpkin cheesecake. Give people their pumpkin desserts and they will be happy. At least for the months of September through December.
Pumpkin pie is probably my all time favorite pumpkin dessert. The flakey crust, the creamy pumpkin filling, the whipped coconut cream. Well, until these little bowl of pumpkin pie pudding goodness came into my life. Seriously, friends. I could (and would) eat this dessert every. single. day.
It all starts with my recipe for pumpkin pudding. Easy peasy. Made with coconut milk, of course. The texture is so perfect and well, a dream come true really. Now, you could just make the pudding, forgetting about the gingersnaps and So Delicious Cocowhip. But I beg you to put all three together in these individual pumpkin pie pudding cups. The gingersnap cookie crumble on the bottom, topped with the pumpkin pudding and then that fabulous Cocowhip. It's everything you ever dreamed of in every bite.
Happy Fall, my gluten free baker friends!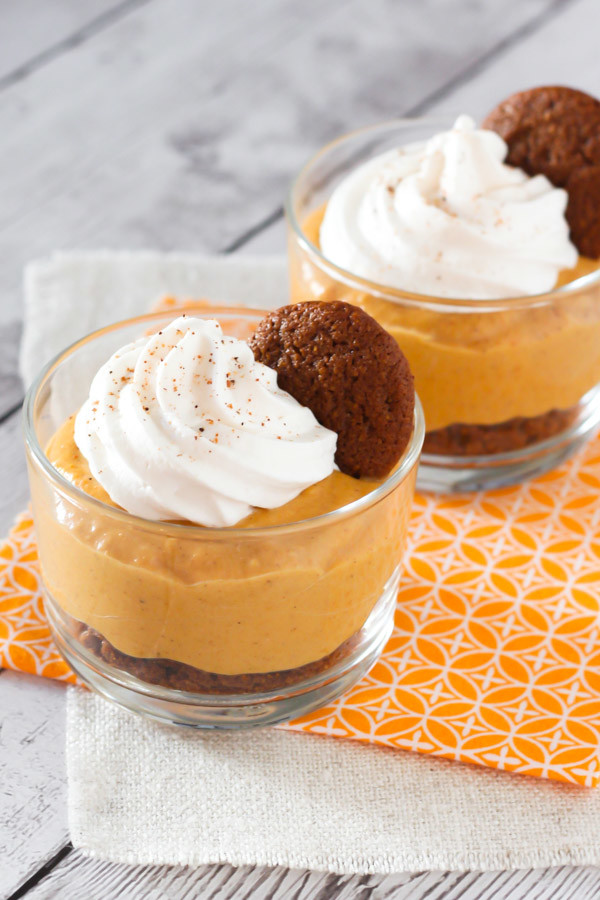 gluten free vegan pumpkin pie pudding
AUTHOR:
Sarah Bakes Gluten Free
INGREDIENTS
1/4 cup brown sugar or coconut sugar
1/4 cup cane sugar
3 tablespoons cornstarch or tapioca starch
1 teaspoon ground cinnamon
1/4 teaspoon ground ginger
1/4 teaspoon ground nutmeg
1/4 teaspoon sea salt
1 1/2 cups So Delicious full-fat culinary coconut milk, stirred*
1/2 cup So Delicious unsweetened coconut or almond milk
3/4 cup pumpkin puree
1 teaspoon pure vanilla extract
1 tub So Delicious Cocowhip whipped topping or whipped coconut cream
INSTRUCTIONS
To make pumpkin pudding, whisk together brown sugar, sugar, cornstarch, cinnamon, ginger, nutmeg and salt in medium saucepan.
Whisk in full-fat coconut milk, remaining 1/2 cup coconut milk and pumpkin puree. Place over medium heat.
While stirring constantly, cook pudding until bubbly and thick (about 5 minutes).
Remove from heat and stir in vanilla. Strain pudding through fine mesh sieve to remove any lumps.
Pour pudding into bowl and cover with plastic wrap. Refrigerate until pudding is completely chilled, 2-3 hours.
While pudding chills, bake mini gingersnap cookies according to recipe.
Place 20-25 cooled gingersnaps in plastic ziploc bag. Seal bag and crush cookies, using sturdy glass or rolling pin.
Fill bottom of 6 serving dishes or ramekins with about 2-3 tablespoons crushed cookies. Top with chilled pumpkin pudding and Cocowhip.
Serve immediately or chill until ready to serve.
NOTES
*If you are unable to find So Delicious culinary coconut milk, simple use your favorite full-fat canned coconut milk.