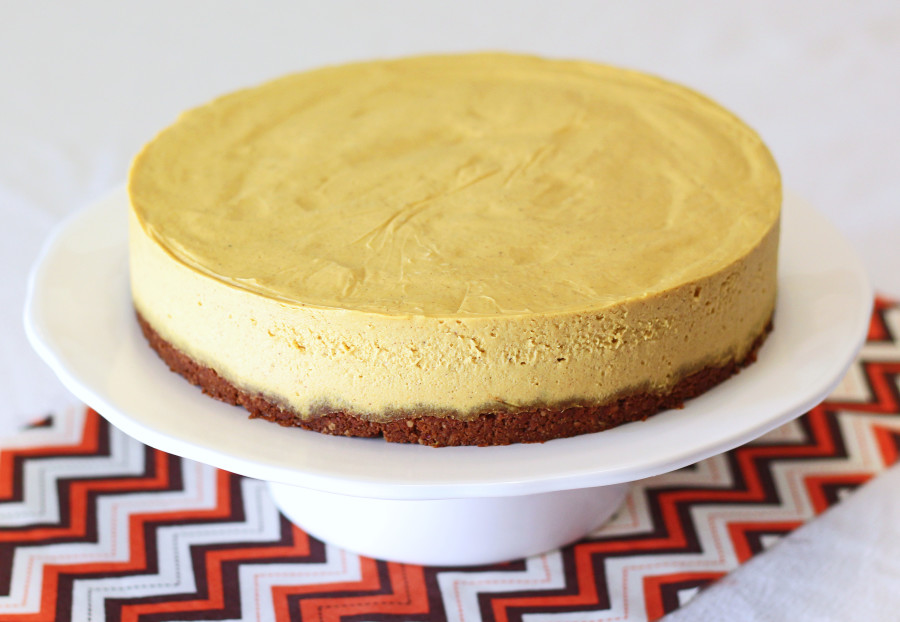 I think I've died and gone to cheesecake heaven. Like, for reals. This gluten free vegan pumpkin cheesecake is AMAZING! I've never had a cheesecake this creamy, this decadent, this flavorful. All of those other cheesecakes were made with cream cheese too. I'm fascinated at the fact that cashews blended with coconut oil and pumpkin puree, can create this masterpiece. It's a dairy free miracle!
I wanted to make this cheesecake for months now and let me tell you, it was so worth the wait. I decided to make a crust that resembled a gingersnap cookie. I started with oats, pecans (which go so well with pumpkin) and a little molasses. The crust is the only part of this cheesecake that is actually baked. The pumpkin filling is blended, poured over the cooled crust and placed in the freezer to set. A couple hours after being chilled, it's ready to be sliced and enjoyed.
This pumpkin cheesecake was my breakfast for like 4 straight days. Is that bad? I just couldn't wait until the kids went to bed to have it for dessert. Please add this to your list of "pumpkin desserts I MUST make." I'm certain that no one you make this for will know it's gluten, egg, refined sugar and dairy free. Everyone will just ask you for another slice!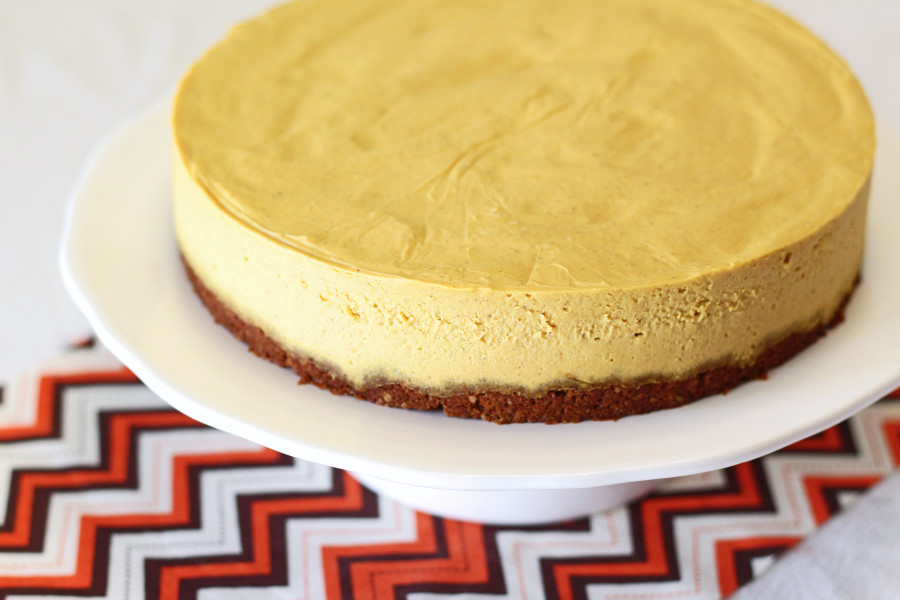 gluten free vegan pumpkin cheesecake
AUTHOR:
Sarah Bakes Gluten Free
RECIPE TYPE:
pies & tarts
INGREDIENTS
crust
1 1/4 cups certified gluten free rolled oats
1/2 cup pecans
3 tablespoons coconut oil, melted
3 tablespoons molasses or pure maple syrup
1/2 teaspoon ground cinnamon
1/4 teaspoon ground ginger
pumpkin cheesecake filling
2 1/2 cups raw cashews, soaked
1 1/4 cup pure pumpkin puree
1/2 cup coconut oil, melted
3/4 cup pure maple syrup
1/4 cup coconut sugar
3 tablespoons fresh lemon juice
1 teaspoon pure vanilla extract
1 teaspoon ground cinnamon
1/2 teaspoon ground ginger
1/4 teaspoon ground nutmeg
INSTRUCTIONS
Start by soaking raw cashews in warm water for 30 minutes. Set aside.
Preheat oven to 350 degrees. Prepare 8-inch springform cheesecake pan by lining the bottom with parchment paper.
To make crust, place oats and pecans in food processor or high-powered blender. Grind for 1 minute. Add melted coconut oil, molasses, cinnamon and ginger. Continue to blend until combined and mixture comes together.
Press crust into bottom of prepared pan. Bake for 15 minutes. Allow to cool completely in the pan on cooling rack, while you make the pumpkin filling.
Drain the soaked cashews. Add cashews, pumpkin puree, coconut oil, maple syrup and coconut sugar to food processor or high-powered blender. Blend on high for 1-2 minutes, until smooth and creamy (scrape down sides with rubber spatula for even blending).
Add lemon juice, vanilla, cinnamon, ginger and nutmeg. Blend an additional minute. Pour pumpkin filling into pan, over cooled crust. Place in freezer for 1-2 hours or until set.
Once set, cover top of cheesecake with plastic wrap. Transfer cheesecake to refrigerator until ready to serve.