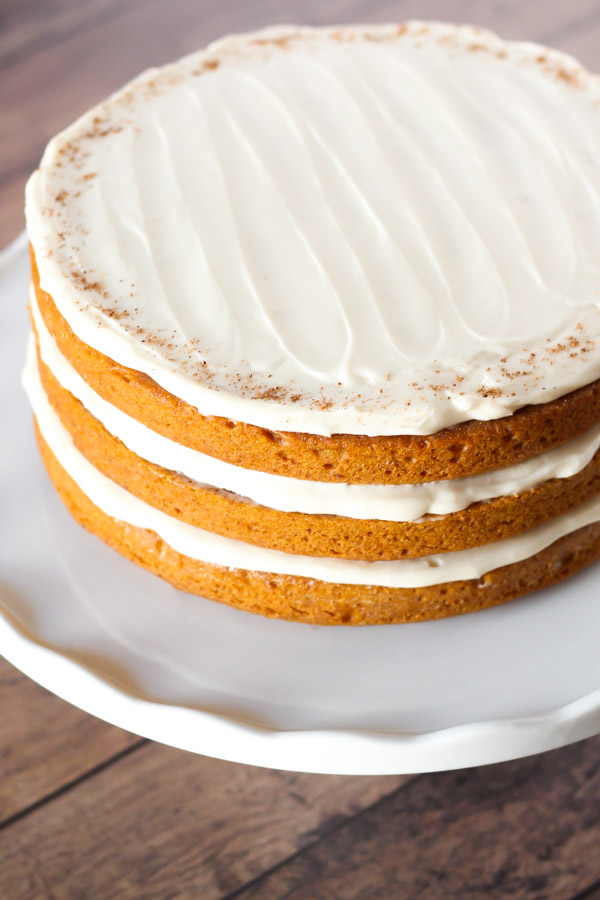 I can't. I won't. I will not stop baking with pumpkin. I'm completely obsessed! I don't know how many cans I have already gone through. Now that it's finally fall and finally October, I don't feel so crazy.
My next task in the world of pumpkin, was to create a layered pumpkin cake. 3 layers to be exact. I took my favorite pumpkin spice cupcake recipe and transformed it into a layered cake. I did change it up a bit though. Instead of a typical buttercream, I went with a dairy free cream cheese frosting. I tried 3 different brands of dairy free cream cheese and the verdict is in. Kite Hill makes the most amazing dairy free cream cheese, out of almond milk! It can be found at Whole Foods and trust me, it's crazy good.
I surprised our church home group with this fall-inspired dessert and they were all smitten. None of them are gluten or dairy free and loved every bite. They couldn't believe the frosting wasn't made from traditional cream cheese. Whenever someone asks me how I make allergen-free desserts that actually taste good, I simply say, "it's magic!" It's also a little (or a lot of) recipe testing that goes into getting it just right. Saying it's magic just sounds way cooler.
Enjoy this gluten free vegan pumpkin layer cake, my pumpkin loving friends. It sure is dreamy with those layers of cream cheese frosting. Quite dreamy, indeed!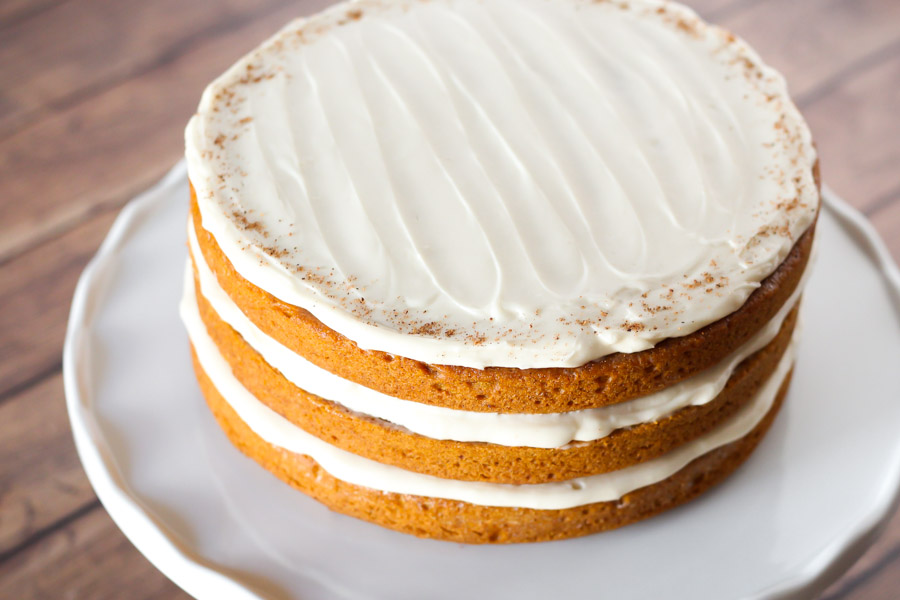 gluten free vegan pumpkin layer cake with cream cheese frosting
AUTHOR:
Sarah Bakes Gluten Free
RECIPE TYPE:
cupcakes & cakes
INGREDIENTS
pumpkin cake
2 1/2 cups Sarah's gluten free flour blend
2 teaspoons ground cinnamon
3/4 teaspoon ground ginger
1/2 teaspoon ground nutmeg
1 1/2 teaspoons baking powder
3/4 teaspoon baking soda
1 teaspoon sea salt
1 1/4 cups pumpkin puree
3/4 cup So Delicious Dairy Free unsweetened coconut milk or almond milk
1/2 cup canola or grape seed oil
1 tablespoon vinegar
3/4 cup brown sugar
3/4 cup cane sugar
1/4 cup pure maple syrup
1 1/2 teaspoons pure vanilla extract
dairy free cream cheese frosting
INSTRUCTIONS
Preheat oven to 350 degrees. Prepare 3 8-inch round cake pans by spraying with cooking spray and lining bottom with parchment paper.
Sift together flour, cinnamon, ginger, nutmeg, baking powder, baking soda and salt. Set aside.
In large mixing bowl, stir together pumpkin puree, coconut milk, oil and vinegar. Add brown sugar, sugar, maple syrup and vanilla. Mix until well blended. Add flour mixture and stir for 1 minute.
Divide cake batter evenly into prepared cake pans (it's helpful to use a measuring cup). Bake cakes for 23-25 minutes or until toothpick inserted in center comes out clean. Cool in pans for 5 minutes, then invert onto cooling rack to cool completely.
To make cream cheese frosting, place dairy free cream cheese and vegan butter in bowl of standing mixer with paddle attachment. Beat until smooth and creamy, 2-3 minutes. Add sifted powdered sugar and vanilla, mixing frosting another 1-2 minutes.
Pour frosting into bowl and place in refrigerator for 30 minutes or until ready to use, to thicken.
To frost cake, start by placing one cooled cake layer on cake plate/stand. Top with 1/3 of cream cheese frosting. Repeat with remaining layers. Garnish with light sprinkling of nutmeg on edge.
Chill cake in refrigerator to set. Remove cake 1-2 hours before serving. Store cake in refrigerator.
This recipe was sponsored by
So Delicious Dairy Free
. Click
here
for more So Delicious recipes!