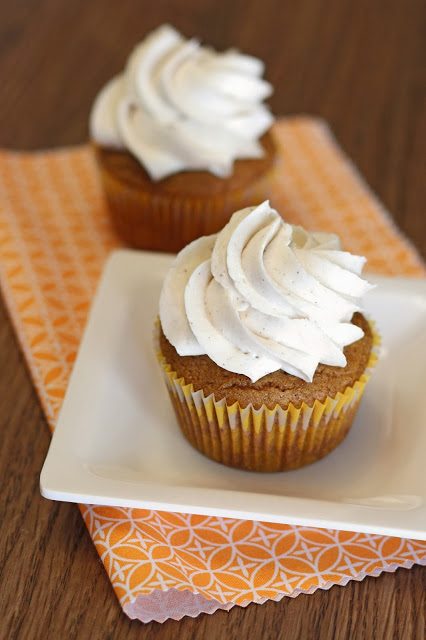 My friends, the time has come for the overflow of pumpkin recipes on Sarah Bakes Gluten Free Treats. Are you ready? I've been in my kitchen testing recipe after recipe. During this process, I've realized that I have a serious problem. I can't get enough pumpkin goodies in my life. I hope you don't mind as I begin sharing all of my recent pumpkin creations with you!
I helped throw my dear friend Melissa's baby shower and other than making the decorations, I insisted on bringing the cupcakes. Being that my pantry is stocked with pumpkin puree, there was only one logical cupcake choice. Pumpkin spice. Boy, these cupcakes did not disappoint! So light and fluffy, topped with a luscious vegan cinnamon buttercream. Is there another reason to celebrate soon? Because I need an excuse to make these gluten free vegan pumpkin spice cupcakes again!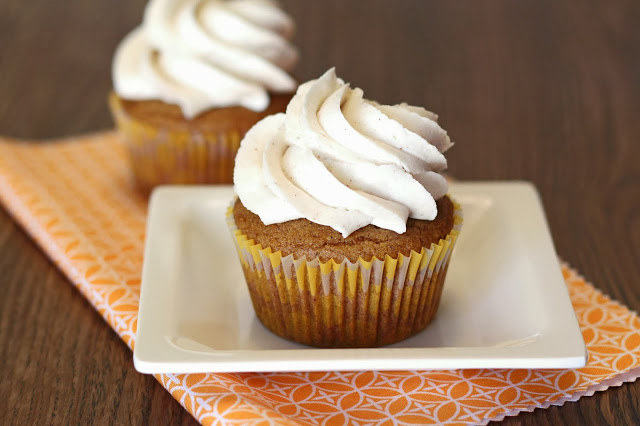 gluten free vegan pumpkin spice cupcakes
AUTHOR:
Sarah Bakes Gluten Free
RECIPE TYPE:
cupcakes & cakes
INGREDIENTS
pumpkin spice cupcakes
1 1/2 cups Sarah's gluten free flour blend
1 teaspoon ground cinnamon
1/2 teaspoon ground ginger
1/2 teaspoon ground nutmeg
1 teaspoons baking powder
1/2 teaspoon baking soda
1/2 teaspoon sea salt
1/2 cup pumpkin puree
1/2 cup So Delicious Dairy Free unsweetened coconut milk
1/3 cup sunflower seed oil (or mild flavor oil)
1/2 cup organic brown sugar
1/4 cup organic cane sugar
3 tablespoons pure maple syrup
1 teaspoon pure vanilla extract
vegan cinnamon buttercream
1/2 cup vegan butter, cold
4 tablespoons organic non-hydrogenated shortening
3 1/2 cups organic powdered sugar, sifted
2 tablespoons pure maple syrup
2-3 tablespoons So Delicious Dairy Free coconut milk coffee creamer
1 teaspoon pure vanilla extract
1/2 teaspoon cinnamon
INSTRUCTIONS
Preheat oven to 350 degrees. Prepare cupcake pan by lining with paper liners.
Sift together flour, cinnamon, ginger, nutmeg, baking powder, baking soda and salt. Set aside.
In large mixing bowl, combine the pumpkin puree, coconut milk, oil, brown sugar, sugar, maple syrup and vanilla. Mix until well blended. Add flour mixture and stir for 1 minute.
Evenly divide cupcake batter into prepared cupcake pan. Bake for 17-19 minutes or until toothpick inserted in center comes out clean.
Cool in pans for 5 minutes, then place on cooling rack to cool completely.
To make buttercream, beat together vegan butter with shortening for 1 minute in large bowl of standing mixer. Add sifted powdered sugar, maple syrup, 2 tablespoons coffee creamer and vanilla. Beat for an additional 2 minutes, until light and fluffy, about 2 minutes (adding additional creamer if needed).
Place buttercream in pastry bag with large star tip and pipe onto cooled cupcakes.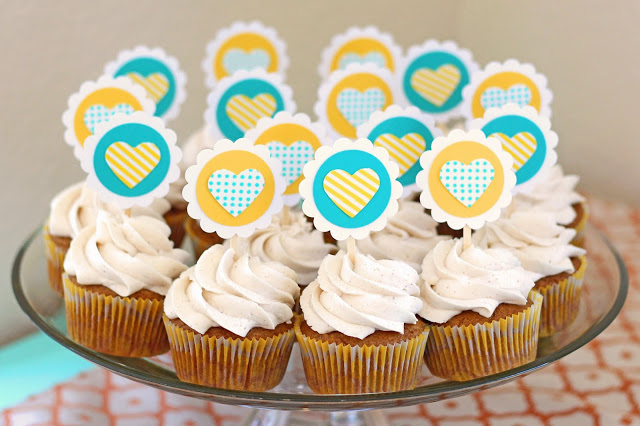 I made little heart cupcake toppers, to go with our "baby love" theme for the shower. sweet and simple.