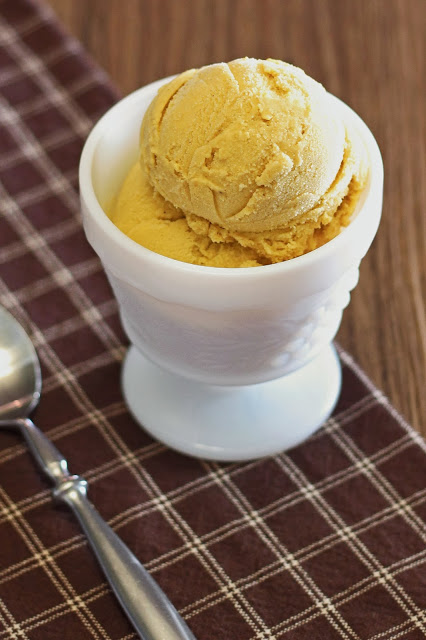 I love this time of year, when all of the seasonal products start showing up in the grocery stores. Pumpkin and spice everything. Pumpkin butter, pumpkin coffee creamer, pumpkin hard cider. But my favorite is the pumpkin ice cream! I get super excited when I see it…and then super depressed because I can't have it. Darn dairy
I decided to wash away my pumpkin ice cream blues by making my own dairy free version! It couldn't have been easier to make too. I'm sort of mad at myself for never making it before now. Coconut milk, pumpkin puree, sugar and spice. It's the creamiest, dreamiest ice cream ever. I won't be waiting long to make this vegan pumpkin ice cream again. I'm certain it's going to be enjoyed during every season of the year in our house!
vegan pumpkin ice cream
serves 8
14-oz. can full-fat coconut milk
14-oz. can light coconut milk
1 cup pure pumpkin puree
1 1/4 cups organic can sugar
1 teaspoon pure vanilla extract
1 teaspoon ground cinnamon
1/2 teaspoon ground ginger
1/4 teaspoon ground nutmeg
1/4 teaspoon xanthan gum
Add full-fat and light coconut milk, pumpkin puree and sugar to high-powered blender. Blend on high for 1 minute. Add vanilla, cinnamon, ginger, nutmeg, and xanthan gum. Blend for 1-2 additional minutes, until well combined and smooth. Pour mixture into bowl and cover. Refrigerate until chilled, 1-2 hours.
Turn on your ice cream maker. Be sure to follow specific instructions for your ice cream maker, as they vary. Pour ice cream mixture into bowl of ice cream maker. Churn until ice cream starts to become a soft-serve texture (mine took about 20 minutes). Pour ice cream into freezer-safe container and cover. Freeze until firm, about 2-3 hours. Allow to sit on counter for a few minutes to soften before serving.