gluten free vegan pumpkin layer cake with cream cheese frosting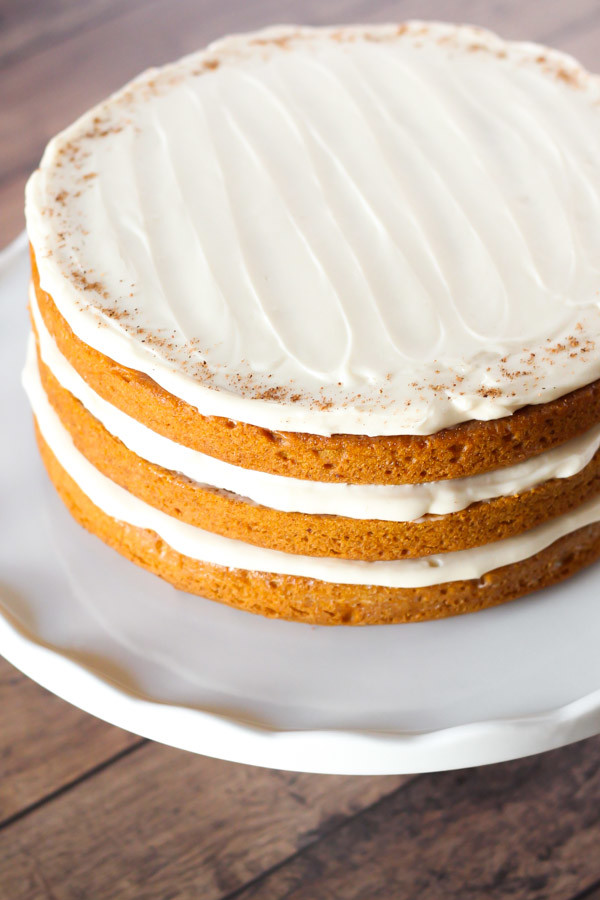 AUTHOR:
Sarah Bakes Gluten Free
RECIPE TYPE:
cupcakes & cakes
2 1/2 cups Sarah's gluten free flour blend
2 teaspoons ground cinnamon
3/4 teaspoon ground ginger
1/2 teaspoon ground nutmeg
1 1/2 teaspoons baking powder
3/4 teaspoon baking soda
1 teaspoon sea salt
1 1/4 cups pumpkin puree
3/4 cup So Delicious Dairy Free unsweetened coconut milk or almond milk
1/2 cup canola or grape seed oil
1 tablespoon vinegar
3/4 cup brown sugar
3/4 cup cane sugar
1/4 cup pure maple syrup
1 1/2 teaspoons pure vanilla extract
Preheat oven to 350 degrees. Prepare 3 8-inch round cake pans by spraying with cooking spray and lining bottom with parchment paper.
Sift together flour, cinnamon, ginger, nutmeg, baking powder, baking soda and salt. Set aside.
In large mixing bowl, stir together pumpkin puree, coconut milk, oil and vinegar. Add brown sugar, sugar, maple syrup and vanilla. Mix until well blended. Add flour mixture and stir for 1 minute.
Divide cake batter evenly into prepared cake pans (it's helpful to use a measuring cup). Bake cakes for 23-25 minutes or until toothpick inserted in center comes out clean. Cool in pans for 5 minutes, then invert onto cooling rack to cool completely.
To make cream cheese frosting, place dairy free cream cheese and vegan butter in bowl of standing mixer with paddle attachment. Beat until smooth and creamy, 2-3 minutes. Add sifted powdered sugar and vanilla, mixing frosting another 1-2 minutes.
Pour frosting into bowl and place in refrigerator for 30 minutes or until ready to use, to thicken.
To frost cake, start by placing one cooled cake layer on cake plate/stand. Top with 1/3 of cream cheese frosting. Repeat with remaining layers. Garnish with light sprinkling of nutmeg on edge.
Chill cake in refrigerator to set. Remove cake 1-2 hours before serving. Store cake in refrigerator.
Recipe by
Sarah Bakes Gluten Free
at https://www.sarahbakesgfree.com/2015/10/gluten-free-vegan-pumpkin-layer-cake-with-cream-cheese-frosting.html