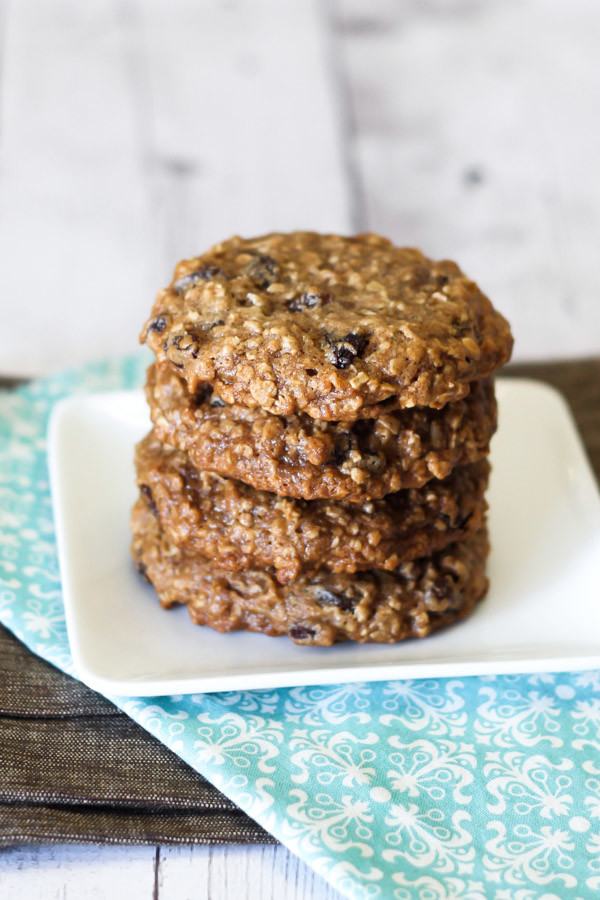 Warm, soft oatmeal raisin cookies. That's what dreams are made of. Well, to me at least. I have been a fan of the classic oatmeal raisin cookie for as long as I can remember. It was actually a good thing growing up because most kids thought they were nasty. Raisins in a cookie was a big no-no. I didn't understand because I thought it was genius (still do).
These gluten, dairy and egg free oatmeal cookies are bakery size. Nice and big! They stay soft from the applesauce and have very little fat, which is healthy fat. Good ol' coconut oil. The cinnamon is a delightful combination with the plump raisins. I just think these cookies will put a smile on anyone's face. Who knows, maybe I will make an oatmeal raisin cookie hater into a oatmeal raisin cookie lover!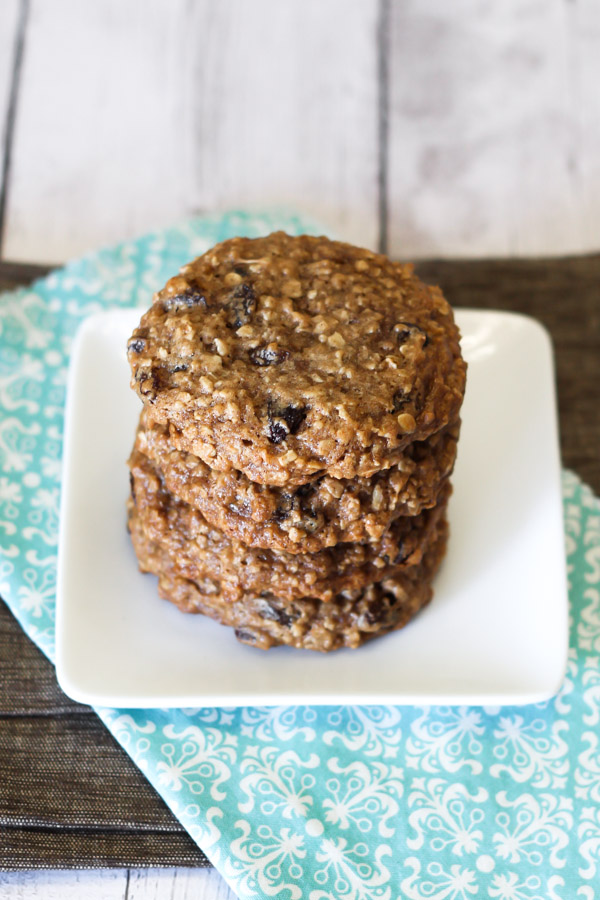 gluten free vegan soft oatmeal raisin cookies
AUTHOR:
Sarah Bakes Gluten Free
INGREDIENTS
1 1/2 cups Bob's Red Mill certified gluten free instant oats
3/4 cup, plus 2 tablespoons Sarah's gluten free flour blend
1 teaspoon baking soda
1 teaspoon ground cinnamon
1/2 teaspoon sea salt
1/2 cup brown sugar or coconut sugar
1/4 cup cane sugar
1/4 cup unsweetened applesauce
3 tablespoons coconut oil, melted
3 tablespoons pure maple syrup, room temperature
2 tablespoons So Delicious unsweetened coconut or almond milk, room temperature
1 teaspoon pure vanilla extract
1 cup organic raisins
INSTRUCTIONS
Preheat oven to 350 degrees. Line baking sheet with parchment paper.
In medium bowl, sift together oats, flour blend, baking soda, cinnamon and salt. Set aside.
In large bowl, cream together brown sugar, sugar, applesauce and coconut oil. Add maple syrup, coconut milk and vanilla. Mix until blended.
Add flour mixture and raisins. Stir until just combined. Let dough rest about 15 minutes to thicken.
Scoop dough using large cookie scoop (about 2 heaping tablespoons) onto prepared cookie sheets. Cookies will spread.
Bake cookies 12-15 minutes, until center is set and edges are golden brown. Place cookies onto cooling rack and allow to cool completely.