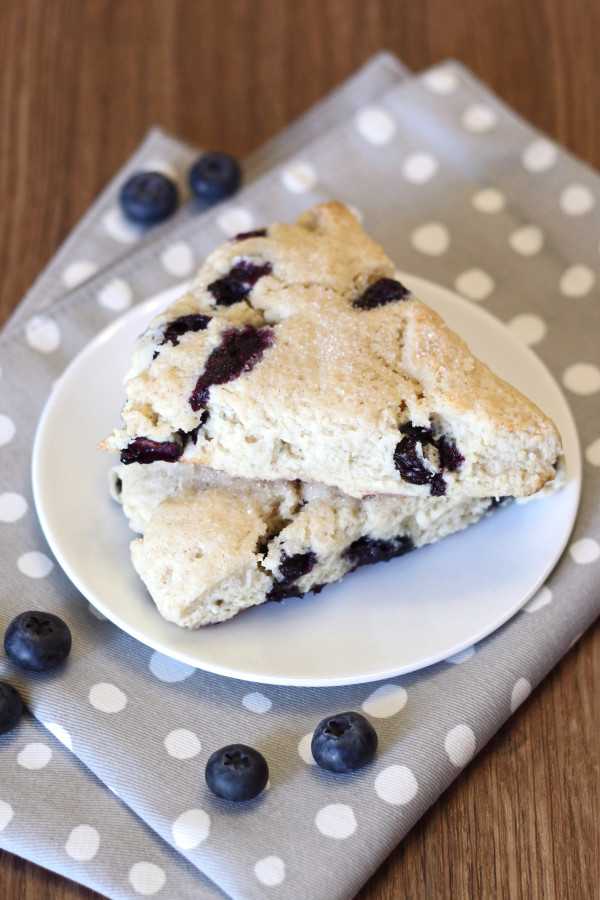 There is something so simple and beautiful about a scone. Such few ingredients are used to make these slightly sweet biscuits. When they are bursting with fresh fruit, they are even better. A breakfast choice that pretty much pairs perfectly with a cup of coffee or tea. Wouldn't you agree?
These gluten, dairy and egg free blueberry scones are truly a treasure. My husband said, "don't ever make these again!" That's basically his way of telling me they are pretty darn good. I would have to agree. The coconut oil just adds to the sweetness of the scone and those blueberries…priceless. Please use fresh if you can. They just burst with flavor and juiciness. A scone recipe that would be a lovely addition to your Mother's Day brunch or afternoon tea with friends.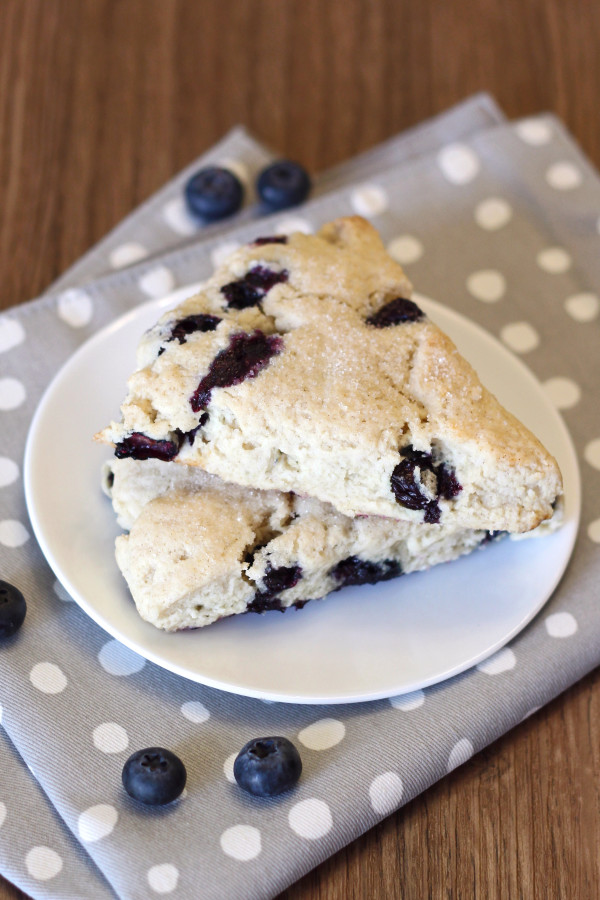 gluten free vegan blueberry scones
AUTHOR:
Sarah Bakes Gluten Free
RECIPE TYPE:
muffins & scones
INGREDIENTS
1 3/4 cups Sarah's gluten free flour blend
1/3 cup organic cane sugar
2 teaspoons baking powder
1/2 teaspoon baking soda
1/2 teaspoon salt
5 tablespoons coconut oil
1/2 cup So Delicious unsweetened vanilla coconut milk
1 1/4 cups fresh blueberries
1 tablespoon cane sugar (for sprinkling)
INSTRUCTIONS
Preheat oven to 400 degrees. Prepare large baking sheet with parchment paper. Set aside.
Sift together flour, sugar, baking powder, baking soda, and salt. Cut in coconut oil using a pastry cutter. Continue until coconut oil is evenly mixed into flour mixture. Pour in coconut milk and stir until just combined. Gently fold in blueberries.
Place dough in center of prepared baking sheet. Gently flatten out dough into 12-inch circle*. Using a pizza cutter, cut dough into 8 triangles. Take a small spatula and gently just slightly separate scones. Sprinkle each scone with additional sugar.
Bake for 16-18 minutes or until golden brown. Place onto cooling rack. Serve warm.
NOTES
*These can also be made into drop scones. Place 1/4- cup scoops of the dough onto baking sheet. Lightly flatten and bake for 16-18 minutes, until golden brown.