gluten free vegan blueberry scones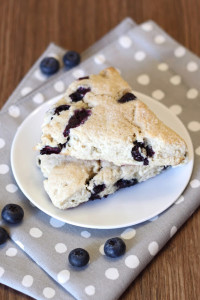 AUTHOR:
Sarah Bakes Gluten Free
RECIPE TYPE:
muffins & scones
1 3/4 cups Sarah's gluten free flour blend
1/3 cup organic cane sugar
2 teaspoons baking powder
1/2 teaspoon baking soda
1/2 teaspoon salt
5 tablespoons coconut oil
1/2 cup So Delicious unsweetened vanilla coconut milk
1 1/4 cups fresh blueberries
1 tablespoon cane sugar (for sprinkling)
Preheat oven to 400 degrees. Prepare large baking sheet with parchment paper. Set aside.
Sift together flour, sugar, baking powder, baking soda, and salt. Cut in coconut oil using a pastry cutter. Continue until coconut oil is evenly mixed into flour mixture. Pour in coconut milk and stir until just combined. Gently fold in blueberries.
Place dough in center of prepared baking sheet. Gently flatten out dough into 12-inch circle*. Using a pizza cutter, cut dough into 8 triangles. Take a small spatula and gently just slightly separate scones. Sprinkle each scone with additional sugar.
Bake for 16-18 minutes or until golden brown. Place onto cooling rack. Serve warm.
*These can also be made into drop scones. Place 1/4- cup scoops of the dough onto baking sheet. Lightly flatten and bake for 16-18 minutes, until golden brown.
Recipe by
Sarah Bakes Gluten Free
at https://www.sarahbakesgfree.com/2015/05/gluten-free-vegan-blueberry-scones.html