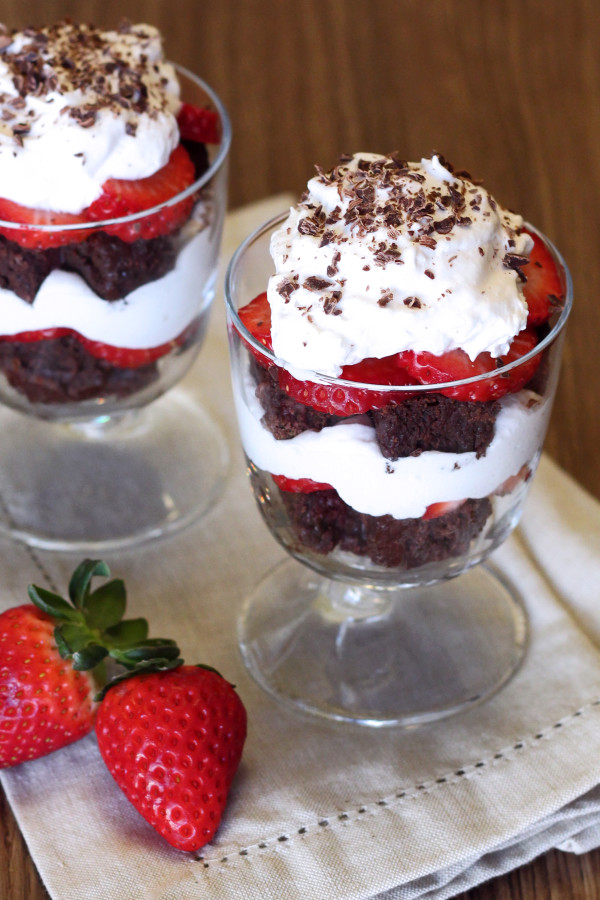 Gluten Free Vegan Berry Brownie Parfaits. Layers of chocolaty brownies, sweet strawberries and diary free whipped coconut cream.
My husband is not a big sweets guy. I know. He's married to a baker and food blogger! Poor guy. He tries everything I make and loves it all. He just doesn't have a sweet tooth so he rarely has a craving for something sweet. When he does, it's usually for a vanilla cupcake or a bowl of vanilla ice cream. Where's the chocolate love?
So when it comes to coming up with something to make him for Valentine's Day or our anniversary, I like to make him a parfait. It's light, not too sweet and is filled with fresh fruit. I did a test run the other day of these berry brownie parfaits. He gave them two thumbs up! Layers of fudgy brownies, sliced, juicy strawberries and So Delicious Cocowhip. With each bite, you get a little bit of everything. Parfaits are just a fun dessert and I love that I can make them ahead of time. I know what I'll be making for my man tomorrow!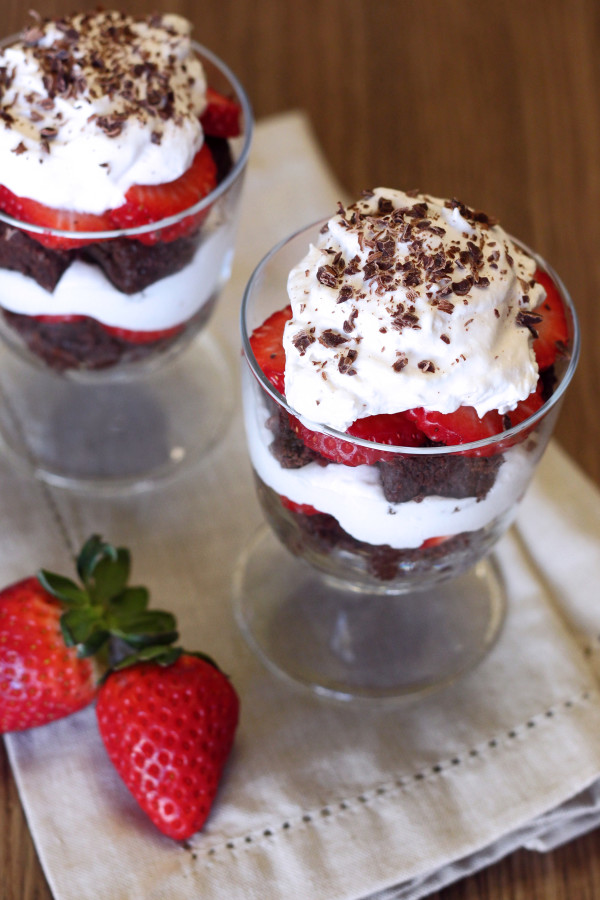 gluten free vegan berry brownie parfaits
AUTHOR:
Sarah Bakes Gluten Free
INGREDIENTS
1/2 cup cocoa powder
1/2 brown sugar
1/2 cup cane sugar
1/2 teaspoon baking powder
1/2 teaspoon sea salt
3/4 cup hot water
1/3 cup organic non-hydrogenated shortening, melted
2 teaspoons pure vanilla extract
1 container So Delicious Cocowhip dairy free whipped topping or whipped coconut cream
3 cups fresh, sliced strawberries or fresh raspberries
dairy free dark chocolate shavings (optional)
INSTRUCTIONS
Preheat oven to 325 degrees. Prepare 8x8-inch baking dish by lining with parchment paper or spraying with cooking spray.
In large mixing bowl, whisk together flour, cocoa powder, brown sugar, sugar, baking powder and salt. Add hot water, melted shortening and vanilla. Mix until just combined.
Pour batter into prepared baking dish. Bake brownies for 26-28 minutes, until center is set. Allow to cool in pan for 15-20 minutes.
Carefully lift brownies out of pan, using the parchment paper. Cool completely. Cut brownies into bite-size squares.
To assemble, start by placing a layer of brownie cubes into each parfait glass. Top brownies with single layer of sliced strawberries, followed by a layer of whipped topping. Repeat with an additional layer of brownies, strawberries and whipped topping.
Finish each parfait with chocolate shavings (optional). Serve immediately or keep chilled in refrigerator until ready to be served. Can be made up to 1 day in advance.