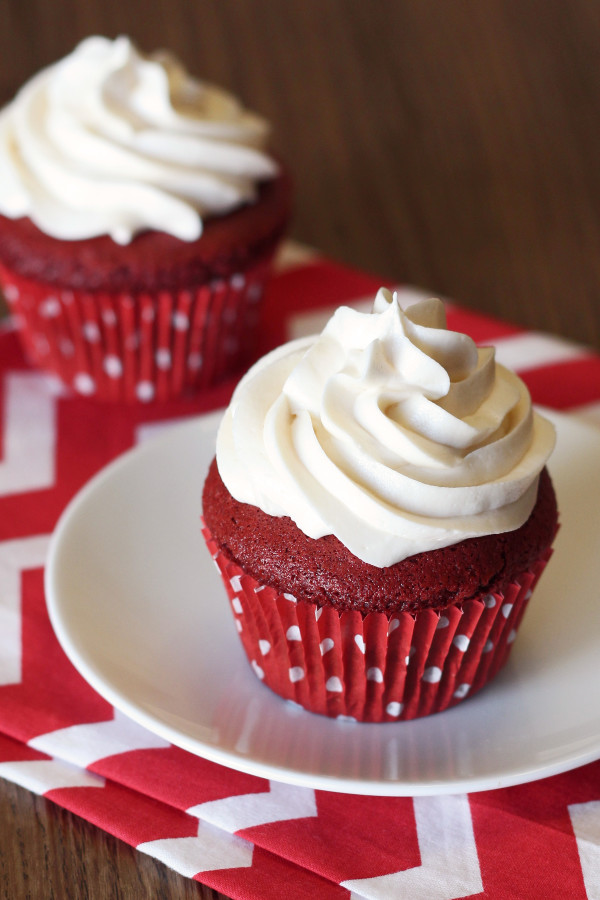 One of my most requested recipes…red velvet cupcakes! So many of you have chimed in with your recipe requests and trust me, I do listen. I want to create recipes that I know you will love and share with your family and friends. For all of you who have been waiting for this one, the wait is over!
Now let's get down to business. Red velvet cupcakes. I can honestly say that it has been so long since I have even attempted this recipe and I have no idea why. It's crazy! Who doesn't love a red velvet cupcake? I had made them gluten free before, but never without eggs and dairy. You know I'm always up for the challenge. I lucked out with this one and the first attempt was a success!
Come on now. Just look at that deep red, moist, slightly chocolatey cupcake? To give the buttercream (which is just plain dairy free goodness) that "cream cheese" flavor, I added 2 teaspoons fresh lemon juice. A little zing. Make these red velvet cupcakes for your sweetheart, for your tiny munchkins or for your bestest friend. Anyone and everyone will swoon over this most requested and soon-to-be most popular gluten free and vegan cupcake recipe!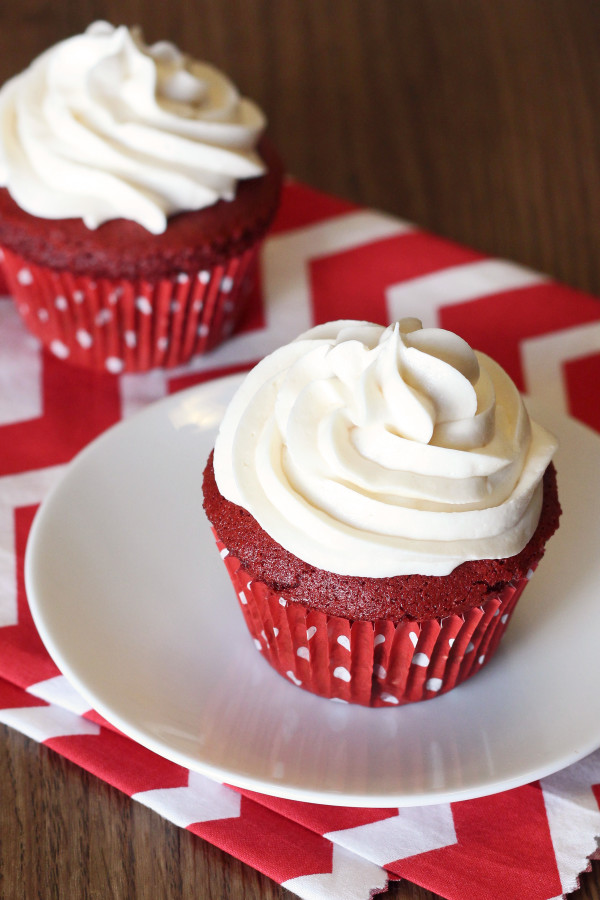 gluten free vegan red velvet cupcakes
AUTHOR:
Sarah Bakes Gluten Free
RECIPE TYPE:
cakes & cupcakes
INGREDIENTS
red velvet cupcakes
1 1/2 cups, plus 2 tablespoons Sarah's gluten free flour blend
2 tablespoons good quality cocoa powder
1 teaspoon baking powder
1/2 teaspoon baking soda
1/2 teaspoon sea salt
1/2 cup So Delicious Dairy Free unsweetened almond or coconut milk
1/2 cup water
1 tablespoon white vinegar
3/4 cup cane sugar
1/4 cup brown sugar
1/3 cup sunflower seed oil (or mild flavor oil)
1 1/2 teaspoons pure vanilla extract
1/2 teaspoon red gel food coloring*
dairy free buttercream
1/2 cup Earth Balance vegan butter, softened
1/4 cup organic non-hydrogenated shortening
3 1/2 cups powdered sugar, sifted
2-4 tablespoons So Delicious Dairy Free unsweetened almond or coconut milk
2 teaspoons fresh lemon juice
1 teaspoon pure vanilla extract
INSTRUCTIONS
Preheat oven to 350 degrees. Line cupcake pans with paper cupcake liners.
Sift together flour blend, cocoa powder, baking powder, baking soda and salt. Set aside.
In large mixing bowl, stir together coconut milk, water and vinegar. Allow to sit for 1 minute to curdle.
Add sugar, oil, vanilla and gel food coloring. Slowly whisk in the flour mixture and beat until combined. Pour batter into prepared cupcake pan.
Bake cupcakes for 16-18 minutes, or until toothpick inserted in center of cupcake comes out clean. Place on cooling rack and cool completely.
To make buttercream, beat together vegan butter with shortening for 1 minute in large bowl of standing mixer.
Add sifted powdered sugar, 2-3 tablespoons coconut milk, lemon juice and vanilla. Beat for an additional 2 minutes. Add another tablespoon of milk as needed.
Continue to beat buttercream until light and fluffy. Place in piping bag with large star tip and pipe onto cooled cupcakes.
Best enjoyed within 1-2 days.
NOTES
*If you don't want to use artificial gel food coloring, there are great all-natural options out there. I've used this one from India Tree and it works great!