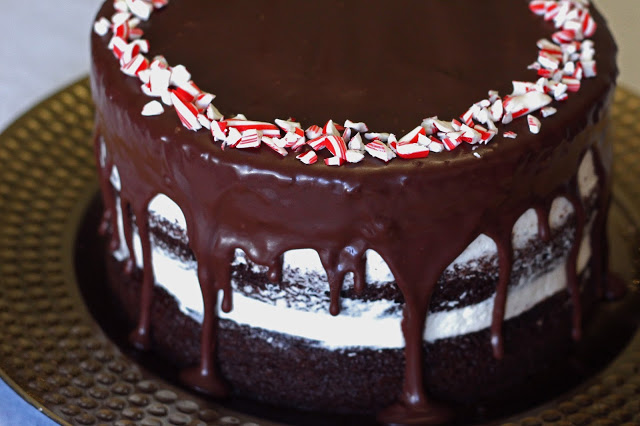 I can't decide what I love more about this chocolate peppermint layer cake. The 3 layers of moist, dark chocolate cake. Those rustic, yet perfectly-peppermint layers of buttercream that compliment the chocolate cake. It could very well be the creamy chocolate ganache that is dripping down the sides of this glorious cake. Either way, it's all fantastic!
I made this chocolate peppermint layer cake for a dessert night we hosted at our house last week. All of the staff and board members of our church, as well as their spouses, came over for quite the spread. This cake was the star of the show, along with
pumpkin pecan tartletts
,
mini soft gingersnap cookies
, and
mandarin cranberry crumb bites
. All gluten, dairy and egg free (of course). I LOVE making desserts that can be enjoyed by all, even those without food allergies. They never know what's missing. I also LOVE hosting parties. It's my favorite. This was a great (tasty) event to kick of this holiday season!
gluten free vegan chocolate peppermint layer cake
serves 12-16
chocolate cake
2 1/2 cups Sarah's gluten free flour blend
2 cups cane sugar
1 cup high quality cocoa powder
2 teaspoons baking powder
1 teaspoon baking soda
1 teaspoon sea salt
1 cup So Delicious Dairy Free unsweetened coconut milk
1 cup water
2/3 cup canola or sunflower seed oil
2 tablespoons white vinegar
1 tablespoon pure vanilla extract
peppermint buttercream
3/4 cup organic non-hydrogenated shortening
4 tablespoons Earth Balance vegan butter, softened
3 1/2 cups organic powdered sugar, sifted
2-3 tablespoons So Delicious coconut milk coffee creamer
1 teaspoon pure vanilla extract
1/2 teaspoon pure peppermint extract
vegan chocolate ganache
1 1/2 cups dairy free chocolate chips
1/3 cup So Delicious Dairy Free coconut milk coffee creamer
1/4 cup crushed candy canes or peppermint candies (for garnish)
Preheat oven to 350 degrees. Prepare 3 8-inch round cake pans by lining bottom with parchment paper and spraying with cooking spray. In large mixing bowl, sift together flour, sugar, cocoa powder, baking powder, baking soda and salt. Set aside. Mix together coconut milk, water, oil, vinegar, and vanilla. Pour over flour mixture and beat for 1 minute. Evenly divide cake batter between 3 prepared 8-inch cake pans. Bake for 26-28 minutes or until toothpick inserted in center comes out clean. Cool in pans for 10 minutes, then invert onto cooling rack to cool completely.
To make buttercream, beat together shortening and vegan butter for 1 minute in large bowl of standing mixer. Add sifted powdered sugar, 2 tablespoons coffee creamer, vanilla and peppermint extract. Beat for an additional 2 minutes. Add another tablespoon of coffee creamer if needed. Beat buttercream until light and fluffy.
Place one layer of cooled cake on serving platter or cake stand. Top with half of buttercream and smooth out to edges. Repeat with second cake layer. Top with final cake layer and smooth out buttercream on sides with offset spatula. Place in refrigerator for 30 minutes to an hour. While it's chilling, make ganache. Mix chocolate chips and coffee creamer in small bowl. Place in microwave for 30 seconds, stir. Microwave another 15 seconds. Whisk until chocolate chips are completely melted and ganache is smooth. Chill 15 minutes to only slightly thicken.
Pour ganache over the top of the chilled cake. With an offset spatula, immediately spread the ganache evenly on the top, allowing ganache to drip down sides of cake.  Place cake back in refrigerator for 15 minutes, just to set ganache. Remove cake from refrigerator and sprinkle crushed candy canes on top edge. Keep cake at room temperature to serve. Best served same day.