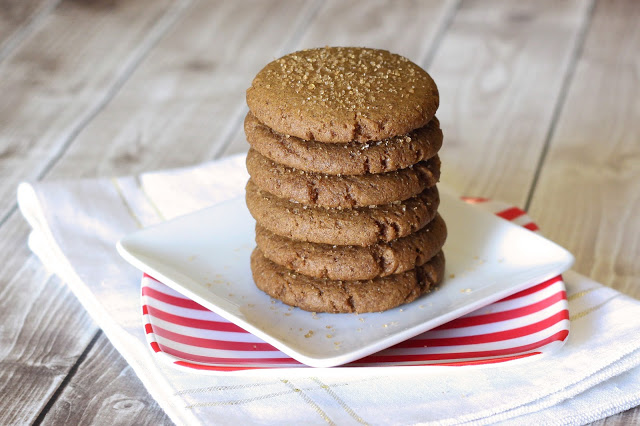 Cookies are my friend. They make me feel all warm and fuzzy inside. Especially when they are holiday cookies, filled with cinnamon and spice. Warm out of the oven. Crispy on the outside, soft and chewy on the inside. Everything is right in the world when you have a plate of freshly baked cookies.
I've tried many recipes to get these little gingersnap cookies just right. Baking without gluten, dairy and eggs is a pain in my butt. Sometimes I hate it, but all the work is worth it in the end. Now I have a soft gingersnap recipe that I LOVE. These would make great Christmas gifts, wrapped in cute little bags with a twine bow. Say "happy holidays!" with this spicy and sweet treat!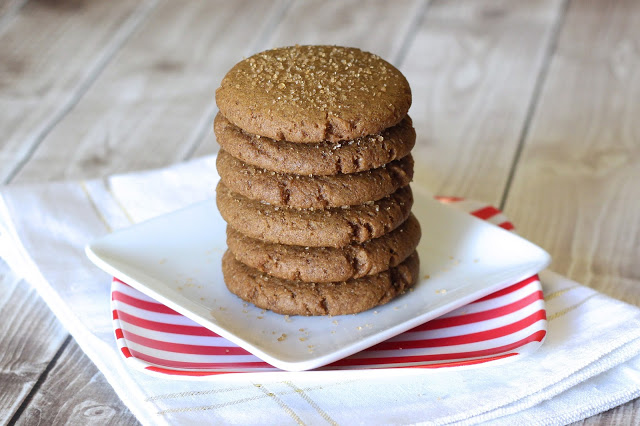 gluten free vegan soft gingersnap cookies
AUTHOR:
Sarah Bakes Gluten Free
INGREDIENTS
1 teaspoon baking powder
1/2 teaspoon baking soda
1 teaspoon ground cinnamon
1/2 teaspoon ground ginger
1/2 teaspoon sea salt
3/4 cup brown sugar
1/4 cup cane sugar
1/3 cup coconut oil, softened
3 tablespoons dark unsulfered molasses
2 tablespoons So Delicious unsweetened coconut milk, room temperature
1 1/2 teaspoons pure vanilla extract
2 tablespoons raw turbinado sugar
INSTRUCTIONS
Preheat oven to 350 degrees. Line baking sheets with parchment paper.
In medium bowl, sift together flour blend, baking powder, baking soda, cinnamon, ginger and salt. Set aside.
In large mixing bowl, cream together brown sugar, sugar and coconut oil, 1-2 minutes. Add molasses, coconut milk, and vanilla. Mix until blended. Add the flour mixture and stir until just combined.
Roll heaping-tablespoons scoops of cookie dough into balls and place onto prepared baking sheet. Flatten with bottom of measuring cup. Sprinkle turbinado sugar on cookies.
Bake cookies for 8-9 minutes. Place on cooling rack to cool completely. Store in air-tight container.