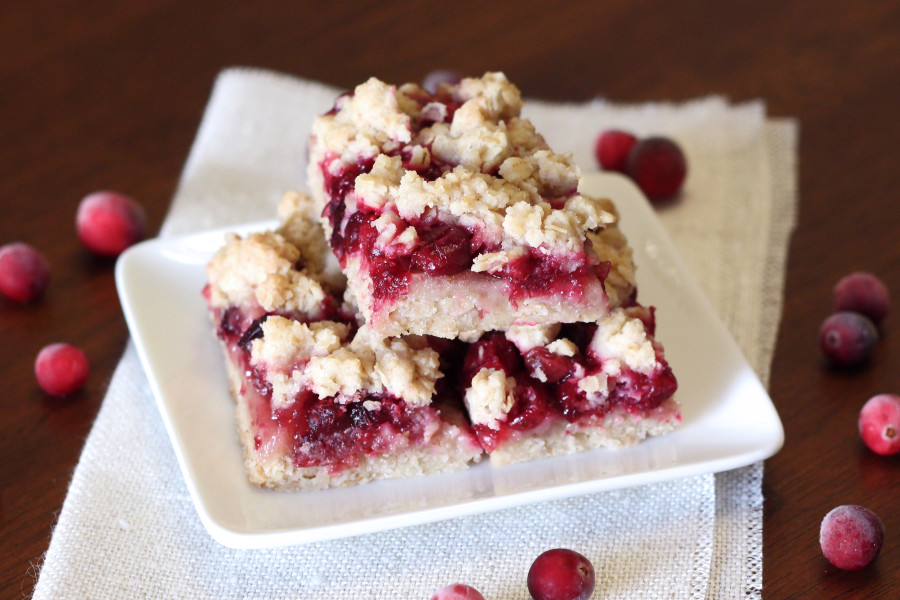 The day before Thanksgiving. You know where you'll find me…in the kitchen. It's the day for baking, baking and more baking. I don't mind. It's my happy place. Creating gluten, egg and diary free treats for my family to enjoy. Pumpkin pie is first, then usually a grab-n-go treat for the kids. This year I mades these cinnamon roll sugar cookies. I always bring enough to share, even though my husband would love to keep the pumpkin pie all to himself.
It's a must for me to keep a generous supply of frozen cranberries this time of year. I like to add them to apple pies, pumpkin bread, apple muffins or make a filling for these crumb bars. Aren't they lovely? That deep, maroon red from the cranberries is simply stunning. They almost have the taste of juicy cherries too. A little tart, a little sweet. The freshly squeezed orange juice (I used mandarin juice) adds such a brightness. Enjoy these bars by the slice or with a scoop of coconut milk ice cream. Either way, you'll want to keep your freezer stocked with cranberries too. Add a little zing to your Thanksgiving with these gluten free vegan cranberry crumb bars!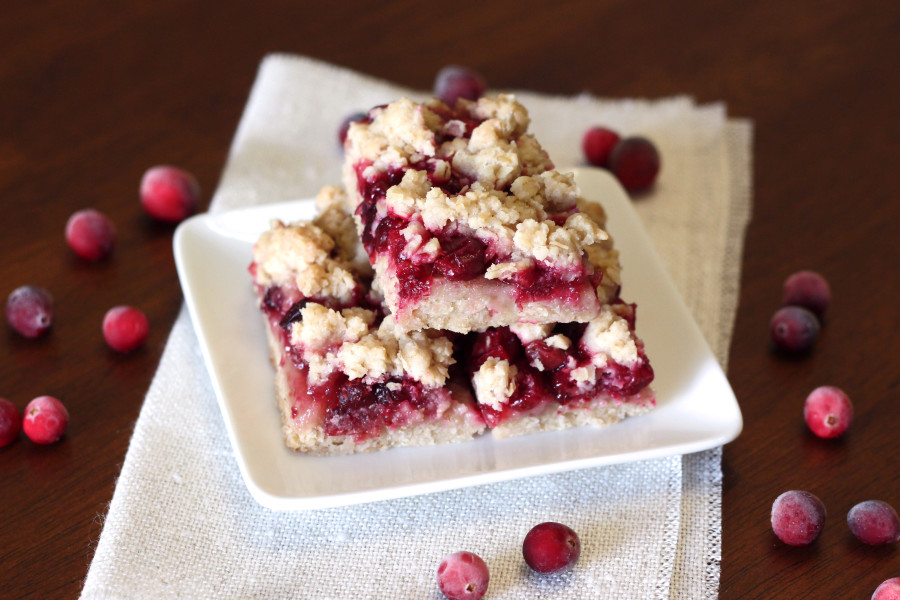 gluten free vegan cranberry crumb bars
AUTHOR:
Sarah Bakes Gluten Free
INGREDIENTS
cranberry filling
2 cups fresh or frozen (thawed) cranberries
1/2 cup cane sugar
3 tablespoons fresh orange or mandarin juice
2 tablespoons pure maple sryup
2 tablespoons cornstarch or tapioca starch
crumb crust/topping
1 1/4 cups Sarah's gluten free flour blend
1 cup certified gluten free quick oats
1/4 cup brown sugar
1/4 cup cane sugar
1/2 teaspoon sea salt
6 tablespoons coconut oil, solid
2 tablespoons So Delicious unsweetened coconut milk
2 tablespoon pure maple syrup
INSTRUCTIONS
Preheat oven to 375 degrees. Prepare 8x8-inch baking pan by lining with parchment paper or spraying with nonstick cooking spray.
In medium bowl, mix together sugar, orange juice, maple syrup and cornstarch. Stir until creamy. Add cranberries and gently mix to coat. Set aside.
For crumb crust/topping, sift together flour, oats, brown sugar, sugar and salt. Add coconut oil, maple syrup and coconut milk. Blend with fork until ingredients are well mixed.
Spread 2/3 of oat mixture into prepared pan. Press evenly into bottom of pan. Top with even layer of cranberry mixture. Sprinkle remaining oat crumble over cranberries.
Bake for 40-45 minutes or until cranberries are bubbly and crumble is golden brown. Allow to cool in pan. Slice and serve.