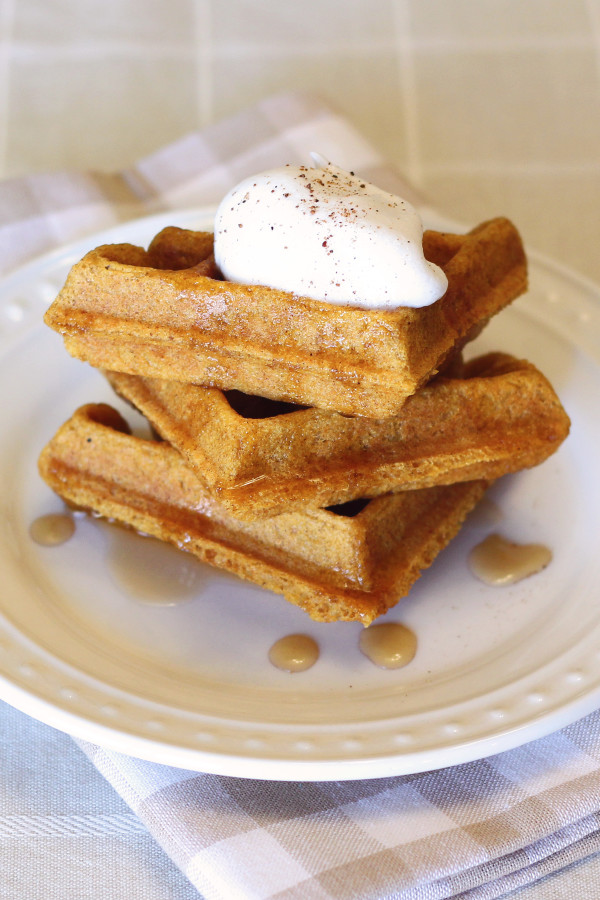 My husband's two favorites….homemade waffles and anything pumpkin. He would have me make belgian waffles every morning for him, if I was that kind of wife. I wish I could tell you that I was, but sadly I'm not. His married to a baker though, a baker that has to create new recipes every week. That makes him one spoiled man!
Have any of you tried my waffle recipe? It's a staple in our house and we've made them countless time. The batter couldn't be easier and not only are they gluten free, but they are egg and dairy free too. Crispy on the outside, chewy on the inside. I recently added pumpkin puree and a few spices to my recipe. The pumpkin waffles were created. Shortly thereafter, they were devoured.
I'm completely addicted to the new dairy free CocoWhip from So Delicious. I'm putting it on everything. My family was excited to see the CocoWhip on top of their pumpkin waffles. A little pure maple syrup, scoop of whipped topping and dash of nutmeg. It's like having dessert for breakfast. I'm tempted to make a bunch of these pumpkin waffles to freeze so we can have them all year. I'd surely get a high-five for that one!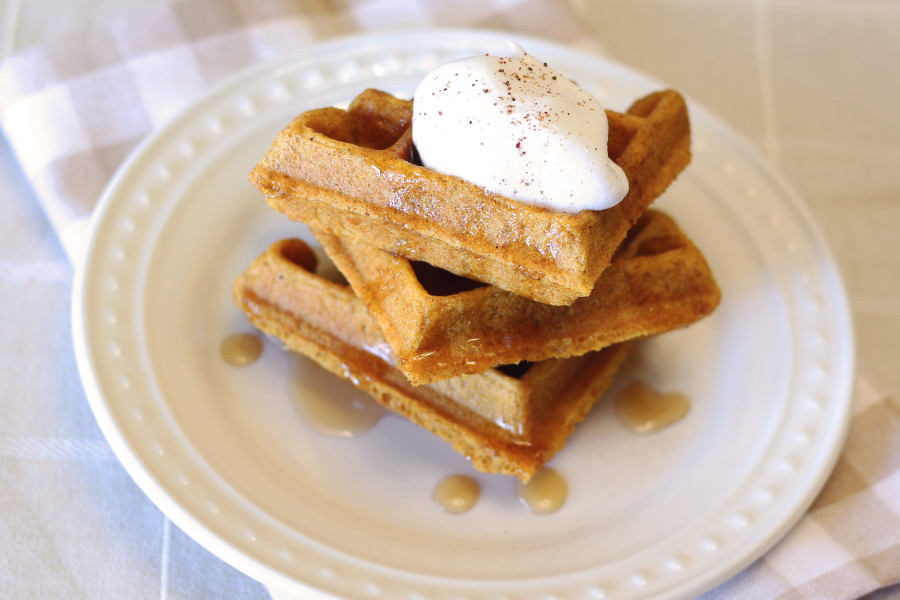 gluten free vegan pumpkin waffles
AUTHOR:
Sarah Bakes Gluten Free
INGREDIENTS
2 1/2 cups Sarah's gluten free flour blend
1/4 cup brown sugar
1 tablespoon baking powder
1 1/2 teaspoons ground cinnamon
1/2 teaspoon ground ginger
1/4 teaspoon ground nutmeg
1/2 teaspoon sea salt
2 cups So Delicious unsweetened coconut milk, room temperature
1 cup pure pumpkin puree
3 tablespoons Earth Balance vegan butter, melted*
2 teaspoons pure vanilla extract
So Delicious CocoWhip dairy free whipped topping or whipped coconut cream (optional)
INSTRUCTIONS
Whisk together flour, brown sugar, baking powder, cinnamon, ginger, nutmeg and salt. Set aside.
In mixing bowl, stir coconut milk, pumpkin puree, melted vegan butter and vanilla. Add flour mixture and mix until just combined.
Heat waffle iron. Spray with cooking spray and pour batter into waffle maker (amount varies by iron so be sure to not overfill). Cook waffles until crispy and golden brown, 3-5 minutes.
Repeat with remaining batter. Serve warm. Top with Cocowhip whipped topping and a sprinkle of nutmeg.
NOTES
*You can use 2 tablespoons melted coconut oil in place of the vegan butter.