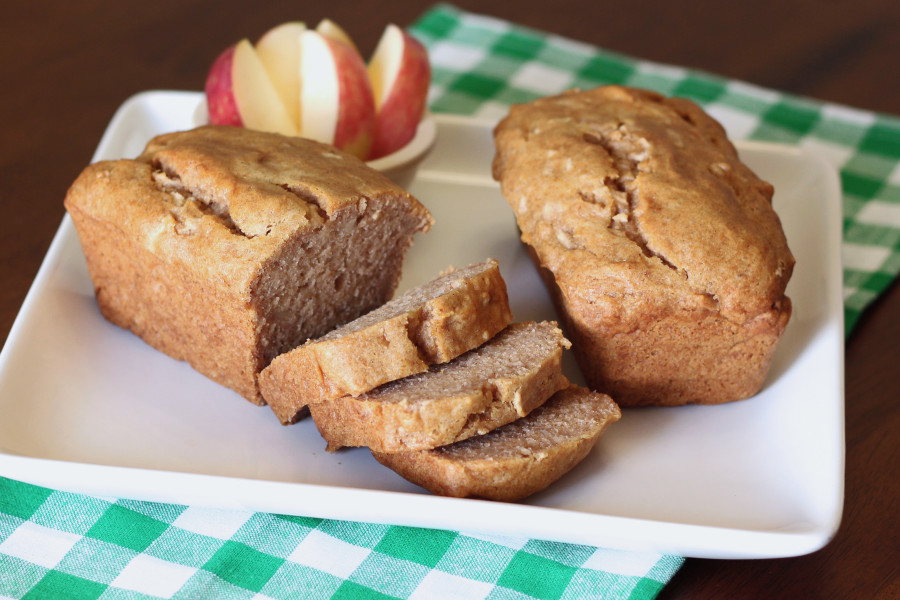 Next to muffins (and cookies), my favorite thing to make for my family are quick breads. Loaves of yummy goodness that you mix, pour and bake. No fuss. Banana and pumpkin bread are always the most requested around here. For some reason they also request, "no nuts!" Since I'm the only one that seems to think nuts in banana bread is a good idea, I usually leave them out. Anyone else enjoy the added texture and flavor from walnuts or pecans in their quick breads? I know I'm not crazy.
I have a fridge FULL of apples right now, thanks to an amazing deal on apples I recently came across at a local orchard. I've been making apple goodies for weeks. I've already made two batches of crockpot applesauce, which I promise to share the recipe! My kids eat it like it's dessert. I've also made a few loaves of this gluten free vegan cinnamon apple bread. Mini size. Cause that's how I roll. Bakes quicker and the little slices are perfect for little hands.
This recipe only makes 2 decent-size mini loaves of apple cinnamon bread. That lasts for about a day in our house. Maybe two. Simply double the recipe to make 4 loaves. 2 for you and 2 for a friend or neighbor! It's always a sweet idea to pass on the love of homemade bread. Good for the soul and good for the belly.
gluten free vegan mini cinnamon apple loaves
AUTHOR:
Sarah Bakes Gluten Free
INGREDIENTS
1 1/2 cups Sarah's gluten free flour blend
1 teaspoon ground cinnamon
1 teaspoon baking powder
1/2 teaspoon baking soda
1/2 teaspoon salt
1/2 cup unsweetened applesauce
1/3 cup So Delicious unsweetened coconut or almond milk
1/3 cup brown sugar or coconut sugar
1/4 cup maple syrup
1/3 cup canola oil or melted coconut oil
1 teaspoon pure vanilla extract
2 apples, peeled and grated on large holes of grater
INSTRUCTIONS
Preheat oven to 350 degrees. Prepare mini loaf pan by spraying with cooking spray or lining with parchment paper.
In large mixing bowl, sift together flour, cinnamon, baking powder, baking soda and salt. Set aside.
Mix together applesauce, coconut milk, brown sugar, maple syrup, coconut oil and vanilla. Stir in grated apples. Add to flour mixture and blend just to combine.
Pour batter into prepared mini loaf pans. Bake for 30-35 minutes or until toothpick inserted in center comes out clean.
Allow to cool in pan for 10 minutes. Remove from pan and continue to cool on cooling rack. Slice and serve.