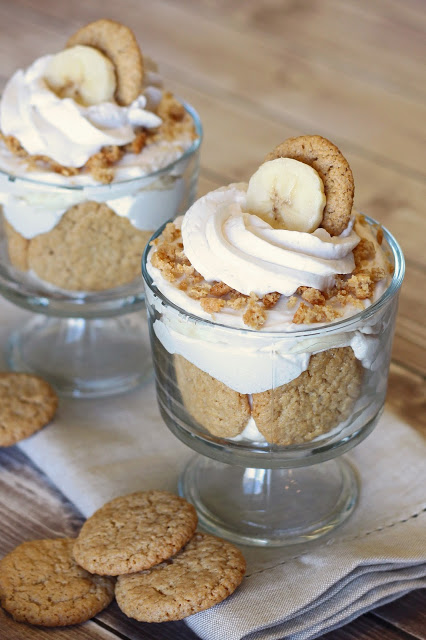 All of us have those recipes that take us back to our childhood. The ones our grandma would make during the holidays or the ones our mom would only make for special occasions. I have so many special memories from the things my grandma and mom would bake for us. It was their love language and we always felt very loved.
Banana pudding is one of those desserts that makes me feel like a kid again. The recipe from the back of the box of Nilla Wafers, which are (were) my husband's favorite cookie of all time. The layers of vanilla pudding, Nilla Wafers, whipped topping and sliced bananas. Simple. Rustic. Completely delicious. Since it's been about 5 years since I've made banana pudding, I thought it was time to create a gluten, dairy and egg free version that would knock your socks right off!
I started with the vanilla wafer cookies. I tried so many recipes (like seriously so many), but none of them were exactly what I was looking for. I wanted a flat, crispy, chewy cookie with just enough vanilla flavor. I FINALLY came up with just the right ratio of all of the ingredients. I have a feeling I'll be making these little cookies a lot now! For the vanilla pudding, I made a simple recipe that I've done countless times. There is no bananas in the actual pudding, just fresh bananas layered into the dessert. When it came to the whipped cream, So Delicious came to my rescue!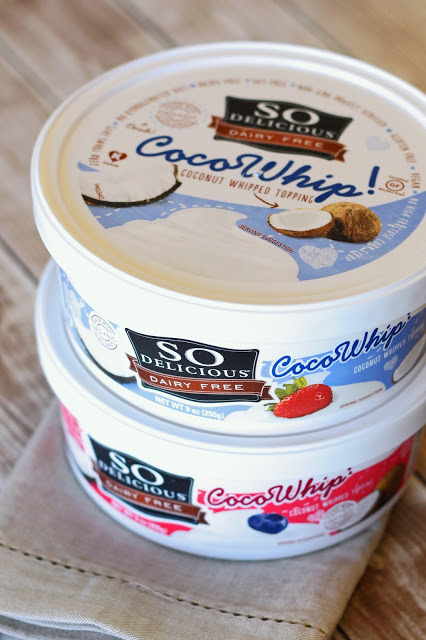 So Delicious has a new product coming out and I can guarantee this one will get you excited! Who ate Cool Whip as a kid, on just about everything? We all know it's full of unhealthy fats and artificial everything. There are a couple brands that make an organic version, but they aren't dairy free. Until now! Introducing…So Delicous CocoWhip. It's made with organic coconuts, GMO-free, non-hydrogenated, vegan, gluten free and soy free. It's also super tasty and 10x's better than the other stuff! At the end of the month, grocery stores will start to stock So Delicious CocoWhip (primarily in Whole Foods to start). If you find it, buy it and store it in your freezer. It will surely come in handy during the holidays!
gluten free vegan banana pudding
serves 6
vanilla pudding
1/4 cup cane sugar
3 tablespoons cornstarch or tapioca starch
1 1/2 cups So Delicious original culinary coconut milk, lite*
1/4 cup So Delicious french vanilla coconut milk coffee creamer or additional coconut milk
1 teaspoon pure vanilla extract
vanilla wafer cookies
3/4 cup gluten free oat flour**
1/2 cup Sarah's gluten free flour blend
1 teaspoon baking powder
1/2 teaspoon baking soda
1/4 teaspoon sea salt
1/2 cup cane sugar
1/4 cup unsweetened applesauce
3 tablespoons coconut oil, melted
1 tablespoon So Delicious french vanilla coconut milk coffee creamer or coconut milk
2 teaspoons pure vanilla extract
Start by making vanilla pudding. Whisk together sugar and cornstarch in medium saucepan. Over medium heat, whisk in coconut milk and coffee creamer. While stirring constantly, cook until bubbly and thick (about 5 minutes). Remove from heat and stir in vanilla. Pour warm pudding into bowl and cover with plastic wrap touching pudding. Refrigerate until chilled, about 1-2 hours or overnight.
When pudding is chilled, bake vanilla wafers. Preheat oven to 325 degrees. Line baking sheets with parchment paper. In medium bowl, sift together oat flour, flour, baking powder, baking soda and salt. Set aside. In large bowl, mix together sugar, applesauce, melted coconut oil, coffee creamer and vanilla. Stir until blended. Add flour mixture and stir until combined.
Fill large ziploc bag with cookie dough. Cut tip of bag. Squeeze teaspoon-size balls of dough onto prepared baking sheets. Use fingers to flatten into 1-inch round discs. Cookies will spread slightly. Repeat with remaining dough (you'll get about 36 cookies). Bake cookies 9-11 minutes, until golden brown and crisp on edges. Allow cookies to cool on baking sheet for 10 minutes. Place cookies on cooling rack to cool completely.
To assemble banana pudding, you can either use 8-inch round dish or individual serving dishes. Start by folding half of the Cocowhip whipped topping into the chilled vanilla pudding. If the pudding has become thick, just stir until smooth before adding whipped topping. First layer cookies around edge of dishes. Alternate by layering vanilla pudding mixture, then sliced bananas, whipped topping, fresh bananas and finally more vanilla pudding mixture. Crumble up a few vanilla wafers to sprinkle over pudding. Place remaining Cocowhip in piping bag with star tip and pipe on top. Garnish with additional cookies and sliced bananas. Refrigerate 1-2 hours or overnight to soften cookies.
*If you are unable to find So Delicious culinary milk, you can substitute with any brand of full-fat coconut milk.
**Blend about 1 cup certified gluten free oats in high-powdered blender on high until fine oat flour has formed. Measure out 3/4 cup of oat flour.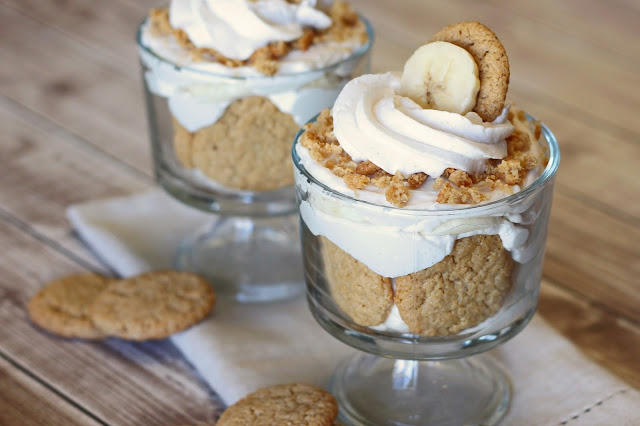 Who doesn't love FREE So Delicious product coupons? They are pretty much my favorite thing ever.
You can use them for their dreamy coconut milk ice creams, their amazing coffee creamers or even their 1/2 gallon of unsweetened coconut milk (a staple in my house). I'm giving away 3 Free SO Delicious Product Coupons. Hooray! Enter below and be sure to tell me "what is your favorite childhood dessert that you would love to make gluten, egg and dairy free?" in your comment. Receive extra entries by sharing this giveaway on instagram, tweeting about the giveaway or by following So Delicious on facebook. Giveaway ends on Tuesday, September 16. Winner will be notified on Wednesday and has 48 hours to claim their prize, before another winner is chosen. Thanks for entering!