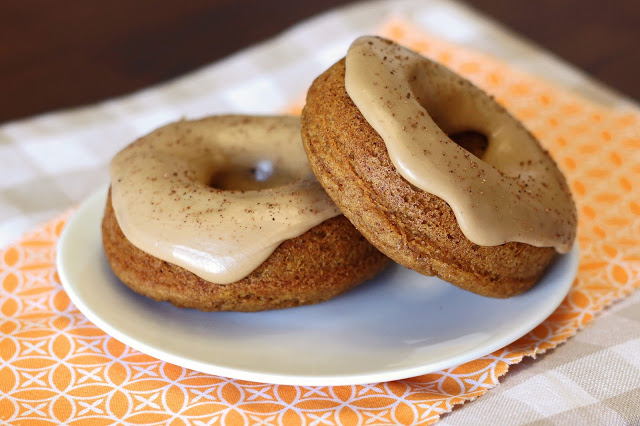 Kickin' off pumpkin season in the best way possible…with donuts! I don't have to tell any of you how much this girl LOVES all things pumpkin. It's no secret. I actually bake with pumpkin all year long (shhhhh). I keep cans of pumpkin puree stocked in my pantry so whenever I get that pumpkin craving, I'm prepared. It's always "pumpkin season" in my house!
My all time favorite coffee drink is a pumpkin spice latte. I would get so excited when Starbucks brought out the drink in September…until I found out there is dairy in the syrup. Sad day. I'm determined to create a dairy free, all natural pumpkin spice syrup to make my own hot and iced pumpkin spice lattes at home. Does that sound like a good idea to anybody else?
I've taken the flavors of this yummy coffee drink and turned it into a baked donut. No need to feel guilty here. The pumpkin spice donuts are soft and cake-like (my fave type of donuts). Then they are frosted with a coffee glaze made with instant espresso powder. You can also leave out the espresso powder if you don't like the taste of coffee. Give these little donuts a sprinkling of ground nutmeg and they become the perfect fall donut.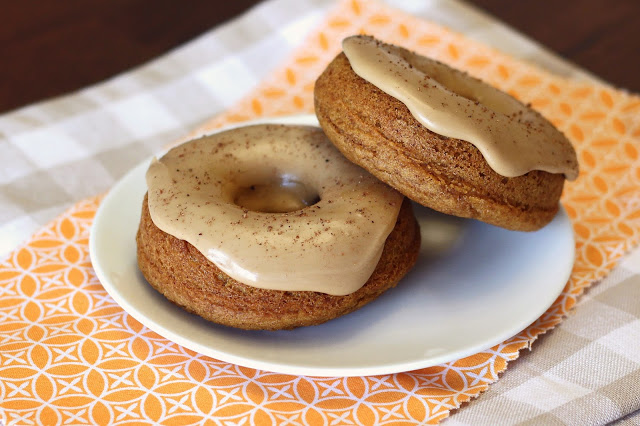 gluten free vegan pumpkin spice latte donuts
AUTHOR:
Sarah Bakes Gluten Free
INGREDIENTS
pumpkin spice donuts
2 teaspoons baking powder
1/4 teaspoon baking soda
1/2 teaspoon ground cinnamon
1/4 teaspoon ground ginger
pinch ground nutmeg
1/4 teaspoon salt
1/2 cup So Delicious unsweetened coconut milk
1 teaspoon apple cider vinegar
1/2 cup pure pumpkin puree
1/4 cup brown sugar
2 tablespoons pure maple syrup
3 tablespoons sunflower seed or canola oil
1 teaspoon pure vanilla extract
coffee glaze
2 tablespoons So Delicious unsweetened coconut milk, warm
1 teaspoon instant espresso powder
1 1/2 cups powdered sugar
1/2 teaspoon pure vanilla extract
nutmeg or cinnamon (to sprinkle on top)
INSTRUCTIONS
Preheat oven to 350 degrees. Spray donut pan with nonstick cooking spray.
Sift together flour, baking powder, baking soda, cinnamon, ginger, nutmeg and salt.
In mixing bowl, mix together coconut milk and vinegar, stirring until curdled. Add pumpkin puree, brown sugar, maple syrup, oil and vanilla. Stir in the flour mixture until just combined.
Spoon batter into ziploc bag (or piping bag) and cut tip. Pipe batter into prepared donut pan.
Bake donuts for 12-14 minutes, until golden brown. Turn out onto cooling rack.
To make coffee glaze, mix together coconut milk and espresso powder, until dissolved. Add powdered sugar and vanilla. Whisk until smooth.
Spread glaze over each donut. Sprinkle with either a touch of nutmeg or cinnamon. Let glaze set for 5 minutes.
Donuts best served same day. If not serving the donuts right away, wait to glaze until ready to enjoy.