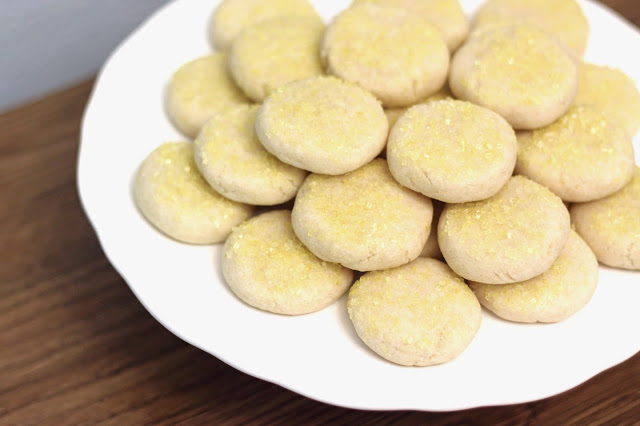 Give me the choice between a lemon dessert and a chocolate dessert… I'll take the lemon dessert any day! Don't get me wrong, this girl loves chocolate. I just have a sweet spot, if you will, for all things lemon. Anyone else out there have an obsessions will lemony treats?
This recipe for gluten free vegan lemon sugar cookies has been a labor of love. I have tried many different recipes to get just what I was looking for. I wanted a soft in the center, thick, slightly sweet, bite-size lemon sugar cookie. So many times the cookies would just spread all over the pan. Grrrrrr! I went ahead and chilled the dough, which helps them hold their shape. Just don't chill the dough too long because coconut oil gets hard quickly!
So here it is. My tested recipe for lemon sugar cookies. Full of lemon flavor from both the lemon zest and lemon extract. The use of organic powdered sugar as the sweetener gives these cookies just enough sweetness and a tender crumb. I'm just in love with everything about these cookies. The touch of course sanding sugar on top adds great texture too. These are my idea of a dreamy, can't-eat-just-one lemon sugar cookie!
gluten free vegan lemon sugar cookies
makes 36-40 cookies
2 1/2 cups Sarah's gluten free flour blend
1 teaspoon baking powder
1/2 teaspoon salt
1 1/2 cups organic powdered sugar
1/3 cup coconut oil, melted
1/4 cup So Delicious unsweetened coconut milk, room temperature
1 teaspoon pure lemon oil or extract
1 teaspoon pure vanilla extract
zest of 1 lemon
1/4 cup course sanding sugar (optional)
Line baking sheets with parchment paper. In medium bowl, sift together flour blend, baking powder and salt. Set aside. In large mixing bowl, mix together powdered sugar, melted coconut oil, coconut milk, lemon extract, vanilla and lemon zest. Beat until smooth. Add the flour mixture. Stir until combined. Refrigerate dough for 30 minutes to one hour, just to chill.
Preheat oven to 350 degrees. Roll tablespoon-scoops of cookie dough into balls. Flatten to 1/2″ with bottom of glass jar or fingers (cookies won't really spread). Dip tops of cookie into sanding sugar. Bake for 8-9 minutes. Be sure to not over-bake, as you don't want the tops of the cookies to brown. Remove cookies from oven and place on cooling rack to cool completely. Store in air-tight container.