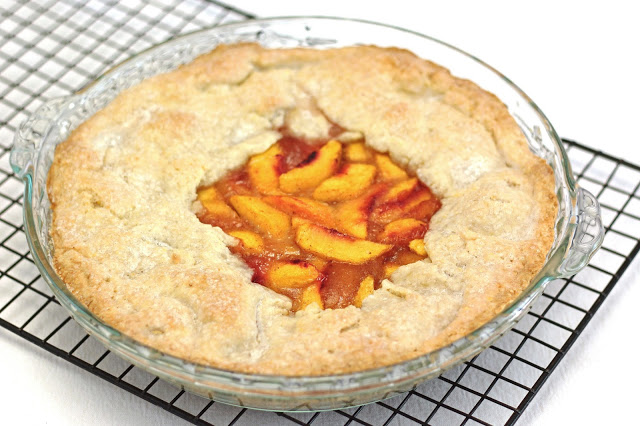 One of my favorite summer fruits…peaches! They are so juicy and have such an amazing flavor. They only make their appearance this time of year, so I always snatch up as many as I can. My kids love to just eat freshly sliced peaches, in all their glory. I love to bake them in a peach cobbler or this rustic peach pie!
Pies can be so intimidating. There are lots of steps…making the crust, refrigerating the crust, making the filling, rolling out the crust, putting the pie together, and waiting for it to bake. Rustic pies are great because even though you have all of those steps, there is no need to make sure the top crust is just right (sometimes the most intimidating part). You fold over the excess crust over those beautiful peaches and you've got a pie ready to go in the oven.
In my personal opinion, there is only one way to enjoy a slice of peach pie. Warm and topped with a scoop of vanilla coconut milk ice cream. The sweet and juicy peaches pair so wonderfully with the creamy ice cream. It's a summertime treat that will never go out of style!
gluten free vegan rustic peach pie
serves 8
pie dough
1 1/2 cups Sarah's gluten free flour blend
2 tablespoons cornmeal
3 tablespoon organic cane sugar
1/2 teaspoon salt
4 tablespoons Earth Balance vegan butter, cold
3 tablespoons organic non-hydrogenated shortening
4-5 tablespoons ice-cold water
1 teaspoon lemon juice
peach filling
8 ripe peaches, peeled and slice
2 tablespoons cornstarch
1/2 cup organic cane sugar
1/2 teaspoon cinnamon
1 teaspoon lemon juice
topping
2 tablespoons So Delicious coconut coffee creamer or coconut milk
1 tablespoon organic cane sugar
Sift together the flour blend, sugar and salt. Add the vegan butter and shortening. Using a pastry cutter, combine until resembles a course meal and butter pieces are less than pea-size. Pour in 4 tablespoons cold water and lemon juice. Continue to blend until dough comes together. Add an additional tablespoon of water, if needed. Pat dough into a round disc, wrap in plastic wrap and place in refrigerator for 1 hour or until ready to use.
Preheat oven to 350 degrees. Combine peach slices, cornstarch, sugar, cinnamon and lemon juice in large bowl. Set aside. On counter surface, lay out a large piece of parchment paper. Remove plastic wrap from pie dough. On counter surface, lay out a large piece of parchment paper and place pie dough in the center. Top with another large piece of parchment paper (this keeps the dough from sticking to the rolling pin). Roll out your dough until you have a 14-inch circle.
Remove top sheet of parchment and turn dough onto pie dish. Peel off other piece of parchment. Let excess hang over edge. Pour filling into dough evenly spread out peaches. Fold remaining dough inward, over the peaches.
Brush crust with coconut milk and sprinkle with sugar. Bake pie for 60-65 minutes, or until crust is evenly golden brown and filling is bubbly. Let cool on cooling rack for at least 1 hour. Best served warm and with a scoop of coconut milk vanilla ice cream.