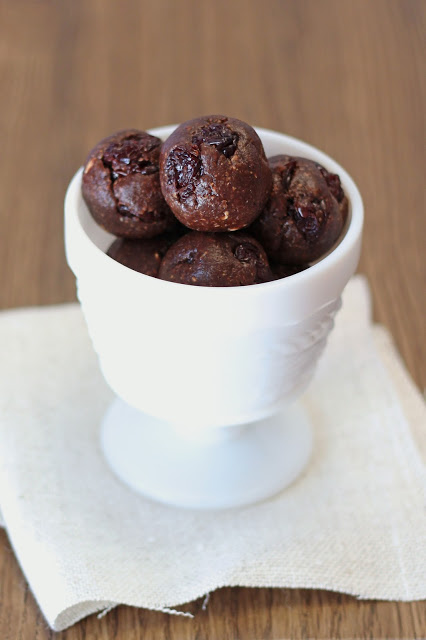 Can't. Get. Enough. Cookie dough. This is my third variation of this "healthy" cookie dough and I just can't stop myself. It's so good! I first made just a chocolate chip batch. Classic and tasty. Recently, I shared a recipe for oatmeal raisin cookie dough bites over at Ask Anna. They tasted just like an oatmeal raisin cookie, but without the guilt. I ate the whole batch myself. No sharing going on here!
Now let's move on to my newest cookie dough creation. Dark chocolate cherry. Stop it, just stop it. The combination of chocolate and cherries is so decadent. All I did to alter the recipe, was add good quality cocoa powder and tart dried cherries. These bites of raw goodness are gluten and dairy free. You can also make them in about 5 minutes. Now which one of you is already in the kitchen making up a batch of these cookie dough bites? Be sure to tell me what you think…and if you can eat just one!
dark chocolate cherry cookie dough bites
makes 16
1 1/4 cups certified gluten free oats
1/2 cup raw cashews
1/4 cup good quality cocoa powder
1/4 cup pure maple syrup
2 tablespoons coconut oil, melted
1/2 teaspoon pure vanilla extract
1/2 cup dried cherries
Place oats and cashews into food processor or high-powered blender (I used my Blendtec). Blend on high until finely ground. Add the cocoa powder, maple syrup, melted coconut oil and vanilla. Pulse until fully blended and dough begins to form. Scoop cookie dough into bowl. Add dried cherries and stir to combine. Scoop and roll into 16 tablespoon-size scoops. Store in air-tight container in refrigerator.