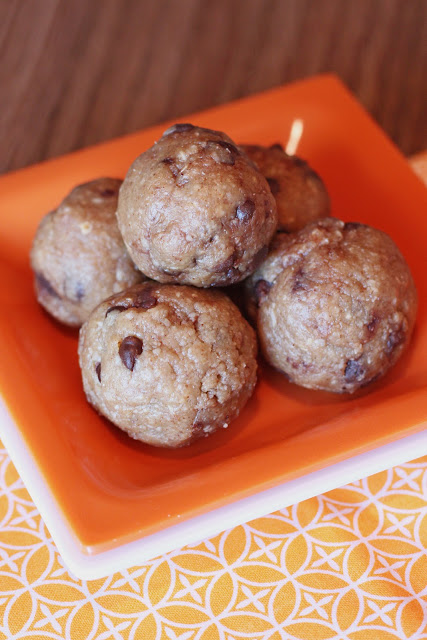 You had me at cookie dough. Hold on though. This is no ordinary cookie dough. It's actually good for you! Say what? There is no guilt when you eat one or two…or three. Raw, healthy, and full of nuts and oats. Pure goodness.
These gluten free and vegan cookie dough bites are pretty irresistible. They are sweetened with pure maple syrup and those mini chocolate chips sneak there way into every bite. My favorite thing about them…they're bite-size. I can just grab one from the fridge (which I think I might go do right now) when I'm craving something sweet. Say hello to a quick and easy treat!
chocolate chip cookie dough bites
makes 12
1/2 cup raw cashews
1/2 cup raw pecans
1 cup certified gluten free oats
1/2 cup unsweetened shredded coconut
1/4 teaspoon salt
1/4 cup pure maple syrup
1 tablespoon coconut oil, melted
1 teaspoon pure vanilla extract
1/4 cup dairy free mini chocolate chips
Place cashews, pecans, oats, coconut and salt into food processor or high-powered blender (I used my Blendtec). Blend on high until finely ground. Add the maple syrup, melted coconut oil, and vanilla. Pulse until the dough begins to form. Scoop dough into small bowl. Add chocolate chips* and stir to combine.
Cover dough and place dough in refrigerator for about 30 minutes, making it easier to roll into balls. Scoop and roll into 12 cookie dough bites. Store in air-tight container in refrigerator.
*If the dough is warm from being processed in the blender (like mine was), refrigerate for 30 minutes before mixing in the chocolate chips.