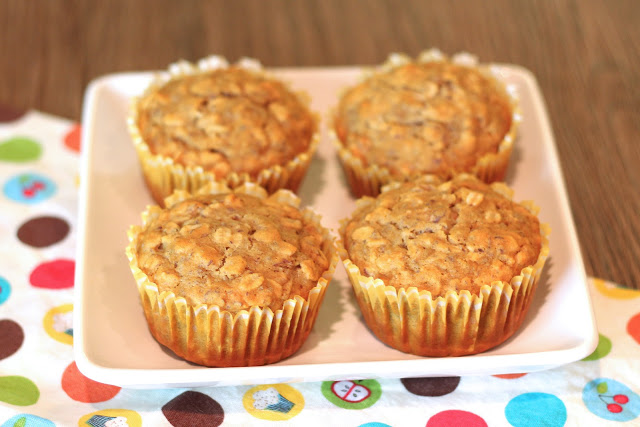 Coming up with my own recipes is an adventure…especially with baking. The measurements have to be just right. There can't be too much liquid or too much oil. Baking gluten free and without eggs makes it even more exciting! Maybe exciting isn't the best word to use. It's always a little nerve-wracking waiting for the oven timer to go off and then taking a peak inside. Did they rise? Did they fall? Is it a masterpiece or a big, fat disaster?
No disaster here! I was quite happy with these honey oat muffins I baked this morning. They just say to me, "rise and shine!" Beautifully golden from the sweet honey. Chewy from the rolled oats. They are egg, dairy, and refined-sugar free. There is also only a couple tablespoons of healthy coconut oil in the recipe so you can feel good about eating these muffins in the morning. A great grab-n-go breakfast, that you could easily make ahead and freeze a few too!
gluten free honey oat muffins
makes 10 muffins
1 cup certified gluten free rolled oats
1/4 cup ground flaxseed meal
1 teaspoon baking powder
1/2 teaspoon baking soda
1/2 teaspoon salt
3/4 cup So Delicious unsweetened coconut milk
2 teaspoons apple cider vinegar
1/2 cup honey*
3 tablespoons coconut oil, melted
1 teaspoon pure vanilla extract
Preheat oven to 375 degrees. Line muffin tin with paper cupcake liners or spray with non-stick cooking spray. Sift together flour blend, oats, flaxseed meal, baking powder, baking soda, and salt. Set aside. In large mixing bowl, combine coconut milk and apple cider vinegar. Allow to sit for a 5 minutes to curdle. Stir in the honey, melted coconut oil, and vanilla extract. While mixing, slowly add the flour mixture. Stir until just combined. Scoop batter into prepared muffin tin. Bake for 15-17 minutes or until golden brown. Remove from pan and allow to cool on cooling rack. Store in air-tight container.
*To make these muffins vegan, you can use pure maple syrup in place of the honey.