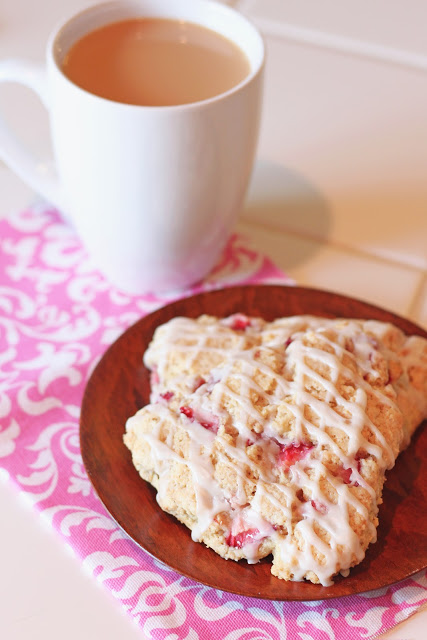 Well, good morning! How would like to wake up to a fresh, baked gluten free scone? I know I sure would! I like to treat my family to a warm breakfast in the mornings. It's a great time to sit around the table and enjoy a good meal together. It's also a super fantastic way to start the day!
Another thing I love to have when I wake up…my cup of coffee! I'm a bit picky and only like So Delicious coconut coffee creamers in my coffee. They are the BEST dairy free creamers and really hit the spot. Is there anything So Delicious makes that I don't love? Ummm…nope! I was so excited when they contacted me and asked if they could send me their new Barista Style Coffee Creamers. Yes, please! They come in shelf-stable quarts and in two flavors, original and french vanilla. It was a good day when I opened a box with not only the creamers, but also their new Unsweetened Vanilla Coconut Milk. Most of you know how much I love using their coconut milk in all of my baking. It made me happy to see an unsweetened version of vanilla coconut milk because you get the natural sweetness from the vanilla, without the added sugar. It has been a fabulous addition to my pantry (and to my smoothies)!
I knew I wanted to come up with a recipe using both the unsweetened vanilla coconut milk, as well as the coffee creamer. Strawberry n' cream scones came to mind. Let's give it a try! I love the fresh strawberries mixed throughout the biscuit-style dough. A burst of berry sweetness. After the scones came out of the oven, I let them cool a bit and drizzled on a simple vanilla glaze, using the french vanilla coffee creamer. Simply splendid.
Today I'm not only sharing this recipe for strawberrie's n' cream scones, but So Delicious has offered to send 2 of my readers…3 coupons for FREE So Delicious products! What?! That means you can take your little coupons to the store and pick up the two new creamers AND the unsweetened vanilla coconut milk. You could also use them for any of your favorite So Delicious products. It would be too hard for me to choose. I have too many favorites….the coconut mint chocolate chip ice cream, the chocolate coconut milk, the unsweetened coconut milk (always in our fridge). If you win, you will have the same dilemma of choosing only 3 amazing So Delicious products too!
gluten free vegan strawberries n' cream scones
makes 8
1 3/4 cups Sarah's gluten free flour blend
1/2 cup organic cane sugar
2 teaspoons baking powder
1/2 teaspoon baking soda
1/2 teaspoon salt
5 tablespoons Earth Balance vegan butter, chilled
1/2 cup So Delicious unsweetened vanilla coconut milk
1 cup fresh strawberries, diced
vanilla glaze
1 cup organic powdered sugar
2 tablespoons So Delicious barista style coconut milk french vanilla coffee creamer
Preheat oven to 400 degrees. Sift together flour, sugar, baking powder, baking soda, and salt. Cut in cold vegan butter using a pastry cutter. Continue until only pea-size pieces of butter remain. Pour in the coconut milk and stir until just combined. Add the diced strawberries and gently fold them in.
Prepare large baking sheet with parchment paper. Set aside. Cover counter space with large piece of plastic wrap. Sprinkle on a little of the flour blend. Place the dough in center of plastic wrap. With floured hands, gently flatten out dough into 12-inch circle*. Using a pizza cutter, cut the dough into 8 triangles. Take a small spatula and gently lift up the triangles of dough and place on prepared baking sheet. You may need to slightly mold them back into triangles, as the dough may be soft.
Bake scones for 16-18 minutes or until golden brown. Place scones on cooling rack. Make the vanilla glaze by mixing together the powdered sugar and coffee creamer. Drizzle over the cooled scones.
*These scones can also be made into drop scones. Place 8 1/4- cup scoops of the dough onto baking sheet. Lightly flatten with floured hands. Bake for 16-18 minutes.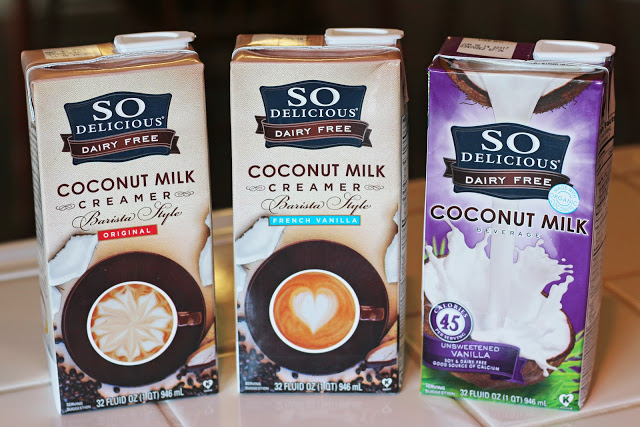 three FABULOUS new products from So Delicious!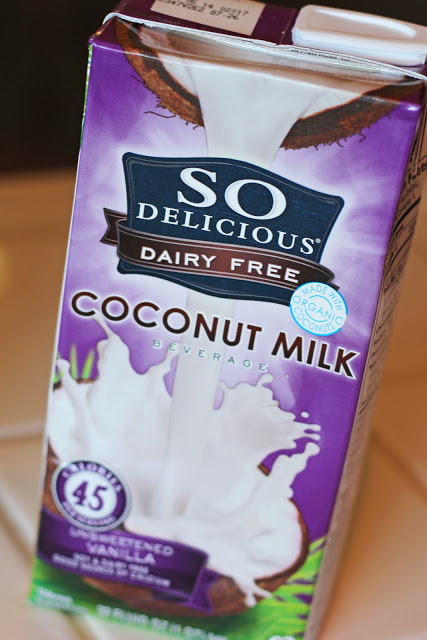 I'm in love with this unsweetened vanilla coconut milk.
I use it in almost all of my baking. I think you should too.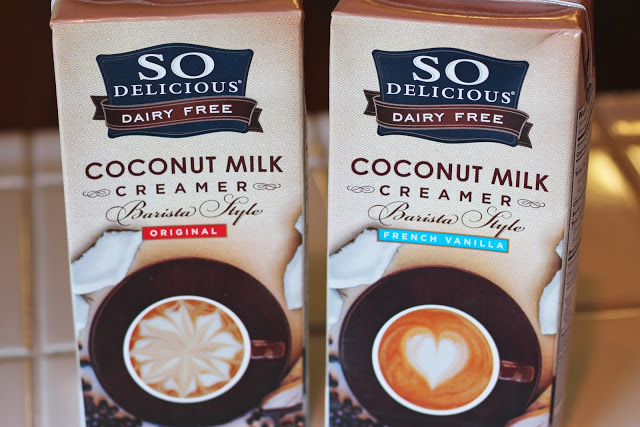 Coffee is my friend.
These Barista Style Coffee Creamers are my friends now too.
Now that you have checked out this yummy scone recipe (and hopefully tried it), be sure to enter the So Delicious givaway! Free So Delicious products and you get to pick any 3 that you would like. So cool! Two winners of this giveaway will receive…
3 FREE So Delicious product coupons
To enter the So Delicious giveaway, you must sign-in using the box below and leave a comment as well. Be sure to tell me your favorite So Delicious product or one that you would like to try. You can receive extra entries by liking So Delicious on facebook, following me on twitter or tweeting this giveaway (be sure to enter your extra entries below). The last day to enter is Wednesday, April 3. Two winners will be chosen…will it be you?