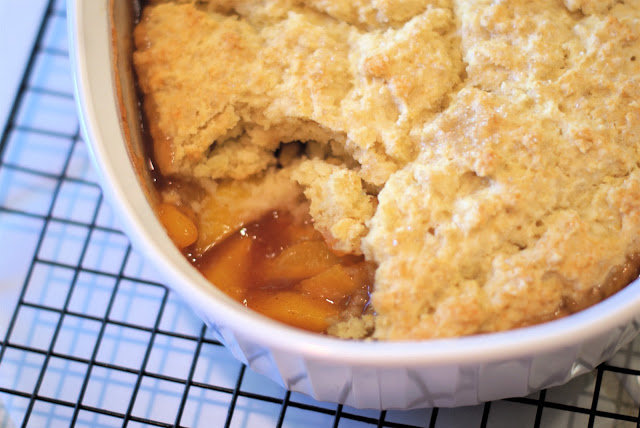 I have a love/hate relationship with the summer months. As much as I love swimming, playing in the backyard with my kids, popsicles, and barbecues with friends…I am not a fan of turning on my oven in the horrible 100 degree heat. The air conditioning has a battle with the blazing hot oven in my kitchen. My passion for baking doesn't go away, I just don't like to mix baking with sweating. Yuck. However, my heart sings for all of the yummy summer desserts that make their way into my life this time of year!
Whats a girl to do with fresh peaches from the farmer's market? Make a peach cobbler, of course! This is a Sarah Bakes original recipe. I'm quite proud of this one too! There is an abundance of juicy, sweet peaches with a hint of cinnamon. The biscuit topping is fluffy, buttery, with a nice crust from the raw sugar. My family was happy with mama when I served it with a big scoop of vanilla bean ice cream. I personally love to enjoy my cobbler for breakfast. Dessert for breakfast. It's a good thing. A very good thing.
gluten free peach cobbler
serves 6
8-10 peaches, pealed, pitted and sliced
1/2 cup sugar
2 tablespoons cornstarch
1 teaspoon cinnamon
1 tablespoon sugar
1 tablespoon baking powder
1/2 teaspoon baking soda
1/4 teaspoon salt
4 tablespoons butter, chilled
1/2 cup low-fat buttermilk
2 tablespoons raw turbinado sugar
Preheat oven to 350 degrees. Top pealed and sliced peaches with 1/2 cup sugar, cornstarch and cinnamon in medium bowl. Toss gently to combine. Let sit for 10 minutes.
In separate bowl, mix together flour blend, sugar, baking powder, baking soda and salt. Cut in chilled butter to resemble course meal. Pour in buttermilk. Mix until dough comes together. Pour peaches into 8×8 square or oval baking dish. Drop biscuit topping by the tablespoon on top of peaches. Sprinkle on turbinado sugar. Bake in oven for 30-35 minutes, or until biscuits are golden brown and peaches are bubbly. Serve warm with vanilla ice cream.
tender biscuit topping.
gluten free at it's finest!