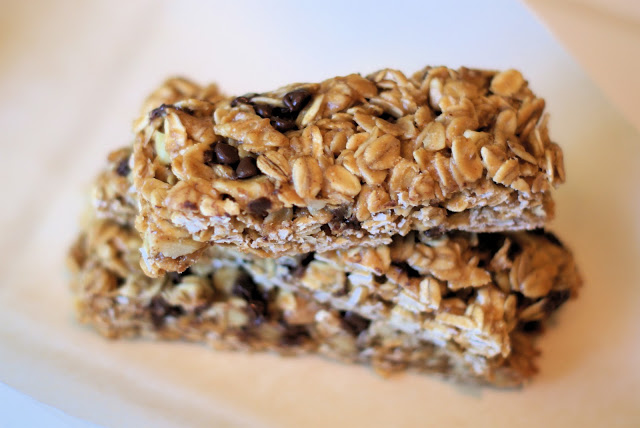 I'm always trying to come up with new, healthy snacks for my kids. Homemade. Made with love. Granola bars are a great snack to take on the go, but the ones you buy in the store, are full of sugar and completely unnecessary ingredients. I don't know about you, but I like to know exactly what my kids are eating. Their tiny bellies need to be full of good, quality food. A happy, healthy child makes a mama happy too!
Kaden and I made a batch of peanut butter granola bars and this is what we came up with. They are oh so chewy! There is no added fat, except for the natural oil in the peanut butter. A little honey and brown sugar adds the perfect sweetness. I used walnuts this time around, but you most certainly could go with peanuts, almonds or sunflower seeds would be a crunchy addition too! When I asked if we should add mini chocolate chips, the answer was of course, "yes!" A little warning…when you give a toddler one of these peanut butter granola bars, you are going to end up with a sticky, chocolaty face!
gluten free peanut butter granola bars
makes 14 bars
2 1/2 cups certified gluten free rolled oats
1/2 cup chopped walnuts (you can use any nuts you like!)
1/2 cup natural peanut butter
1/3 cup honey
1/4 cup brown sugar
1/2 teaspoon salt
1 teaspoon pure vanilla extract
1/4 cup mini chocolate chips
Preheat oven to 350 degrees. In large mixing bowl, combine oats and chopped walnuts. Set aside. Mix together peanut butter, honey, brown sugar, salt, and vanilla in microwavable bowl. Place in microwave and melt for 30 seconds, stir and microwave for another 30 seconds.
Pour peanut butter mixture over oats. Stir until all oats are coated well. Sprinkle on the chocolate chips and toss gently. Pour mixture into greased 9×13 pan. Place in oven and bake for 15-20, until edges are golden brown. Let cool completely to set, 1-2 hours. Cut into bars.