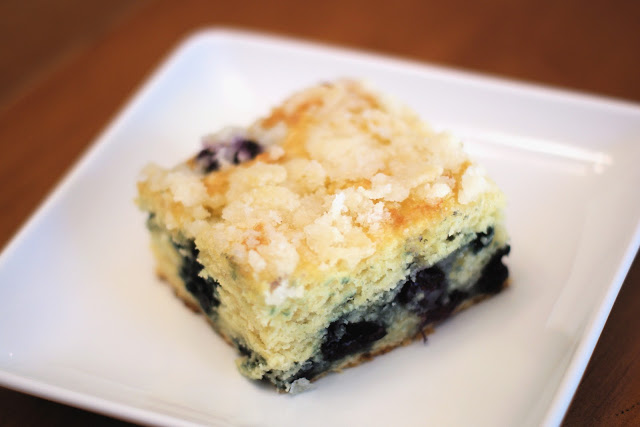 As you can see from the numerous breakfast recipes I have posted, baking on lazy morning is what I love to do. The family is up. Their bellies are empty. They all know that mom will have something yummy on the table soon. Now, please don't think I make fresh-baked goodies for breakfast all the time. It is a treat. When we have school in the morning and places to be, it's usually a bowl of cereal or hot oatmeal. Scrambled eggs and fruit make an appearance too. Sometimes there are a few complaints…but seriously, this isn't a bed and breakfast!
I get really excited when I bake something that is low-fat. I made this blueberry coffee cake and was quite proud to say that the only added fat is 2 tablespoons of butter in the crumb topping. Everything is better with butter, even it's only a little bit. The crumb topping doesn't disappoint either. It's a perfect crunchy compliment to the blueberry-filled cake. I used fat-free ricotta, which keeps the cake light and moist. Do you hate the word "moist" like I do? I don't like using it, but what other word is there? If you have one, let me know. In the meantime, bake up this low-fat blueberry coffee cake for that special someone.
gluten free blueberry coffee cake
serves 9
1 1/2 cups Sarah's gluten free flour blend
3/4 cup sugar
2 teaspoons baking powder
1/4 teaspoon baking soda
1/4 teaspoon salt
1 cup fat-free ricotta
2 large eggs
1 cup
fresh or frozen blueberries
crumb topping
Preheat oven to 350 degrees. Spray 8-inch square or round baking dish with nonstick cooking spray. Whisk together flour, sugar, baking powder, baking soda, and salt in medium bowl. In a separate large mixing bowl, combine ricotta and eggs. Add flour to ricotta mixture and stir until almost combined. Gently fold in blueberries. Spread batter in prepared baking dish.
In small bowl, mix together sugar, flour and cold butter with a fork until crumbly. Sprinkle over cake batter. Bake in oven for 30-34 minutes until toothpick inserted into center comes out clean. Cool cake until ready to serve.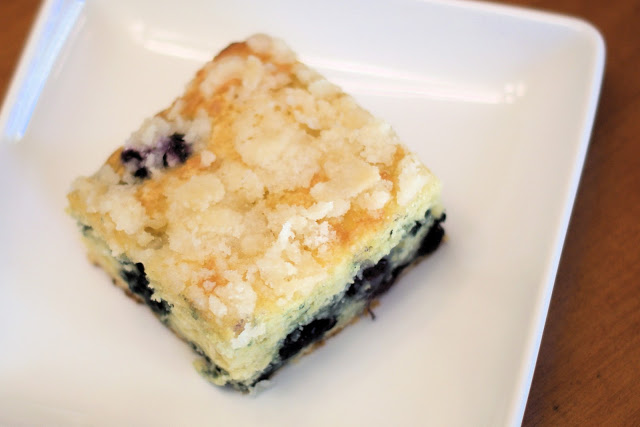 Recipe adapted from Panda the Baker