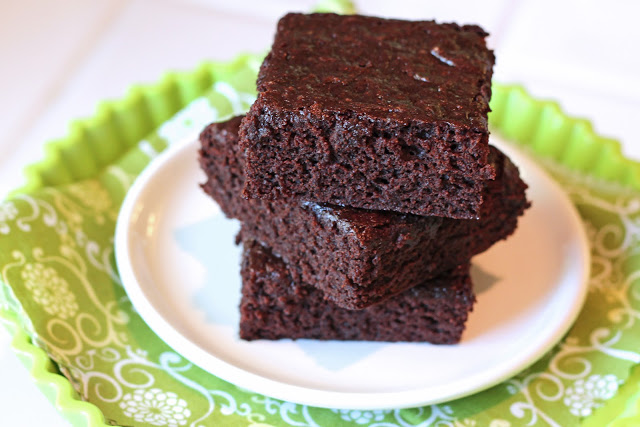 Coming up with a recipe for gluten, egg, and dairy free brownie should be pretty easy…you would think! I don't know how many times I've baked up a batch of brownies that were just not what I was going for. I didn't want them to be too cakey or too oily. I just wasn't getting the balance I was looking for. Baking with food allergies, I've realized, is an adventure. Many hurdles to overcome along the way. My motivation…I was in need of a good go-to brownie recipe!
I FINALLY discovered a winner! I did all the trial runs for you, so now you can head on over to your kitchen and bake up a batch of these gluten free and vegan brownies. They are the perfect balance of cake-like and gooey brownies. So moist. So good. Coconut oil is the oil that I found works the best (and makes the flavor extraordinary). They are also so easy to put together! This my friends, is a one bowl recipe. Sift the dry ingredients, add in the wet, stir and bake. Then serve warm with a big scoop of dairy free mint chocolate chip ice cream!
gluten free vegan brownies
serves 9
3/4 cup organic cane sugar
1/2 cup cocoa powder
1/2 teaspoon baking powder
1/2 teaspoon sea salt
1/3 cup coconut oil, melted
1/4 cup So Delicious unsweetened coconut milk, room temperature
1/4 cup water, room temperature
2 tablespoons pure maple syrup
2 teaspoons pure vanilla extract
Preheat oven to 350 degrees. Line 8×8-inch square baking dish with parchment paper, so that it hangs over the sides (for easy serving). In large mixing bowl, sift together flour blend, sugar, cocoa powder, baking powder and salt. Stir in the melted coconut oil, coconut milk, water, maple syrup and vanilla extract. Mix until just combined.
Pour batter into prepared baking dish and smooth out with rubber spatula. Bake for 25 minutes. To keep the best texture, DO NOT over bake. Allow to cool in pan for 15-20 minutes. Carefully lift brownies out of pan, using the parchment paper. Cut into squares. Store in air tight container, with parchment in-between brownies (to keep from sticking together).