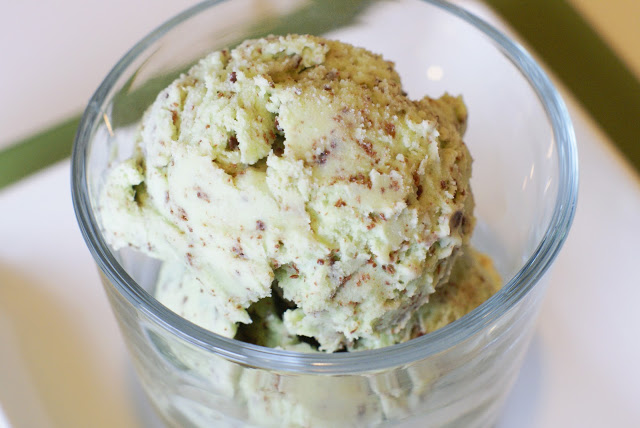 I feel like I've been holding out on you guys. I made this recipe last month and I'm finally sharing it with all of you. So sorry! I bought my husband an ice cream maker for Christmas (or was it for me?) and have been experimenting with flavors. It was my first time making my own dairy free ice cream, using coconut milk. Lots of choices, but I knew in my mind there was only one type of ice cream this girl couldn't wait to try.
Mint chocolate chip is my favorite (my daughter's too) flavor of ice cream. However, I'm pretty picky with my mint chocolate chip ice cream. I don't like big chunks of frozen chocolate mixed in, I like shavings of chocolate so you get lots of little flecks of chocolate with each bite. So not a bad thing! I also like it to be green. Somehow it makes it taste better when it's that minty green color. But how to naturally make it green without the addition of artificial food coloring? Spinach! You would never know there is leafy greens in this ice cream.
I'm a firm believer that you don't need dairy to have decadent ice cream. Coconut milk ice cream is pretty much awesome. With that being the base for this recipe, I knew I couldn't go wrong. The rich coconut milk, pure peppermint extract, and finely grated dark chocolate…make this dairy free mint chocolate chip ice cream quite spectacular. If I do say so myself. You can enjoy it by the scoop or on top of a warm, gooey brownie. Any way, it's going to be a cool, refreshing dessert that you just won't be able to get enough of!
dairy free mint chocolate chip ice cream
serves 8
14-ounce can full-fat coconut milk
14-ounce can light coconut milk
1 cup organic cane sugar
1/4 cup baby spinach leaves, packed
2 teaspoons pure peppermint extract
1 teaspoon pure vanilla extract
1/4 teaspoon xanthan gum
2-ounce dairy free dark chocolate bar, finely grated*
In medium saucepan, stir together the full-fat coconut milk and sugar. Simmer on low until sugar is dissolved. Allow to cool completely. Add to high-powered blender, along with light coconut milk and spinach leaves. Blend on high until completely smooth and no pieces of spinach remain. Add peppermint extract, vanilla and xanthan gum. Blend to combine. Pour mixture into bowl, cover, and refrigerate until chilled, 1-2 hours.
Turn on your ice cream maker. Be sure to follow specific instructions for your ice cream maker, as they all vary. Pour ice cream mixture into bowl of ice cream maker. Churn until ice cream starts become a soft-serve texture (mine took about 20 minutes). Add finely grated chocolate during the last minute. Continue to churn until chocolate is evenly distributed. Pour ice cream into freezer-safe container and cover. Freeze until firm, about 1-2 hours. Allow to sit on counter for a few minutes to soften before scooping.
*I find it works best to chill or freeze my chocolate bar prior to grating. I also use the smaller holes on my standard cheese grater. You could also use a citrus zester.